Media may come under its purview: Haas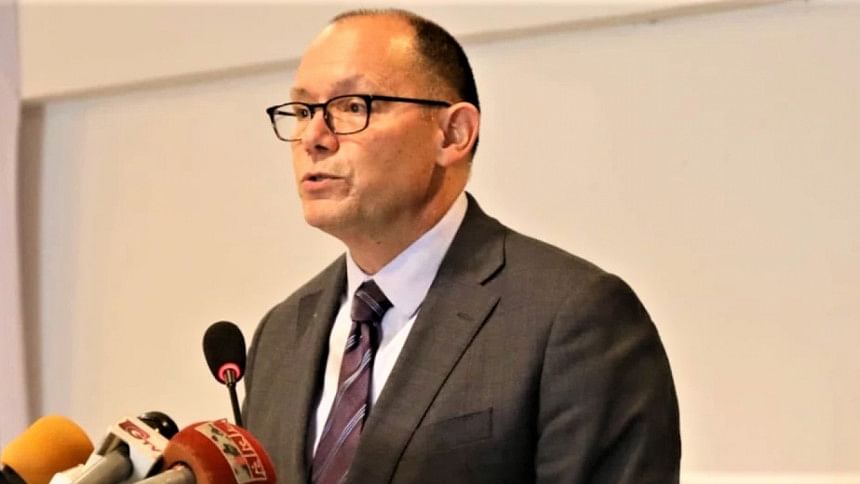 US Ambassador to Bangladesh Peter Haas yesterday said media in Bangladesh may also come under the purview of the US visa policy.
He came up with the remark in an exclusive interview with Channel 24 at its office, reports the television channel.
"We are applying the policy in a balanced way against anyone regardless of whether they are pro-government, whether they are in the opposition, or whether they are in law enforcement, whether they are in the judiciary, whether it's the media," said Haas.
"But it is based on behaviours. It's not based on anything else but their actions."
On Friday, the US Department of State said it was taking steps to impose visa restrictions on Bangladeshi individuals responsible for, or complicit in, undermining the democratic election process in Bangladesh.
"These individuals include members of law enforcement, the ruling party, and the political opposition," said State Department Spokesperson Matthew Miller in a statement.
On May 24 this year, Washington announced the visa policy on Bangladesh against the backdrop of the alleged irregularities in the 2014 and 2018 elections.
Haas in the interview said the US fully supports Bangladesh to be a democratic society and the visa restriction is a message intended to everyone that they want free and fair elections.
"It is the responsibility of the Bangladesh government. We said we want to support you, and so we don't welcome people, who undermine elections and democracy, to our country," he said.
Asked about the numbers of those who already faced visa restrictions, Haas said, "We don't provide that kind of information. You can ask the persons [whose names are coming out on social media] if they got their visas. We are not going to give the numbers and the names."
Asked why the members of opposition parties came under the restrictions, the US envoy said free and fair elections require everyone in the society, including people in the opposition. They can also do things to hamper the polls.
About automatic restrictions on visas for family members of individuals the US deems complicit in hampering the polls process, he said it is not automatic but they can also be included.
Haas said he is worried about the security of not only him but also the entire embassy and everyone who works there.
On any further sanction, he said the US has a lot of tools that it uses when and where appropriate. However, they don't brief the media about any sanctions.