300 illegal structures evicted in Mymensingh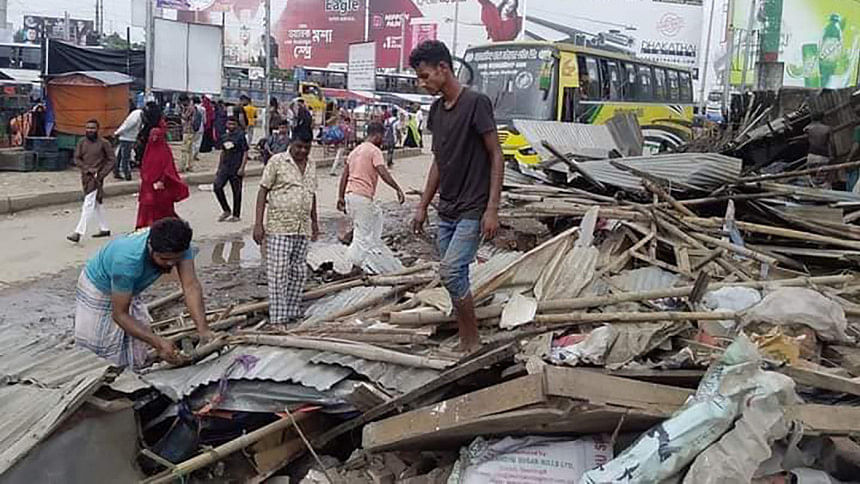 In a joint drive conducted by Mymensingh administration and Mymensingh City Corporation (MCC), over 300 illegal structures adjacent to Bangladesh-China Friendship Bridge (Shambhuganj Bridge) at Patgodam area of Mymensingh city were demolished today (September 17, 2022) in a bid to ease severe traffic congestion.
The drive, led by Sadar Upazila Nirbahi officer (UNO) Md Shafiqul Islam, continued for more than two hours, reports our Mymensingh correspondent.
Mymensingh City Corporation's Executive Magistrate Masud Rana, Sub-Divisional Engineer of Roads and Highways Md Khalilur Rahman and Additional Police Superintendent Shahinoor Alam accompanied the drive.
Locals said influential have built some 100 illegal structures near the bridge area and have been enjoying a handsome amount of money from the shops daily.
Hundreds of vehicles from Mymensingh, Sherpur, Kishoreganj, and North Bengal cross the Shambhuganj Bridge to and from Dhaka and different destinations daily.
Due to the illegal structures on both sides of the bridge, traffic jams are regular in the area which has been continuing for the last 12 years and longer, said Abu Ahmed, a resident.
However, UNO Md Shafiqul Islam said such drives will be continued against all sorts of illegal structures in the city to ease the severe traffic congestions as soon as possible.