Barishal airport: Barely holding it together
Probe team finds damaged runway, dilapidated terminal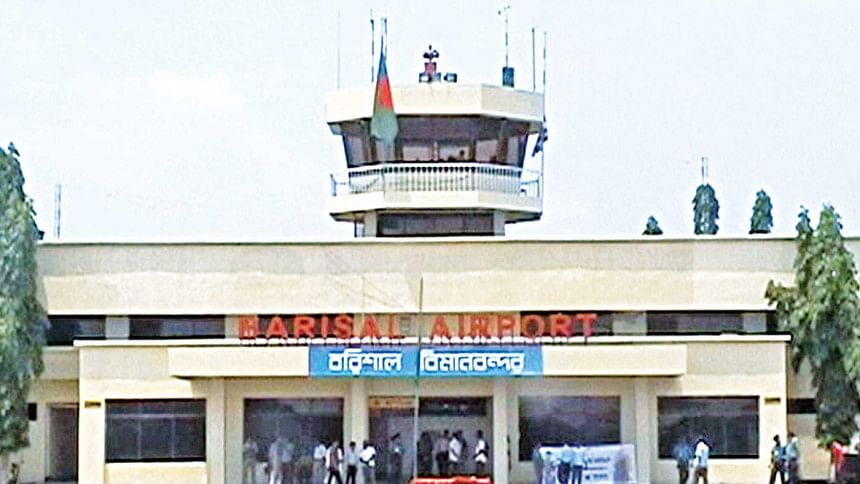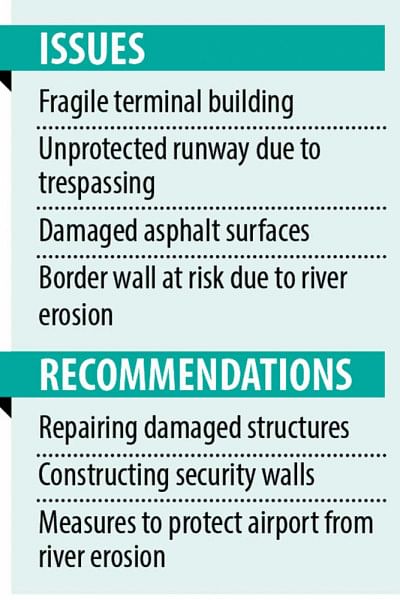 Landing aircrafts at Barishal Airport has become a risky endeavour. This is due to the dilapidated condition of its runway as well as other structures, a high-level investigation team of the civil aviation ministry found.
Led by Sukesh Kumar Sarker, additional secretary (Biman and CA) at the ministry, the team found that 75 metres off the northern end of the runway, Sugandha River was moving into the airport due to severe river erosion.
"If the ongoing trend of erosion continues, landings and take-offs will become quite risky," the team said in its report.
"Amid this situation, if the runway is not repaired quickly, accidents may take place when landing aircrafts," Sukesh told The Daily Star.
The ministry's team visited on January 3 to inspect the airport first hand.
In its report, the team mentioned the fragile state of the terminal building, unprotected runway, complexities centring the apron area and damaged asphalt surfaces as well.
In light of this, the ministry recently sent the report to Civil Aviation Authority of Bangladesh for taking necessary measures, sources said.
The report said Barishal Airport is located on the banks of Sugandha, a tributary of Arial Kha River. The border wall on the airport's north side is also at risk due to the severity of the river's erosion.
Regarding the airport's unprotected condition, the report said there are several openings between the boundary wall, through which people trespass.
During the visit, several people were seen wandering around the airport, the report said. Such movement poses risks to landings and take-offs.
The team made several recommendations, including starting repair and maintenance work of the entire terminal building, repairing asphalt surfaces of the runway immediately, and constructing security walls.
It also recommended taking immediate measures to protect the airport from river erosion by coordinating with water resources ministry and Water Development Board.
In 1963-64, the plant protection department acquired 13.09 acres of land to spray pesticides by aircrafts and made a small airstrip at Barishal's Babuganj upazila. After this, commercial flight operation started  there in 1995.
The three airlines of the country -- Biman, US-Bangla and Novoair -- operate a total of eight flights on Dhaka-Barishal route daily.