Bengal was once full of wealth
Noted journalist MJ Akbar recalls its past at lecture on Indo-Bangla ties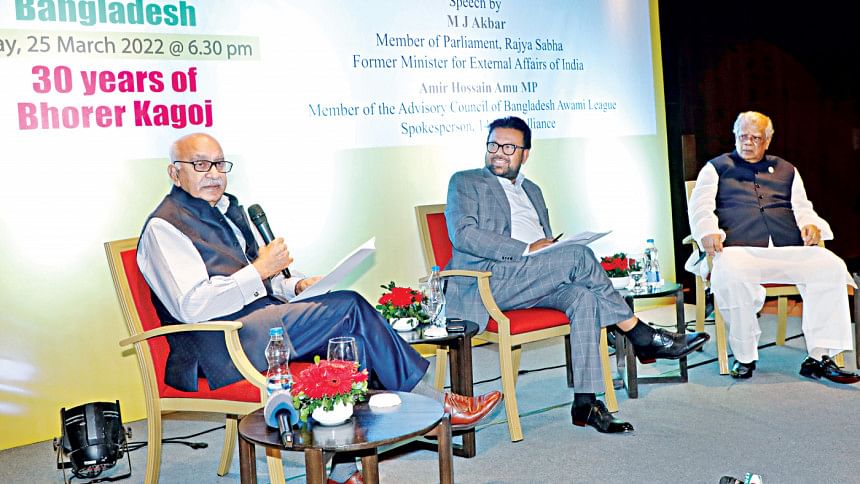 Terming weavers and manufacturers of clothes as rural geniuses of Bengal, renowned journalist and former state minister for external affairs of India MJ Akbar said the wealth they had brought was taken away by the British.
"The poverty of Bengal was a direct consequence of British imperialism, as every account and travelogue by every visitor of the 17-18 century confirms Bengal was a wealthy province in the sub-continent before the arrival of Europeans," he said.
Also a member of India's Rajya Sabha, Akbar praised Prime Minister Sheikh Hasina for her role in liberating people from poverty and establishing democracy in the country.
"She [Hasina] also understood that freedom is incomplete until a state has managed to liberate its people from harsh poverty," he said.
He said this while taking part in Zahur Hossain Chowdhury Memorial Lecture on "Reminiscing 50 Years of Indo-Bangla Relationship" organised by Bangla daily Bhorer Kagoj at a hotel in the capital.
The lecture was held to mark 50 years of Bangladesh and the 30th anniversary of the daily. Bhorer Kagoj Editor Shyamal Dutta moderated the programme.
Bangladesh and India have opportunities to establish harmony and prosperity in Asia as both countries nurture similar values, said Akbar.
"They both have the right intentions. They are propelled by the values that define modernity in the 21st century, believe in democracy, freedom of speech, freedom of faith as a fulcrum of plural societies, gender empowerment and abolition of poverty," he said.He said India's diplomacy is driven by peaceful resolution of problems, not creating conflict. "Our diplomats are not wolf warriors. They do not take pride in being a pack of wolves."
Lawmaker Amir Hossain, also member of Awami League's advisory council, remembered India's contribution in the Liberation War of Bangladesh.
"They gave us all out support during the Liberation War," he said.