Crumbling roads pose accident risks in Habiganj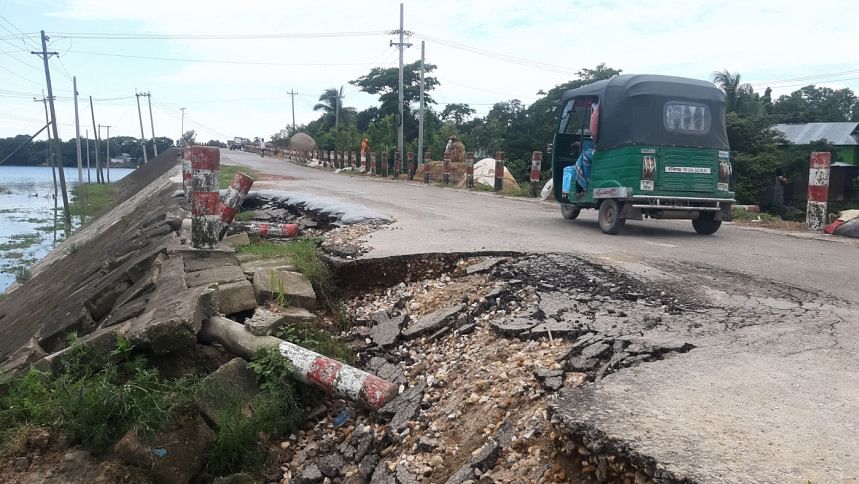 Continuous downpour over the past few days have left connecting roads of a concrete bridge in Ajmiriganj upazila of Habiganj  in a dilapidated state.
Local residents expressed concerns about potential occurrence of a major accident at any moment.
Anamul Haque Milad, a journalist from the upazila, said several hundreds of vehicles -- including motorcycles, buses, CNG-run auto-rickshaws, easy bikes, cargo trucks and pick-ups -- use this bridge every day from upazila headquarters to Ajmiriganj-Baniachong via Jalsukha road and Shibpasha road.
Large potholes have developed on both sides of the road connecting the bridge following heavy showers, he added.
The same situation have been persisting since the last three years during the monsoon, resulting in accidents.
Although the link roads have been repaired several times, they have broken down yet again.
This correspondent visited the area and found several large potholes on those roads.
Mifta Mia from Shibpasha village said they travel to the upazila headquarters through the local road every day. In the present circumstance, they fear that accident may happen any time.
Abu Bakkar of Jalsukha and Haque Miah of Bhirat village said this is the only bridge to exit and enter Ajmiriganj upazila headquarters. They shared that now they have to use the road amid fear.
Similarly, Takbir Mia, a CNG-run auto-rickshaw driver, said every day he takes passengers to and from the district and neighbouring upazilas through this road.
"We are afraid of accidents... specially during nights," he said.
Shakil Mohammad Faisal, executive engineer of the Roads and Highways Department, did not receive calls when this correspondent tried to contact him.
 Ajmiriganj Upazila Parishad Chairman Mortuza Hasan said, "I informed the matter to the executive engineer of the Roads and Highway Department. Necessary steps will be taken soon."