Dengue Cases Last Week: Over 72pc deaths due to shock syndrome
Shows DGHS data; death toll crosses 900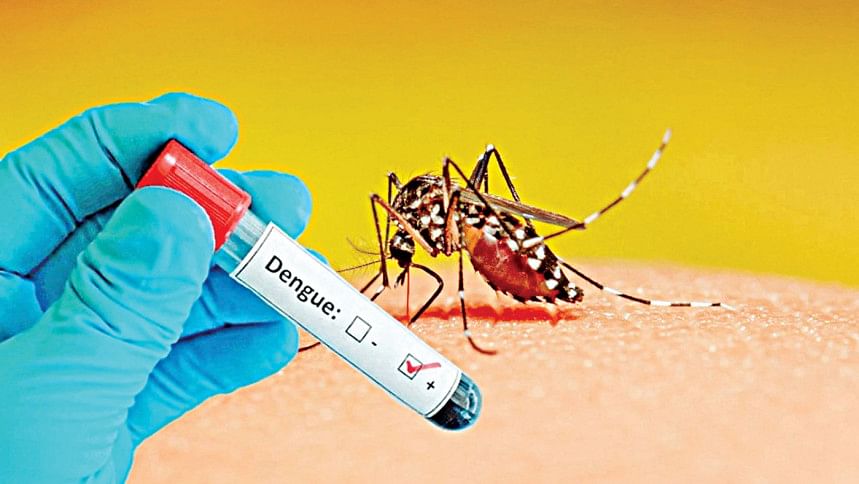 As many as 89 dengue patients died last week alone. Meanwhile, at least 20,155 dengue cases were reported during this time. Of this, 14,436 patients are from outside Dhaka, while the rest 5,719 patients are from the capital.
According to Directorate General of Health Services data, 63 percent of the 89 patients died within a day after hospitalisation, with an additional 24 percent passing away within two to three days, 8 percent within four to five days, and 5 percent after more than seven days.
Around 73 percent of the 89 dengue patients, who passed away between September 17 and 23, died of shock syndrome while 15.17 percent died of expanded dengue syndrome, according to DGHS data.
Some 1.1 percent of the deceased had comorbidity while 1.1 percent died from dengue hemorrhagic fever, shows the DGHS data released yesterday.
SHOCK SYNDROME
Dengue shock syndrome (DSS) is a life-threatening complication of dengue fever, which typically occurs in individuals who have previously been infected with one serotype of the dengue virus and are then infected with a different serotype.
DSS is characterised by a sudden drop in blood pressure, which can lead to shock. This is often accompanied by severe abdominal pain, persistent vomiting, and bleeding tendencies, such as nosebleeds, gum bleeding, or easy bruising. Besides, DSS also results in excessive fluid leakage and rapid drop in platelet counts.
Meanwhile, World Health Organization in 2012 had coined the term "expanded dengue syndrome" to describe patients that do not fit into either DHF (dengue hemorrhagic fever) or DSS but show atypical symptoms in vital organ systems such as the cardiovascular system, neurological system, kidneys, gut, and hematological system.
EXPERTS' TAKE
Contacted, Prof Muzibar Rahman, former head of the medicine department at Dhaka Medical College Hospital, said, "This year, dengue infections have exhibited unusual and severe symptoms, with a significant number of patients succumbing to shock syndrome. The increased mortality can be attributed to second-time dengue infections with a different strain and delayed hospitalisation."
Meanwhile, Prof Md Niyatuzzaman, director of Mugda Medical College Hospital, said, "Many patients are coming to Dhaka from rural facilities. It takes seven to eight hours for these patients to reach Dhaka. That time is very crucial."
"Many patients die either on the way to the hospital or within six to seven hours after admission. We do not get enough time to treat them."
Meanwhile, the death toll from dengue this year has crossed the 900-mark as another 16 new deaths were reported in the last 24 hours till 8:00am yesterday.
At least 3,008 dengue patients were hospitalised in the 24-hour period.
Dengue has so far claimed at least 909 lives this year and nearly 1,87,725 were infected, making this the deadliest year since the first recorded epidemic in 2000. This month alone witnessed over 300 dengue deaths.
The daily dengue bulletin from the DGHS relies on data from 57 public and private hospitals in Dhaka, and 81 district and divisional-level hospitals.
However, there are approximately 16,000 more health facilities across the country providing dengue care, suggesting that the actual number of cases and fatalities may be significantly underreported, said experts.