Dhaka air dusty and deadly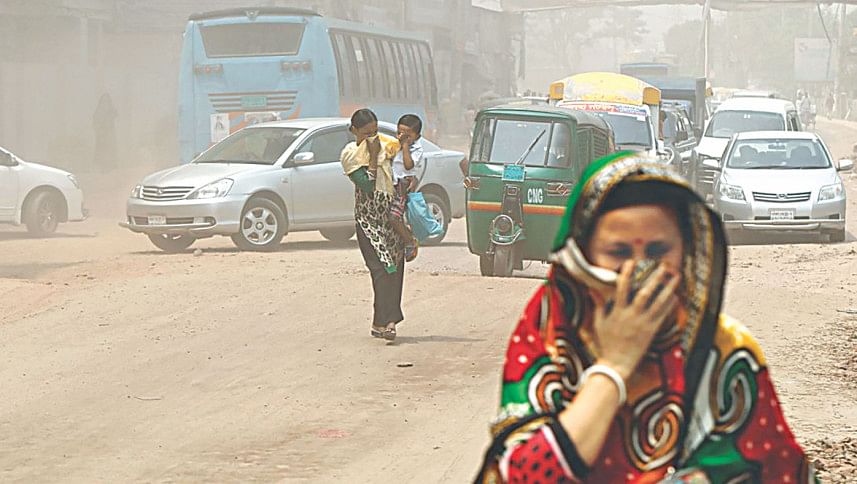 For the last couple of weeks, Anowar Hossain, a resident of Sarafatganj Lane in Gandaria, has been suffering from nasal allergy. Anowar, who had no such problem earlier, started to face this issue after construction works for two establishments started in his area recently.
Dhaka South City Corporation (DSCC) has started development work of Dhupkhola playground in September last year, while Dhaka Water Supply and Sewerage Authority (Wasa) is replacing pipelines in parts of Old Dhaka.
"But they are not taking any measures like spraying water to stop the dust from spreading. As a result, residents are suffering," said Anowar.
The capital's air remains thick with dust due to construction of residential buildings, a number of mega projects and digging of roads for installing utility lines. Locals in different areas alleged that most of these development works are going on without authorities taking any measure to reduce the dust menace.
Though the government on January 17, 2021 issued a gazette notification amending the rules of Bangladesh Environment Conservation Act 1995, making some measures mandatory like spraying water at construction sites at least twice a day.
According to rules, authorities will have to set up makeshift sheds or boundaries during construction work and cover up trucks and vans while carrying construction materials like bricks, cement and sands. They also have to keep all construction materials covered and refrain from keeping materials like sand, bricks and dug-up earth on roads or footpaths.
But most government organisations and individuals do not follow the instructions. As a result, residents continue to suffer.
HM Shazahan, a resident of Ibrahimpur who was undergoing treatment at  National Institute of Diseases of Chest and Hospital (NIDCH), recently  said come winter, he suffers from breathing complications as the amount  of dust increases.
"Prolonged exposure to dusty air may lead to lung cancer or interstitial lung disease [ILD]," said Kazi Saifuddin Bennoor, assistant professor (respiratory medicine) at NIDCH.
ILD reduces the amount of oxygen in the body, and can cause death, said Bennoor, also joint secretary of Bangladesh Lung Foundation.
"Both the toxic air and dust pollution can cause diseases like asthma, bronchitis, chronic obstructive pulmonary disease, nasal allergy and rhinitis," he said, adding that two more diseases -- silicosis and asbestosis -- have also increased recently.
Workers involved in stone crushing without safety measures are exposed to silicosis, while those in the ship-breaking industry may contract asbestosis, he said.
Dr Abdus Shakur Khan, treasurer of Bangladesh Lung Foundation, said, "We are all being affected by air pollution."
He said there are two types of air pollution -- outdoor and indoor.
People who stay at home or work at office are also being affected due to air indoor pollution, which generates from dust and damp weather, he said.
Khan said even people with good lung condition are at risk due to the severity of air pollution.
According to a study conducted by Stamford University's Center for Atmospheric Pollution Studies from 2016 to 2021, Dhaka residents have inhaled clean air for only 38 days in the last six years.
The study highlighted the gravity of the air pollution that over two crore people of the city are exposed to every day.
For the last six years, the average AQI (Air Quality Index) score in Dhaka has been 219, which falls in the category of extremely unhealthy, the report said. The permissible limit of clean air is AQI 0-50.
Dust generated from development work contributes to 30 percent of air pollution, while industries and brick kilns are responsible for about 29 percent.
As per the World Health Organization, air pollution kills an estimated seven million people worldwide every year, largely as a result of increased mortality from stroke, heart disease, chronic obstructive pulmonary disease, lung cancer and acute respiratory infections.