A festival of harmony
Rash mela concludes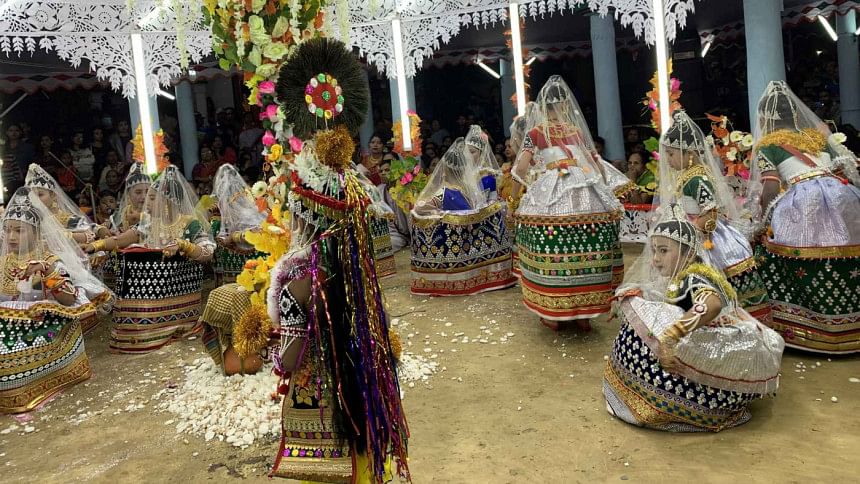 Love was in the air at the Manipuri villages of Madhabpur and Adampur in  Moulvibazar's Kamalganj upazila as  Rash Mela, the biggest religious celebration of the community, concluded with due fervor and festivities yesterday.
At least one lakh people, if not more, attended the celebrations irrespective of caste, creed and religion. Even foreigners visited these Manipuri villages yesterday to participate in this festival of love.
The festival is held annually during Purnima (full moon), between the Bangla months of late Kartik and early Agrahayan.
Rabi Singha Rajesh, member secretary of the Manipuri Cultural Academy, said the Rash Leela festival celebrates the boyhood of Sri Krishna.
Madhabpur Jour Mandap, the district's most famous Manipuri temple, hosted its 180th Rash festival this year. Celebrations kicked off under a banyan tree in this temple with a presentation of "Gustha Lila" (farmer-boy dance). Several Manipuri boys, dressed up as "Gopal" (the young Krishna) and his "Sokha" (friends), performed dances to the beat of local instruments.
The main event took place in the night, when young Manipuri girls, dressed as "Radha Rani"  and her friends, performed the Rash dance.
Rash-dance is considered an expression of love and affection.
Radha-Krishna are collectively known within Hinduism as the combined forms of feminine as well as the masculine realities of God, and are universally considered as symbols of love.Shyam Singh, general secretary of Manipuri Maharasalila Seba Sangha, said a village fair was also held at the two festival venues of Adampur and Madhabpur. Various handicraft items, household goods, toys and sweets were on sale for visitors.