His works should be studied more
Say speakers on Abul Mansur Ahmad at prize-giving event of book review competition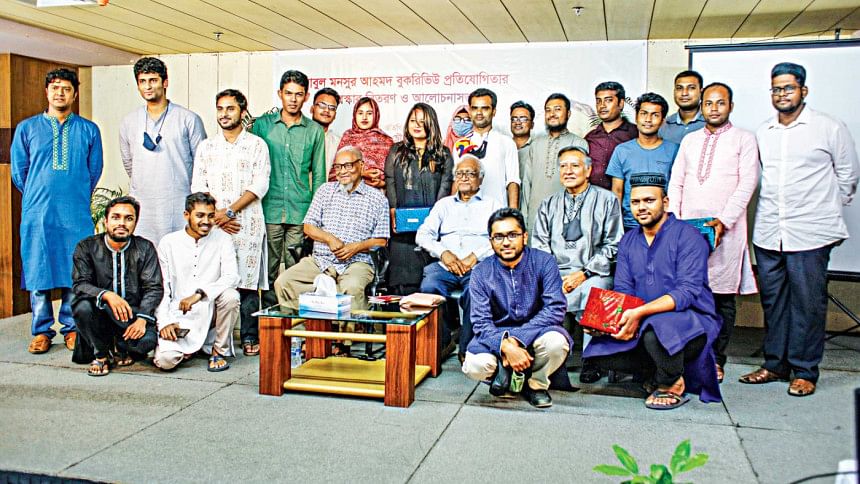 Abul Mansur Ahmad upheld the sorrows and the inherent crises of the common people through his literary works to emancipate them from feudalism and imperialism, Dhaka University Professor Emeritus Serajul Islam Choudhury said yesterday.
"Despite being one of the many, a litterateur is an extraordinary one. They furnish their thoughts and experiences through writings and take them to readers. And Abul Mansur Ahmad has done this exact job," said Serajul Islam Choudhury while speaking at the prize-giving ceremony of the Abul Mansur Ahmad Book Review Competition at The Daily Star Centre in the capital.
Organised by Abul Mansur Ahmad Smiriti Parishad, writers, litterateurs, and readers from different institutions spoke at the event.
Serajul, also president of the Parishad, said both Abul Mansur Ahmad and Kazi Nazrul Islam were against communalism and believed in reforming the society.
Speaking as chief guest, Poet Asad Chowdhury said, "Abul Mansur Ahmad was a pioneer politician who stepped into the literary arena. Many of his peers were not used to the culture in the 19th century."
Terming him a "man of true secular thoughts", Asad Chowdhury said Abul Mansur Ahmad was not only a theorist politician but was also a man of strong character.
Speakers at the event also demanded establishment of a trust to practice the multifaceted thoughts of Abul Mansur Ahmad and like-minded scholars from the 19th century to encourage free thinking.
They also said works of Abul Mansur Ahmad should be studied more as they are even more relevant to the contemporary social and political issues.
Speaking on the occasion, Mahfuz Anam, editor and publisher of The Daily Star and member-secretary of Abul Mansur Ahmad Smiriti Parishad, assured that they will take initiatives in this regard.
At the event, five readers were selected out of more than a hundred competitors for best reviews on two books by Abul Mansur Ahmad.
For the best review on the book titled "Atmakatha", Jannatul Ferdous won the first prize, while Munaza Mahid and Aminul Haque won the second and the third prize respectively.
For the best review on the book titled "Amar Dekha Rajnitir Panchash Bochor", Fahim Ahmed Mondal won the first prize and Puja Paul won the second prize.
Each of the first prize winners received prize money of Tk 3,000, while the second prize winners got Tk 2,000. All the winners received books.
Poet Aminul Islam, Bangla Academy's former director Jalal Ahmad, Prof Mohammad Azam, Prof Chengish Khan, journalist Kajal Rashid Shahin, Barrister Arif Khan and researcher Amin Al Rashid attended the event as special guests.