Living in a state of constant fear
100 tea worker families at serious risk of landslide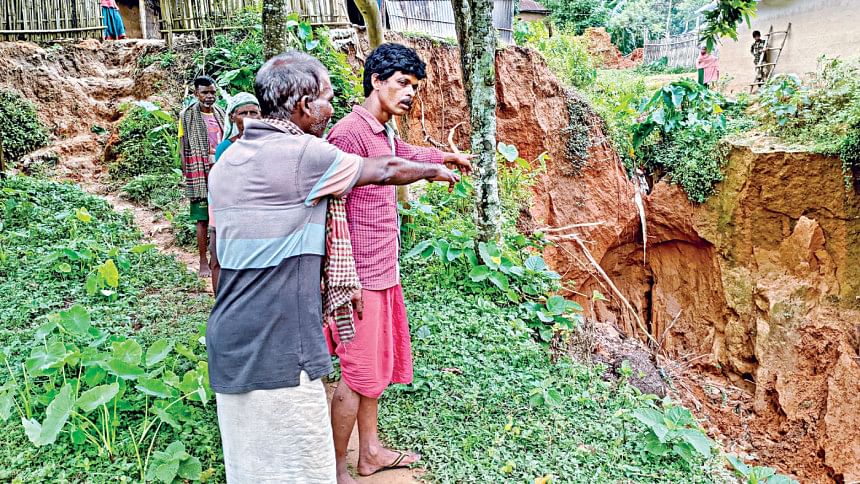 Hiramoni Bhumij, 30, Purnima Bhumij, 28, Radha Mahali, 40 and Shukantala Bhumij, 40.
These are the names of the four female tea workers, who died in a landslide in Sreemangal's Lakhaichhara tea garden on August 19 this year.
Meanwhile, around a hundred tea-worker families are currently living there in houses made of either mud or tin and bamboo, making them even more vulnerable to the risks of landslides.
Krisan Bhumij, a resident of the area, said in 2012-13, five family members of the Lakhaichhara garden's tea workers were killed in a landslide at a nearby place called Daityatila.
Kalighat Union Parishad Chairman Pranesh Goala told this correspondent that workers of the Lakhaichhara garden are now passing their days in constant fear of landslides.
"Now everyone wants to come here because four of us died. Where have they been when we constantly wanted attention to the risks we lived in?" said Gauri Tanti and Savita Tanti, two middle-aged tea workers living in Lakhaichhara, upon hearing that a journalist came to visit.
"We have also asked the tea garden manager and staffers to provide us with alternative accommodation on multiple occasions but to no avail," they said.
"We are about 100 families living in this area. We are scared for our lives whenever it rains," said another local Rubel Mollik.
At the entrance of the garden stands Lakhaichara Government Primary School. Champa Dev, the head teacher of the school, said the house of the school's managing committee president Chandan Kumar Tanti was on top of the Lakhaichhara hill.
"Later he moved to Digdigia due to safety reasons. The point I'm trying to make here is that he could move because he was financially capable. That is not the reality of the tea workers who work and live there," she said.
"Among the four women who were killed in the landslide, two have children studying in our school. They come to classes regularly but a perpetual feeling of sadness has engulfed their lives and their psyche," she added.
Although the upazila administration has given instructions to move the families living at risk, the tea garden authorities are yet to comply.
However, manager of the garden Sadiqur Rahman said the families will be evacuated to safer places as soon as possible.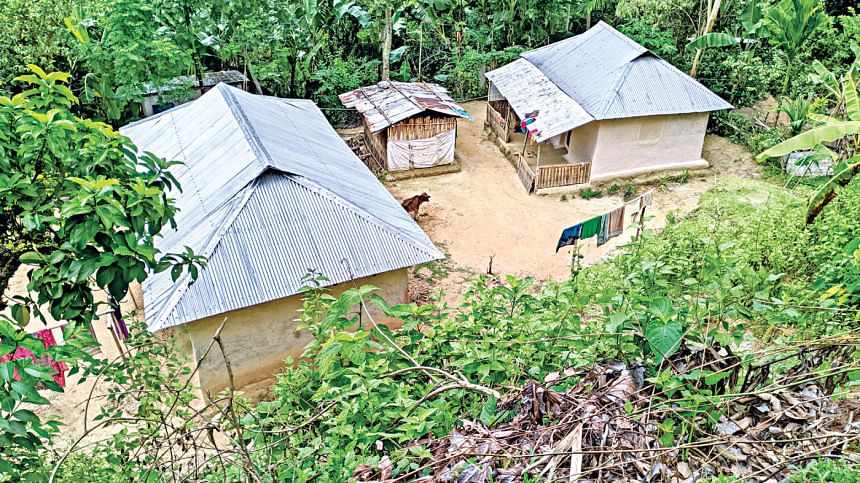 Assistant Commissioner (Land) and Executive Magistrate Sandeep Talukdar said, "We have asked the tea plantation authorities to evacuate the workers from the dangerous homesteads adjacent to the hills. It's just a matter of time."
"The reality is more or less the same for most tea gardens in Sreemangal. We will write to all the tea garden managers to evacuate their workers from the risky areas," he added.
Holding the mindless cutting of hills responsible for the landslides, Abdul Karim Kim, general secretary of Bangladesh Paribesh Andolon's Sylhet chapter, said, "As per the Environment Conservation (Amendment) Act 2010, hill cutting is a cognisable offence and no government, semi-government or autonomous organisation is allowed to cut or raze hills without prior permission from the concerned authorities."
Contacted, Badrul Huda, assistant director of the Department of Environment in Moulvibazar, said they now have a zero-tolerance policy against hill cutting.
Deputy Commissioner Mir Nahid Ahsan echoed the same and promised to take necessary action in this regard.