New bean variety brings smiles to farmers in Sreemangal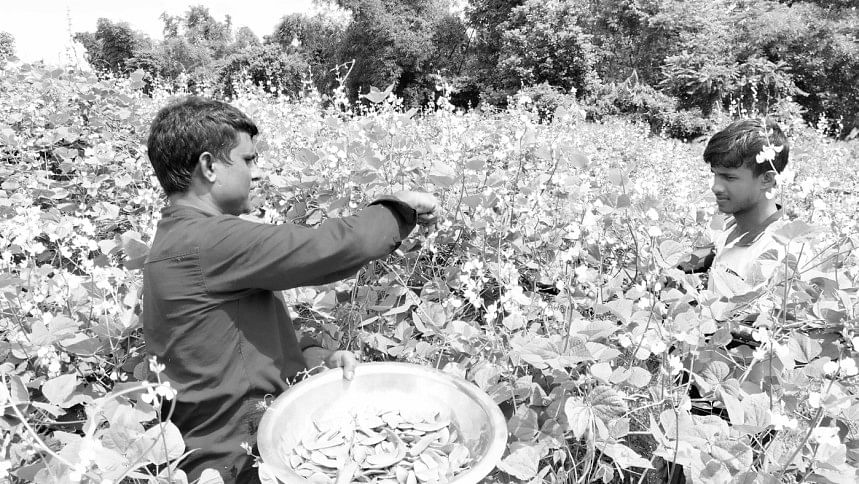 Traditionally, beans are cultivated during the winter. However, the SAU Bean-1 (Sikribi-1) variety, which has been developed by Sylhet Agricultural University, exhibits remarkable adaptability, allowing it to thrive even during the summer in Moulvibazar.
Now, farmers in the Dengar Ban village of Ashidron Union in the upazila are experiencing substantial benefits from cultivating this winter vegetable during the monsoon season, achieving impressive yields.
As a result of its success, the agriculture department is now eyeing to spread the Sikribi-1 seeds all over the country.
In Dengar Ban village, around 50 farmers are cultivating this variety of bean. While the Sikribi-1 variety takes some time and care to yield a good harvest, farmers may earn up to three times the profit from cultivating this, said Masukur Rahman, Deputy Assistant Agriculture Officer of Ashidron Union.
He said the farmers who cultivated Sikribi-1 are happy with the bumper yield and good price in the market. On average, they can pick 48 to 50 kg of beans per bigha and sell them at Tk 130 to 140 per kg.
The profit has caught the attention of other farmers in the area and, with each passing day, more and more farmers are taking up the cultivation of this variety, he added.
Ahsan Habib, a bean grower of Dengar Ban village, said after receiving 12 seeds of the Sikribi-1 variety from the agriculture department, they cultivated it experimentally for the first time.
"We had bumper yields in the first year. So, I collected the seeds and supplied them to several interested farmers in the area for Tk 5,000."
"This year, I myself cultivated the variety in three bighas of land. Around Tk 36,000 taka has been spent on fertiliser, irrigation, pesticides, bamboo mats and care during the cultivation phase. So far, I have sold beans worth Tk 1 lakh. I hope the total sale will hit Tk 2-2.5 lakh. But if the market is good, it can go even higher."
Another farmer, Akbar Ali said, "This year, I have cultivated Sikribi-1 variety of beans for the first time. The yield has been very good. I can sell 25 to 30 kg of beans per day. Prices are also high because this is not the season for beans."
He said, during winter, prices of beans drop to Tk 10-12 per kg, leaving little margin for profit.
Mohammad Ali, another farmer, said, "I cultivated this bean variety in two bighas of land. It is more profitable than paddy. There is no need to take the harvest to the market, as wholesalers from Dhaka, Sylhet and other places come and buy it directly from us. Next year, I plan to cultivate Sikribi-1 variety on more land."
According to farmer Hashem Mia from the same village, it is recommended to sow the Sikribi-1 seeds at the beginning of Bengali month Baishakh. After 25-30 days, germination will begin and flowers will emerge. About one and a half months later, the beans can be picked and this process can continue for up to six months.
Masukur Rahman said, if such bean seeds are sown in April or at the end of winter, they can be harvested after 80-85 days. We are supporting the farmers by providing fertilizers, seeds and necessary advice.
Farmers of Dengar Ban village are selling about 600 kg of beans every day. Beans worth around Tk 20-25 lakh have been sold last month. Another Tk 35-40 lakhs of beans are likely to be sold, said Sreemangal Upazila Agriculture Officer Md Mohiuddin, adding that beans worth around TK 80 lakh can be sold using just three hectares of land.
Md Musharraf Hussain Khan, additional director of the Department of Agriculture Extension in Sylhet, said the variety has no negative impact on the soil.
Encouraged by the results, the agriculture department has taken the initiative to collect the seeds of this exceptional bean variety and distribute them to farmers all over the country.
This will boost overall agricultural productivity and economic growth, he added.