A new hope for Manipuri script
Language centres in Moulvibazar working to preserve history of Manipuri language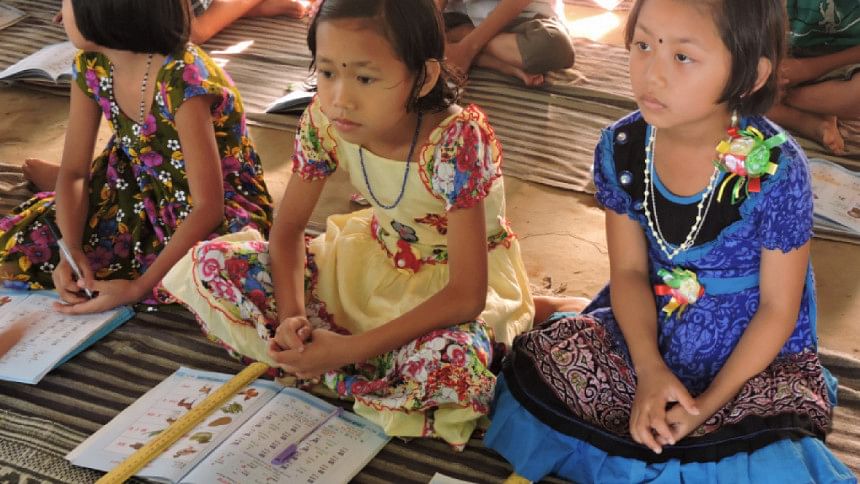 Moulvibazar district has one of the largest Manipuri communities in the country. While everyone in the community can speak Manipuri, the language's script and alphabet were at risk of extinction.
However, that has changed in the last eight years after the non-governmental organisation Ethnic Community Development Organization (ECDO) established the first Manipuri Language Center (MLC) in 2015 at Bhanubil Majhergaon village -- where there is a large Manipuri community -- in Kamalganj upazila of the district.
Thounaojam Lakshmikanta Singh, executive director of ECDO, said under the project funded by a donor agency in Norway, activities are currently going on at three MLCs in the Manipuri-dominated areas of Alinagar and Adampur union in Kamalganj.
At these centres, Manipuri students from classes 1 to 5 receive education on the Manipuri alphabet and language six days a week.
The response among the community has been immense. Each centre was supposed to accommodate 25 students at a time but sometimes there are 35 to 40 students in each batch.
According to the Integrated Manipuri Association and ECDO, around 10,000 Manipuri-speaking people live in 14 villages in Kamalganj upazila. They communicate mainly in Manipuri.
While almost all of them can read and write in Bangla, many cannot read and write the Manipuri alphabet.
Since its inception, nearly 500 students have received training on the Manipuri alphabet and language at these centres.
One such example is 15-year-old Laboni Sinha, a former student of Bhanubil Majhergaon Manipuri Language Centre (MLC) who can now read and write fluently in Manipuri. Her younger sister Aparna Sinha also knows Manipuri script.
Bidyadhan Singha, Laboni's father, said his daughter always did very well at the language centre. He also expressed his pride at his daughter's excellent grasp of the Manipuri alphabet and overall language.
ECDO has developed three different textbooks with the help of experts -- Manipuri Londam Lyric Chapter-One, Manipuri Londam Lyric Chapter-Two, and Manipuri Londam Lyric Chapter-Three for training at the centres and is used as textbooks for the first-year, second-year and third-year students.
Rabi Singha Rajesh, member secretary of the Manipuri Cultural Academy, said each ethnic community has its cultural identity and people experience and connect with the world through the language they speak, which is what makes the protection of the language so crucial.
ECDO's Thounaojam Lakshmikanta Singh said Manipuri is an endangered language in Bangladesh. And although Manipuri is spoken by many, it is a mix of 50 percent Bangla language.
"The centre is looked after by a committee made up of parents. There is no substitute for government support to sustain the success of this initiative. If necessary, we are ready to cooperate in the preparation of primary-level textbooks for Manipuri, Patra, Khashi, and other ethnic groups of the Sylhet region."