'River is a living entity, let us ensure its rights'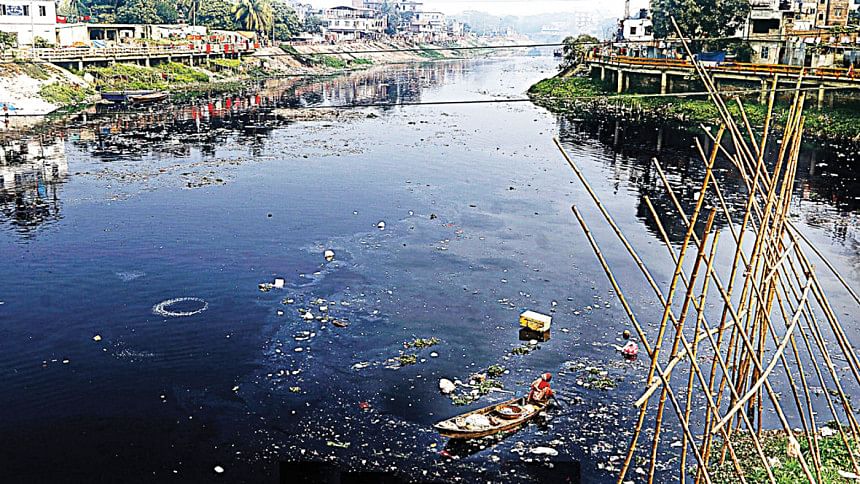 "We need to raise awareness about rivers among the new generation. No matter how much development we achieve, it won't be sustainable without river protection," said Muzibur Rahman Howlader, former chairman of National River Conservation Commission, yesterday.
He said this while speaking at an event at Jatiya Press Club, marking World Rivers Day.
Waterkeepers Bangladesh, along with several organisations, observed the day across the country, holding various programmes aimed at raising awareness about river pollution and conservation in 12 locations, including Dhaka.
The other locations included Cox's Bazar Sadar, Pekua, Taltali, Maheshkhali, Mongla, Kutubdia, Kalapara, Patharghata, Barguna Sadar, Paikgacha, and Barishal Sadar.
In the capital, they organised a seminar titled "River is a living entity" at Jatiya Press Club around 10:30am.
Speakers said despite Bangladesh legally recognising rivers as living entities, the onslaught against the country's rivers continues. Many rivers are currently in a critical condition, with some disappearing entirely as government institutions have failed to do their duties.
Syeda Rizwana Hasan, chief executive of Bangladesh Environmental Lawyers Association, and Suman Shams, chairman of Nongor Trust Bangladesh, attended the seminar among others.
Meanwhile, in front of Barguna Press Club, locals formed human chains, urging the relevant authorities to protect the Khakdon river from encroachment.
They also placed a five-point demand to save the river, including the cancellation of the lease of the Khakdon riverbank in Barguna town and the removal of illegal structures along the riverbank.
Another human chain was formed at Neelima point of Patharghata, near the Bishkhali River.
Additionally, Green Voice, a youth organisation, arranged a four-day programme in collaboration with the Bangladesh Environmental Movement.
In Aditmari upazila, Lalmonirhat, a programme titled "Save Rivers, Save Lives" was organised at the Swarnamoti Bridge, demanding the restoration of all the country's rivers.
Green Voice also organised discussions and human chains at Bangabandhu Sheikh Mujibur Rahman Science and Technology University in Gopalganj, Sheikh Hasina University in Netrakona, and Sundarganj upazila in Gaibandha.