Tea estate ignites wildfire, kills scores of animals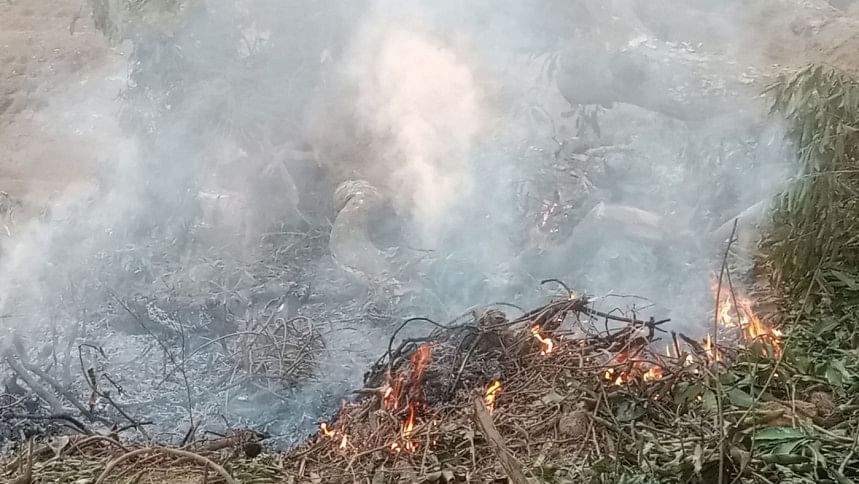 Hatimara Tea Garden took lease of a land near Rema-Kalenga Wildlife Sanctuary in Habiganj's Chunarughat upazila some years ago. The place was a safe habitat for wildlife and hosted century-old trees... up until January 19, 2023.
All hell broke loose on the day when the tea estate decided to expand their garden in the most heinous way possible, according to locals and environment activists.
To clear their leased area, authorities of the estate set the trees ablaze, basically igniting a wildfire that spread over to the sanctuary -- killing dozens of animals. The uprooted trees, helpless screams of wildlife, and burnt corpses of animals could not stop the tea company. It was still "clearing the land", still setting trees on fire, as of filing this report yesterday evening.
As shocking as it may sound, local administrations have not intervened even though three days have passed since this started, signing the death warrants of countless wild animals in the process, locals alleged.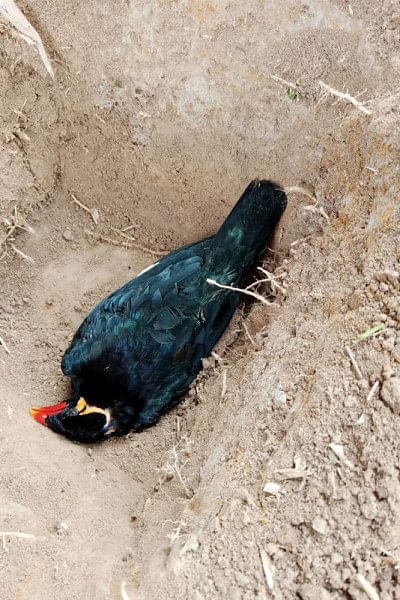 Visiting the area yesterday, this correspondent saw charred bodies of capped langurs, barking deer, Indian civets, hilly mynas, squirrels, herons and countless other wildlife lying in different places of what was once their homes. Locals buried many of them in the last three days.
Besides, around three hectares of forestland have been burnt to ashes, while animals were spotted running here and there frantically.
"Some of the animals took shelter in our homes," said Nanu Mia, a local. "A monkey entered my house on Sunday at noon. The animal was scared as its tail was burnt."
Seeking anonymity, another local said, "We didn't see any official from the local administration or forest department at the spot in the last three days to douse the fire or take action against the perpetrators."
The tea estate has uprooted at least 140 trees from the forest during this time, the locals added.
Biswajit Bhattacharjee Bapan, coordinator of Mita Foundation, an environmental organisation, said, "The abandoned land where Hatimara Tea Garden is expanding its estate was a sanctuary for barking deer. Deer love eating the fruit of a tree called aula. Trees of this species have also been cut down."
"As 140 trees were cut down and set on fire, several species of monkeys, apes, deer and pigs lost their shelter. What's worse is that many animals have already died," he added.
Md Khalilur Rahman, forest range officer at Kalenga Range in Habiganj, told this correspondent that he saw the devastation himself. He said they will take action as per the instructions of high-ups.
Monirul H Khan, professor of zoology department at Jahangirnagar University, also an eminent wildlife expert, said, "Rema-Kalenga is the largest wildlife sanctuary in the greater Sylhet region, where many endangered species are spotted. If the fire is not controlled, the biodiversity will be hampered."
Rezaul Karim Chowdhury, divisional forest officer of Wildlife Management and Nature Conservation Department in Sylhet, said, "These trees are being cut without permission from the Forest Department. Measures will be taken in this regard."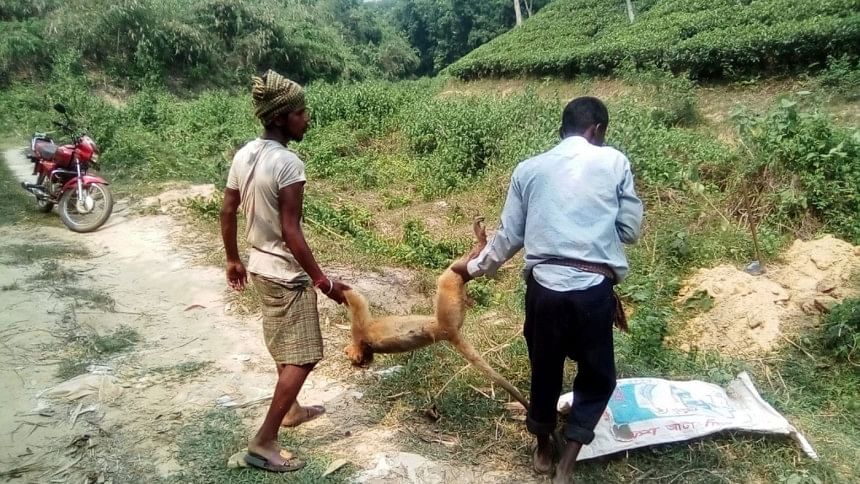 Moin Uddin, manager of Hatimara tea garden, declined to comment when this correspondent contacted him several times.
Terming the incident a barbaric and heinous act, Syeda Rizwana Hasan, chief executive of Bangladesh Environmental Lawyers Association, said, "This is illegal and punishable. The government should set precedence by punishing the perpetrators. This goes against Article 18 A of the Constitution, which commits to protecting wildlife."
"If justice is not ensured against such gross violation, constitutional commitment becomes unfulfilled," she remarked.
Sylhet Divisional Forest Officer Md Taufiqul Islam said, "I asked the tea garden authorities to stop cutting the trees. But they haven't obliged even after three days. I have sent our officer. Legal action will be taken if they fail to give proper justification."