Tea workers' strike: Owners of tea estates to meet PM tomorrow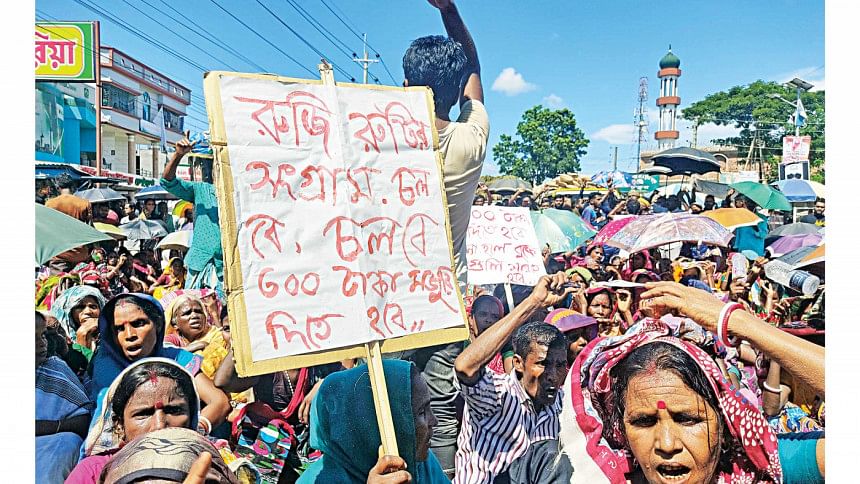 Prime Minister Sheikh Hasina has invited all tea estate owners to the Gono Bhaban for a meeting tomorrow.
She would discuss the ongoing crisis over the strike of tea plantation workers, confirmed sources at the Prime Minister's Office yesterday.
Meanwhile, tea-estate workers continued to protest for the 13th consecutive day yesterday demanding a pay hike.
Hundreds of workers protested in Moulvibazar, Sylhet, and Habiganj.
A meeting, scheduled between the labour and employment minister and the agitating workers yesterday was cancelled as the prime minister was dealing with the matter directly, said Mohammad Nahidul Islam, deputy director of the Divisional Labour Office in Moulvibazar's Sreemangal.
Yesterday, multiple groups of workers blocked roads for hours, staged demonstrations and formed human chains in Moulvibazar, Sylhet, and Habiganj.
Several hundreds of them blocked the Dhaka-Sylhet highway in Moulvibazar's Varirpar area for about three hours from around 1:00pm.
At the same time, another group staged demonstrations at Moulvibazar's Rajnagor upazila halting vehicular movement on Dhaka-Bianibazar and Moulvibazar-Sylhet highways.
"We cannot buy two kgs of rice with our daily wage. How can we bear our living expenses with such poor pay? We will not be able to survive without our wages hiked," said Mohan Urang, a tea worker in Moulvibazar Sadar upazila.
"We are victims of discrimination. We are not paid just wages. We will not resume work until our demand is fulfilled," said Bishwajit Robidas, a worker in Moulvibazar's Kulaura upazila.
Hundreds of workers held a meeting at Sreemangal's Kalighat Tea Garden around yesterday noon and vowed to continue their demonstration until their demand for Tk 300 daily wage is met.
"We, all the workers, have no alternative to continuing the movement as the tea garden owners are not increasing our wage as per our demand," said Pankaj Kondo, vice president of the Bangladesh Tea Labour Union.
Meanwhile, a section of students of the University of Chittagong formed a human chain expressing solidarity with the demand of tea workers.
Around 125,000 workers in the country's 241 tea estates have been holding protests demanding their daily wages be raised to Tk 300 from Tk 120.