Tk 170 wage decision draws mixed reactions from tea workers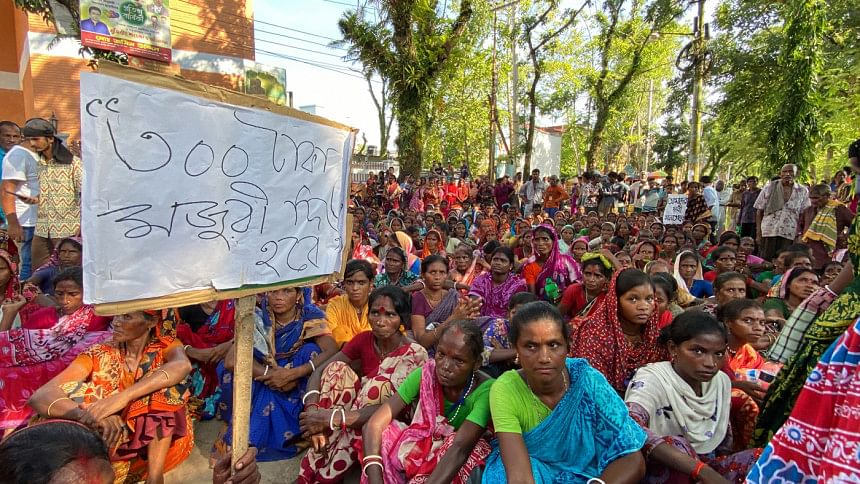 Tea workers have expressed mixed reactions to the daily wage set at Tk 170, following a meeting between tea garden owners and Prime Minister Sheikh Hasina at her official residence Gono Bhaban.
After the meeting, earlier today (August 27, 2022), Prime Minister's Principal Secretary Ahmad Kaikaus briefed the media and said the PM has given this decision.
A section of tea workers agreed to suspend their ongoing strike after Prime Minister Sheikh Hasina raised their daily wage to Tk 170, from Tk 120, while another section have expressed frustration.
Rajdeo Kairi, convener of the Tea Workers' Union Moulvibazar, said, "In the 168-year history of the tea industry, the daily wage of tea workers stands at only Tk 170 today. Two litres of oil cannot be purchased with this wage."
"We voted for boat. So, the prime minister should have listened to us first," said Dayal Almik, a tea worker.
He said the prime minister conveyed the decision without holding a meeting with the tea workers. "I don't accept this wage. I wanted to know the union president's opinion but he could not say anything."
Moni Goyala, a worker of Shamshergar tea garden, and Maya Rabidas of Deochara tea garden said, "We have families of six-eight people. On an average, we now need Tk 350 daily for buying rice, pulses, oil, vegetables, and electricity bills and other costs.
Ajit Kairi, president of the Panchayat Committee of Luhauni tea garden, said, "We will go to work if everyone goes to work. I have called presidents of various panchayat committees. Everyone says they'll go to work."
Abdul Karim Kim, one of the organizers of the Nagarik Sanghati Samabesh, said the agitating workers had hoped that the prime minister would direct the garden owners to increase wages. Many expected that after meeting with the tea garden owners, the prime minister would take a decision after listening to the workers. Workers in the tea gardens are now frustrated due to the wage set at Tk 170.
The workers may return to work, but after 19 days of protest, taka 50 increase in wage is disappointing, he noted.
Nipen Pal, general secretary (acting) of the central committee of Bangladesh Tea Workers Union, said, "There was a demand from tea workers. We left it to the prime minister. We respect the prime minister's decision. Our tea workers will join work from tomorrow. "
The tea workers started a strike on August 9, 2022 demanding a daily wage of Tk 300. Later, on August 13, they started an indefinite strike across the country.