Want to lease a grave? Get ready to pay lakhs!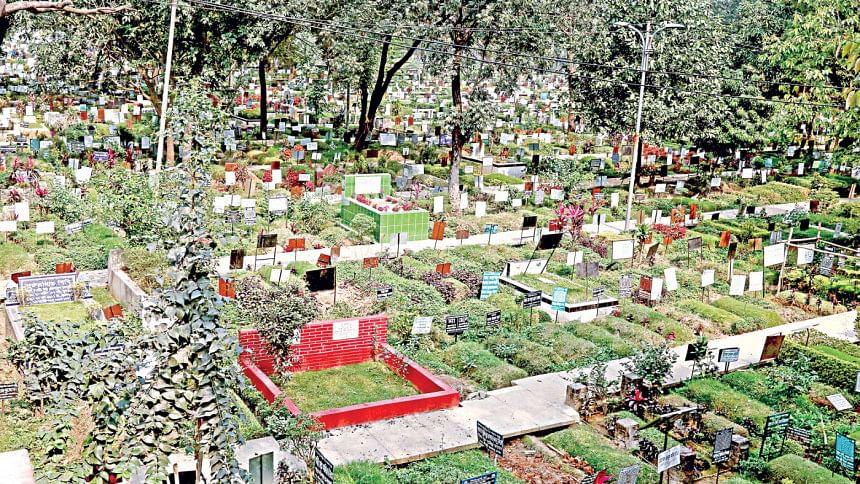 Believe it or not, if someone wants to lease a grave -- even if it's just around 28 square feet of land -- for 25 years in an area of Dhaka South City Corporation (DSCC), they'll have to pay a hefty Tk 20 lakh!
The areas under Dhaka North City Corporation (DNCC) are no exception either. Although the rate is a bit lower , they still go for Tk 11 to 15 lakh for the same duration.
But what is the reason behind such astounding rates?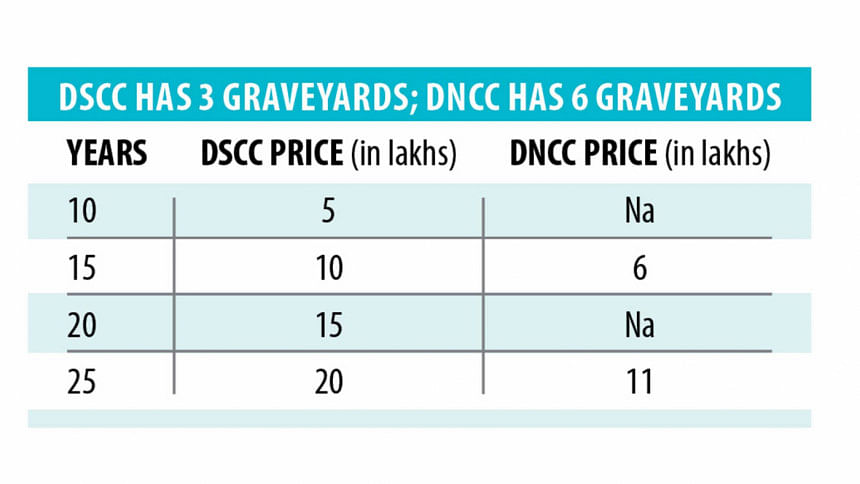 Officials of both city corporations said they have fixed high rates to discourage people from reserving graves for their loved ones, as there will be a shortage of burial spots if everyone does the same.
DSCC fixed the rate at Tk 5 lakh, 10 lakh, 15 lakh and 20 lakh for 10, 15, 20 and 25 years, respectively, for its three graveyards in Jurain, Azimpur and Khilgaon.
On the other hand, DNCC has fixed its prices for people who want to bury their loved ones at the reserved section of six graveyards in Banani, Rayerbazar, Mirpur, and three in Uttara.
They charge Tk 6 lakh for 15 years and Tk 11 lakh for 25 years. However, for Banani graveyard, they charge Tk 15 lakh for 25 years and Tk 8 lakh for 15 years.
However, a person has to pay three times higher if they want to lease a grave in the general section of the graveyards, said Md Enayet Hossain, DNCC's social welfare official.
Meanwhile, there is no scope to reserve a grave before someone's death. If anyone wants to get a lease, they will have to apply once their loved one is buried, Enayet said.
In the past, graves could be leased in advance, but that provision doesn't exist anymore according to new guidelines, he said.
DSCC has prepared a new guideline for their graveyards, in which they re-fixed the fee for general burial (except logistics of burial and digging fees) at Tk 1,000. This fee did not exist during the previous mayor's tenure. DNCC is taking Tk 500 as burial fees.
Md Abu Nasher, public relations officer and spokesperson of DSCC, said they have fixed the fee after a decision was reached at a DSCC board meeting.
He said they have decided to take Tk 1,000 to discourage residents from burying loved ones in city graveyards, and instead bury them in their village homes.
Among the graveyards in DNCC areas, Rayerbazar graveyard, set up on around 96 acres of land, does not allow leasing graves at all. "We do not give any reservations. We have cancelled the system recently, as a grave automatically remains for around 15 to 20 years due to the premises' vast area," said Abdul Aziz, caretaker of the graveyard.
He said lease applications for around only seven graves have been approved in the last five years.
Mirpur's Kalshi hosts a big private graveyard. It also does not allow leases, except in special cases.
Md Ripon, caretaker of Kalshi graveyard, said they have stopped leasing out graves due to the scarcity of land, although they sometimes make exceptions for some special requests. "We take Tk 4.5 lakh for a 20-year lease in these cases," he said.
However, lessees of the graveyard have complained of irregularities while speaking to this correspondent.
Md Lutful Kabir Shipon, a resident of Mirpur 12, said they had leased a pair of graves for Tk 70,000 on April 14, 2008 after his father died, way before the new regulations came to effect.
"We buried our mother in the other one on December 19, 2019. But during her burial, the graveyard authorities started demanding an additional Tk 50,000, citing that the current spike in price of reserved graves," he said, adding that they were told at the time that they will be able to keep the graves for as long as they want.