BNP shocked seeing Biden taking selfie with Sheikh Hasina: Quader
Awami League General Secretary Obaidul Quader today said the BNP leaders became terribly upset seeing US President Joe Biden himself taking a selfie with Prime Minister Sheikh Hasina and her daughter autism expert Saima Wazed Putul while exchanging pleasantries on the G20 Summit sidelines in New Delhi.
"BNP was expecting a sanction from the White House on Bangladesh. But what is seen? Biden himself took a selfie with Sheikh Hasina accompanied by Putul in Delhi. Seeing the photo, BNP leaders got a terrible shock," he added.
Quader, also the road transport and bridges minister, said: "What will happen to BNP now. Is it their journey towards fall or backwardness?"
He said this while addressing a peace rally organized by AL's Dhaka city south unit in front of the party's central office at Bangabandhu Avenue this afternoon with its President Abu Ahmed Mannafi in the chair.
AL Presidium Members Deputy Leader in House Begum Matia Chowdhury, Advocate Quamrul Islam and Dr Mostafa Jalal Mohiuddin, Joint General Secretary Mahbubul Alam Hanif, Dhaka city south unit general secretary Humayun Kabir and Chhatra League President Saddam Hussein also spoke.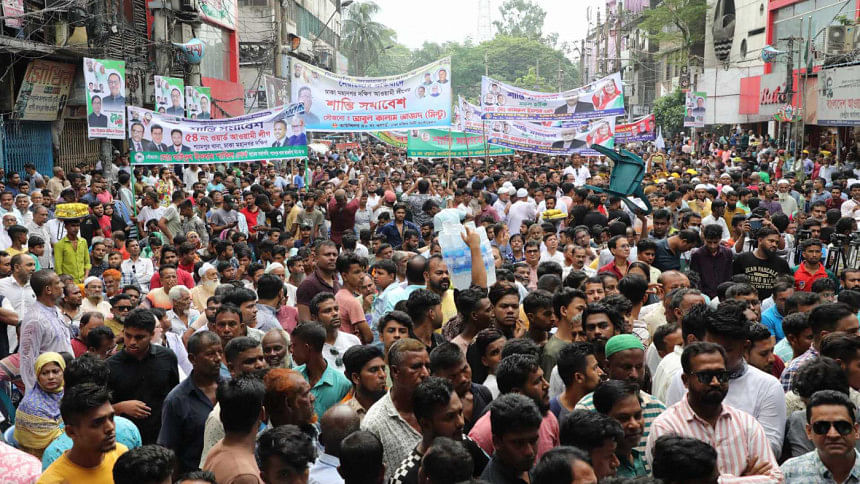 Noting that BNP is preparing to join the next general elections behind the curtain, Quader said this party is visibly waging movement but it is taking preparations for elections in hide.
Two or three rich BNP aspirants of same constituencies are spending money and going to London to appease BNP acting chief Tarique Rahman, a fugitive convict in several cases staying there, he said.
If BNP doesn't contest polls, how Tarique will do moneymaking centering party nominations, he questioned.
Addressing BNP Secretary General Mirza Fakhrul Islam Alamgir, Quader said people didn't join today's road march programme of BNP as they didn't support them.
After failing in movement, BNP is now out to take advantage capitalizing on Dr Muhammad Yunus, he said.
He said if BNP joins polls, there is a possibility of getting a creditable number of seats in parliament.
The AL general secretary urged the BNP to bring their activists in field towards elections instead of movement as there is no scope to restore the caretaker government system anymore.