No fear of famine: PM
Hasina assures countrymen at Jubo League rally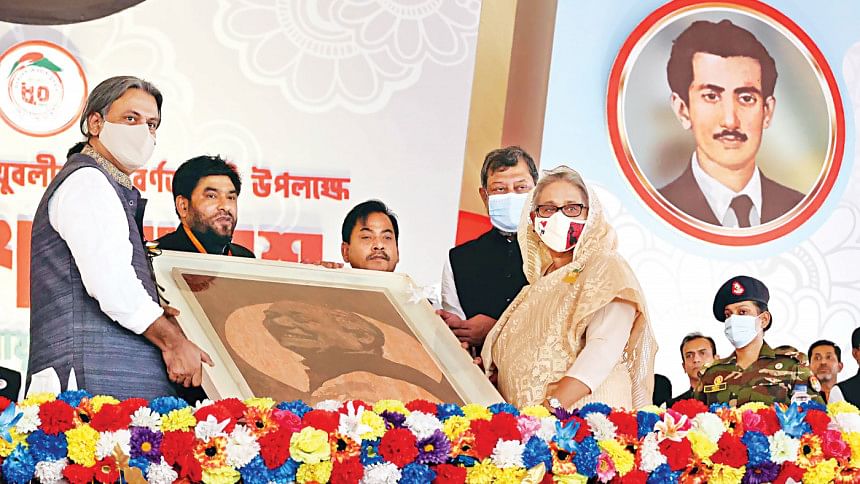 Prime Minister Sheikh Hasina yesterday said there will be no famine in Bangladesh as the country's economy is still strong enough.
She also said the world is fearing famine as a consequence of price hike of commodities in the global market due to the Russia-Ukraine war and sanctions and counter sanctions.
Hasina, also the Awami League president, said this while addressing a mammoth rally organised by the Jubo League in the capital's Suhrawardy Udyan.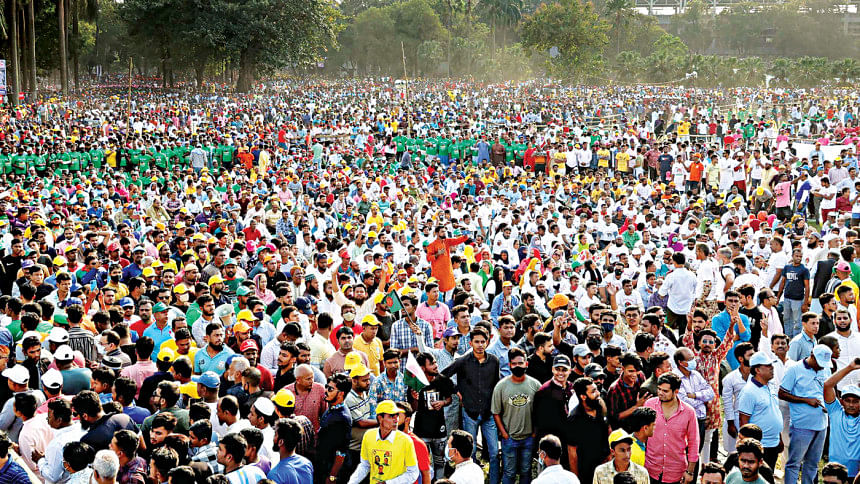 The premier also urged countrymen and party activists not to keep an inch of land uncultivated to avert the current crisis.
Although the rally was held to inaugurate the one-year long golden jubilee celebrations of the JL, the AL insiders say this gathering was meant to show the ruling party's strength and popularity as well as to give a fitting reply to the BNP's ongoing anti-government movement and series of rallies.
While speaking at the rally, top Awami League leaders said those who think the BNP's movement will drag the AL down from power are living in a fool's paradise.
They outright rejected the BNP leaders' demand of forming a caretaker government during the election and said the next parliamentary polls will take place in line with the constitution.
During her speech, Hasina said, "Many said the situation of Bangladesh will be like that of Sri Lanka. But that did not happen and it will not happen as our economy is strong enough."
"… there will be no famine in Bangladesh. And to ensure that we have to be well prepared. I'm urging all Jubo League men to go to their villages and ensure that no land remains uncultivated," she added.
Hasina said Bangladesh is moving ahead despite many setbacks. "The BNP talks about the reserve. Before 1996, when they were in power, the country's reserve was $2.6 billion… We took that reserve up to $48 billion."
"We have to use our reserve. We have invested eight billion dollars separately in different sectors. It will not be possible to keep the reserve idle. It needs to be utilised," she added.
Hasina said her government's topmost priority is to make the country's economy stronger.
The premier in her 30-minute speech, which ended around 5:10pm, also criticised the BNP leaders, saying they talked about corruption and money laundering while Khaleda Zia and Tarique Rahman have been sentenced in corruption cases.
In an oblique reference to BNP chief Khaleda, the PM said how can a country progress if it is run by a person who failed to pass the matriculation exam.
Earlier, Hasina reached the venue amid thundering ovation around 2:40pm. She inaugurated the event by releasing pigeons and balloons in the sky.
Speaking at the event, AL General Secretary Obaidul Quader said the IMF is providing loans to Bangladesh as it knows the government has the capacity to repay them. "If the BNP assumes power, its leaders and activists will eat it all up…"
AL advisory council member Amir Hossain Amu, and its presidium members Sheikh Fazlul Karim Selim and Jahangir Kabir Nanak also spoke at the event.
JL Chairman Sheikh Fazle Shams Parash presided over the rally, moderated by its General Secretary Mainul Hossain Khan Nikhil.
Earlier in the day, the celebrations started with the rendition of the national anthem. Singers Momotaz Begom, also an AL lawmaker, and Pantha Kanai and actor Chanchal Chowdhury, among others, took part in a cultural programme.
Thousands of activists of JL, AL and other associate bodies started to throng the venue since morning. With banners and festoons in their hands and wearing colourful t-shirts and caps, they gathered through small and large processions.
Meanwhile, at least eight people including a cop were injured in a clash that took place around 2:00pm at the venue.
Injured police constable Kabir Hossain, 25, said two groups hurled brickbats at each other at the southern part of Suhrawardy Udyan, following an altercation over entering the venue.
JL General Secretary Mainul said they were not aware of any clash. "We are looking into the matter," he added.
Meanwhile, JL president of Bakshimail union in Rajshahi, Jinnat Ali Harun, 48, died after falling ill at the venue, confirmed Assistant Sub-inspector Masud of DMCH police outpost.
Because of the rally, commuters in the capital had to suffer much due to lack of transport as ruling party men had already reserved many buses to go to the venue, according to bus drivers.
JL was founded by Sheikh Fazlul Haque Mani under the direction of Bangabandhu Sheikh Mujibur Rahman through a youth convention at the Institution of Engineers on November 11, 1972.