Protest rally: 25 injured in BNP-police clash in Ctg's Kazir Dewri
At least 25 persons, including 20 policemen, were injured after a series of clashes broke out between police and BNP leaders and activists in Kazir Dewri area of Chattogram city today.
The clashes broke out around 3:30pm today. At that time, the leaders and activists threw brickbats at the law enforcers while police fired tear gas shells and shotguns to disperse them.
The Daily Star reporter, who is present at the spot, reported that the BNP leaders and activists started arriving in front of the city BNP office at Nasimon Bhaban in the area to join the party's pre-scheduled protest rally as part of the central programme. Some of the central leaders were also present at the time.
Shortly after the rally began, clashes broke out in the area. At one stage, the agitated leaders and activists torched a motorcycle parked in front of a police box.
According to eyewitnesses, the entire area turned into a "battlefield" for at least 30 minutes.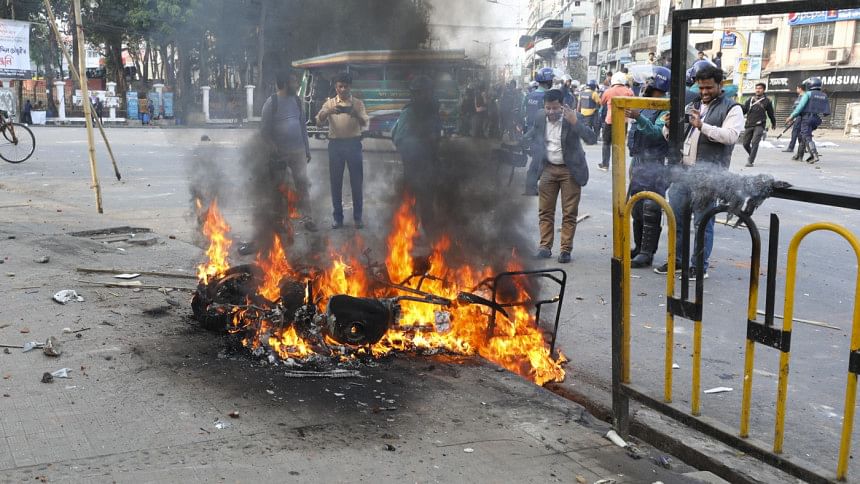 Assistant Commissioner of Chattogram Metropolitan Police (CMP) Noble Chakma said the incident took place when BNP leaders and activists started throwing brickbats at police.
"Among the 20 policemen, four were critically injured and rushed to Chattogram Medical College Hospital (CMCH) for treatment," Deputy Commissioner (DC) (South) Mostafizur Rahman told this correspondent.
The DC said police detained several BNP men in this connection while cases will be lodged accusing the BNP men in this regard.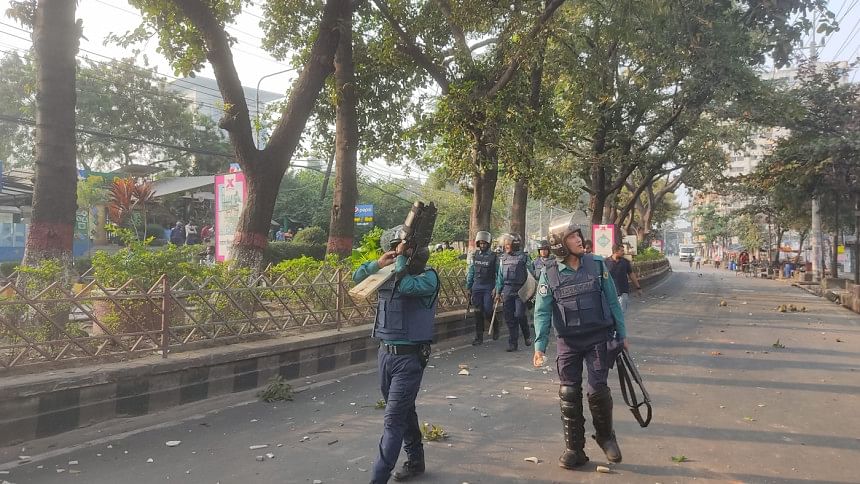 Md Saidul Islam, Chattogram bureau chief of the newspaper Daily Kalbela, said, "Despite knowing my identity, the BNP men vandalised my office car in front of Almas Cinema Hall during the clash."
City unit BNP convener Dr Shahadat Hossain told The Daily Star that police intentionally plotted the clash, putting blockade on the way of rally venue.
"We have taken permission from police for rally and procession but the police just before the rally started, told us that no procession will be allowed," said the BNP leader.