Sattar sails through with AL backing
Voters' apathy marks all 6 by-polls; Hero Alam loses by 834 votes in Bogura-4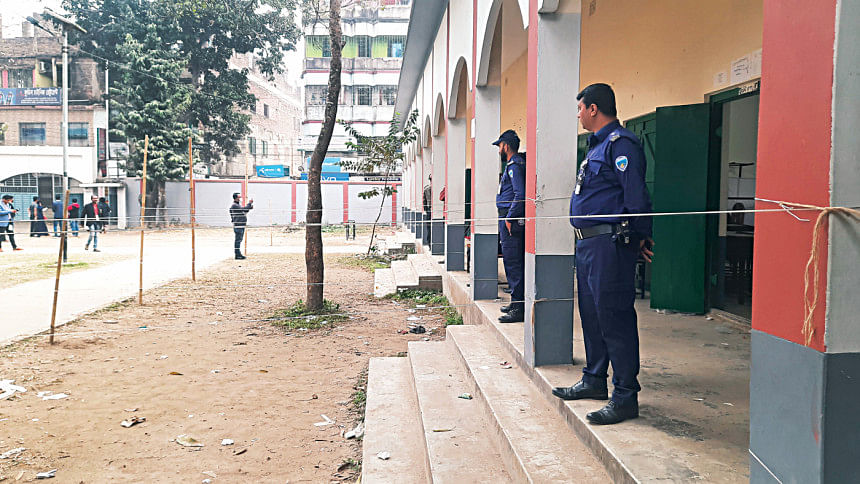 With overt blessings from the ruling Awami League, expelled BNP leader Abdus Sattar Bhuiyan won as an independent by a wide margin in Brahmanbaria-2 by-polls, which saw a voter turnout of less than 16 percent.
By-elections to five more constituencies were held yesterday, but the turn of events in Brahmanbaria leading up to the polls grabbed headlines: One of the candidates has been traceless for six days, and Sattar, known as a veteran BNP leader, chose to run as an independent at the cost of his membership in the party.
AL's support for Sattar has been public knowledge since it refrained from nominating anyone to participate in the by-election. AL leaders often joined him in the campaign trail and secured what many said was an easy win for him.
According to unofficial results, Sattar, who was an adviser to BNP Chairperson Khaleda Zia, bagged 40,817 votes and Jatiya Party candidate Abdul Hamid Bhasani 9,580.
Sattar was elected with BNP nomination from constituencies in Brahmanbaria and Cumilla five times, including in the 2018 national election.
In yesterday's by-polls to the six constituencies, three AL nominees, two independents with AL support, and a Jatiya Party nominee won.
Voter turnout was poor in all the constituencies and clashes were reported in some places.
In Bogura-4, independent runner Ashraful Hossain Alam, popularly known as Hero Alam, lost to a ruling grand alliance candidate and Jatiya Samtantrik Dal leader Rezaul Karim Tansen by 834 votes. The former got 19,871 votes. The voter turnout was 23 percent.
In Thakurgaon-3, Jatiya Party leader Hafiz Uddin Ahmed won with 25,463 votes followed by independent candidate Gopal Chandra Roy's 16,691 and the AL-led grand alliance candidate Yasin Ali's 7,010. Voter turnout was 38 percent.
In Bogura-6 which saw a 22 percent turnout, AL candidate Ragebul Ahsan won with 49,336 votes, defeating the closest rival Abdul Mannan, an independent, who bagged 21,864 votes.
In Chapainawabganj-3, AL candidate Abdul Wadud won by bagging 69,638 votes while his nearest rival Samiul Haq got 55,980. Voter turnout was 29 percent.
In Chapainawabganj-2, AL candidate Ziaur Rahman won with 94,928 votes while his nearest rival independent candidate Mohammad Ali Sarkar bagged 25,399. Voter turnout was 35 percent.
The by-elections were needed as seven BNP lawmakers resigned from parliament as a protest.
After voting was done, Chief Election Commissioner Kazi Habibul Awal said, "The by-polls were held peacefully and there were no allegations of vote rigging and other irregularities."
BRAHMANBARIA-2 BY-POLLS
Abu Asif Ahmed, who is running as an independent, has been missing since Friday.
At Sarail Annada Govt High School centre, polling officials and law enforcers were in their designated places by 8:30am. But none of the 4,041 voters turned up until 9:00am.
The first voter to walk in was a man named Ripon Mia. He said he went there mostly because of his curiosity to see the Electronic Voting Machines.
Presiding Officer Syed Zakir Hossain said, "Maybe the turnout is low because it's a winter morning:
At Sarail Sadar Union Parishad polling centre, the usual queue of voters was not seen at 9:30am. There were 3,687 voters in the centre.
The scenario was similar at almost all the polling centres. The only exception was found in Pak Shimul Union Parishad of Sarail upazila, the ancestral village of Sattar.
Contacted, Returning Officer Shahgir Alam said bringing voters to the polling centres is not the responsibility of the officers. "The weather can be a factor. Besides, the candidates might have failed to motivate the voters," he said.
At Pakshimul Government Primary School and Aruyil Bohumukhi High School centres, Sattar's polling agents were found in the polling booths.
One of them, Bachchu Mia, was found in a booth along with a voter at Aruyil. When Assistant Presiding Officer Joynal Abedin was asked about it, he said, "I just went to the bathroom."
Missing candidate Asif's wife Meherunnisa Meherin did not cast her vote even after going to her designated Shramkalyan Kendra polling centre at noon.
Shimul Mridha, a resident of Talshahar area of Ashuganj, said the ruling party men were desperate to make Sattar win.
He said, "They worked shamelessly for him. Everyone knew what would be the outcome of this election. That's why nobody bothered to go to the polling centre."
Alamgir Hossain, a resident of the same area, said since Asif has been missing, his supporters didn't bother voting.
CHAPAINAWABGANJ-2 and -3
Incidents of violence were reported in Chapainawabganj-3.
Supporters of different candidates chased each other near Adarsha Zila School in the town around 9:00am.
Besides, four crude bombs were detonated near Krisnagovindapur Girls High School around 2:00pm. Polling was suspended at the centre soon afterwards.
Clashes between different groups took place in the Shantimor and Sonarmor areas leaving three people injured later in the afternoon.
As law enforcers reached the scene, the crowds hurled a crude bomb at Rab men. Officers then fired 30 to 35 blank shots to calm the situation, said Commander Ruh-Fi-Tahmin Toukir of Rab-5.
However, by-polls to Chapainawabganj-2 were peaceful.
Bogura and Thakurgaon
In Bogura-6, the polling centres were controlled by the ruling party men.
A group of Jubo League men led by Abdul Motin Sarkar, brother of former Jubo League leader Tufan Sarkar was at the Jubli Institution polling centre in Bogura.
Several locals said they were not comfortable going to the centre.
Asked, Motin said he was just helping the voters.
AL men were also seen in Bogura Pre-cadet High School, Thanthania Nurun Ala Nur Fazil Madrasa and some other polling stations.
Independent candidate Abdul Manna Akanda alleged that over 100 centres were occupied by the ruling party men.
Hero Alom said his polling agents were forced to leave the polling stations.
Contacted, the Returning Officer Saiful Islam said, "When we get information of irregularities, we send magistrates to take action."