Police station being constructed at Tetultala playground with permission of all concerned: DMP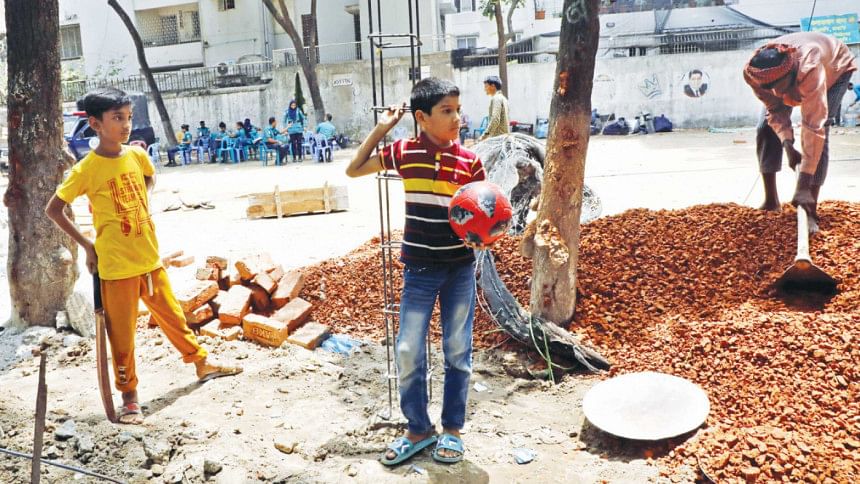 Dhaka Metropolitan Police (DMP) has said that the Kalabagan Police Station is being constructed at the city's Tetultala playground with permission of all the authorities concerned.
"The government has allotted this land to DMP in accordance with all the existing laws of the country. DMP is not illegally constructing the police station on the land of any person or organisation," Md Faruk Hossain, deputy commissioner (media and public relations) of DMP, said today.
The issue of an alternative playground is not under the jurisdiction of DMP, the police official said while talking to journalists at his office.
He said a total of 0.20 acres of land in Dhanmondi mouza has been acquired for Kalabagan Police Station in public interest. All the provisions of land acquisition have been followed in the process.
Faruk Hossain said the land is owned by the Ministry of Housing and Public Works.
He said DMP also obtained approval of the Home Ministry and Rajuk clearance for acquisition of the land.
It also received no objection certificate (NOC) from the Department of Environment (DoE), said the DMP official.
Besides, the local lawmaker has given a DO letter to the Home Minister to set up the Kalabagan police station permanently in the interest of the safety of the residents, he said.
The deputy commissioner of Dhaka opined to the Land Ministry with recommendations for acquisition of the land in the feasibility report, added the DMP official.
On January 31, Dhaka Deputy Commissioner's Office handed over the playground to Dhaka Metropolitan Police for constructing a building for Kalabagan Police Station. At present, a rented place on 30 North Road is being used as the police station.