US stands with Iranians
Says Biden ahead of Mahsa Amini's death anniv; US, UK impose sanctions on Iranian officials, entities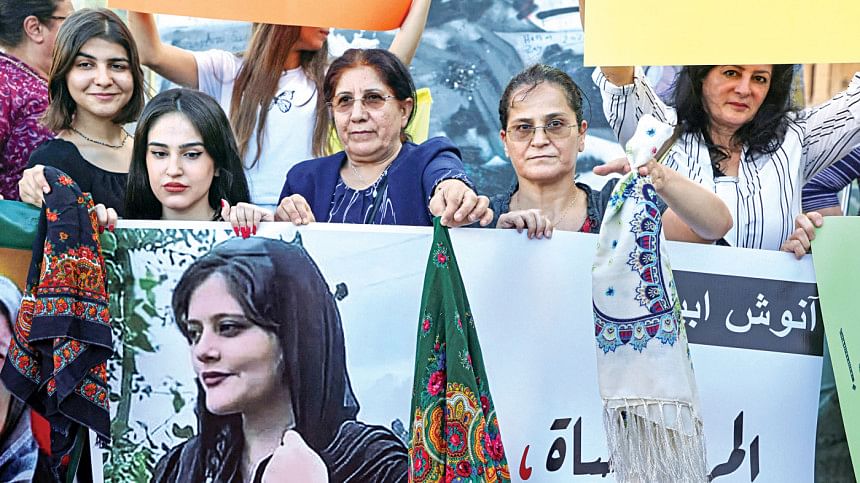 President Joe Biden said yesterday that the United States would support Iranians a year after the death of Mahsa Amini sparked mass protests, and announced fresh sanctions against "egregious human rights abusers".
"Iranians alone will determine the fate of their country, but, the United States remains committed to standing with them," Biden said in a statement issued by the White House.
The United States is sanctioning more than two dozen individuals and entities connected to Iran's "violent suppression" of protests in the wake of Mahsa Amini's death last year in the custody of Iran's morality police, the US Department of Treasury said yesterday.
The sanctions target 29 people and groups, including 18 key members of the Islamic Revolutionary Guard Corps (IRGC) and Iran's Law Enforcement Forces (LEF), as well as the head of Iran's Prisons Organizations, the department said. They also target officials linked to Iran's internet blockade as well as several media outlets.
"The United States, alongside the United Kingdom, Canada, Australia, and our other international allies and partners, will continue to take collective action against those who suppress Iranians' exercise of their human rights," US Under Secretary of the Treasury for Terrorism and Financial Intelligence Brian Nelson said in a statement ahead of the one-year anniversary of Amini's death today.
Britain separately announced its sanctions targeting senior Iranian decision makers enforcing Tehran's mandatory hijab law, including Iran's minister for culture and Islamic guidance, his deputy, the mayor of Tehran and an Iranian police spokesman.
Amini, an Iranian Kurd, died September 16, 2022 at the age of 22 after being arrested for allegedly flouting the Islamic Republic's mandatory dress code. Her death sparked months of anti-government protests that marked the biggest show of opposition to Iranian authorities in years.
Three state-controlled media groups in Iran, Press TV, Tasnim News and Fars News were also placed on the US blacklist.
The Treasury said they "work in tandem with Iranian security and intelligence services ... extending the regime's oppressive reach."
The sanctions come after the US and Iran reached a deal to release five detained US citizens in exchange for the unfreezing of $6 billion of Iranian funds.