Biman Runway Incursion: Pilots almost caused disaster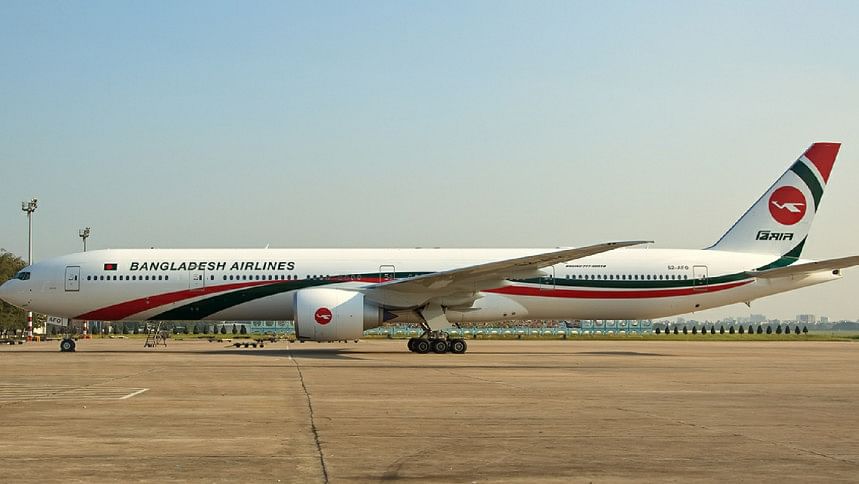 There was a near miss on the runway of Hazrat Shahjalal International Airport on Tuesday.
Without authorisation from Air Traffic Control, a Biman Boeing 777-300ER, which can seat 419 people, went onto the runway to take off while another aircraft was about to touch down.
The ATC noticed the runway incursion and was able to instruct a Novoair flight on final approach in time to go around.
Capt Shahadat Hossain in command of the Biman flight to Medina and First Officer Jamal made the runway incursion around 9:00am, said a senior captain of the national flag carrier.
Biman has grounded Capt Shahadat and First Officer Jamal. It, in a letter, asked its scheduling department not to put the duo on any flight until further notice.
The Daily Star has a copy of the letter issued on Tuesday.
A source at the HSIA said, "When the control tower noticed it [runway incursion], the Novoair aircraft was very close to landing. A possible collision was averted as the ATC immediately asked the Novoair pilots to go around and abort the approach."
A high official of Biman told The Daily Star that they have launched an investigation into the runway incursion incident and have already collected voice records of communication between the aircraft and the ATC.
According to Federal Aviation Authority, any occurrence at an airport involving the incorrect presence of an aircraft, vehicle or person on the protected area of a surface designated for the landing and take-off of aircraft is called runway incursion.
A runway incursion is a serious offence, according to aviation experts.
This paper also obtained a copy of a safety report note and an email which mention that this was not the only error made by the Biman cockpit crew that day.
The flight upon reaching Medina parked in the wrong position and the plane had to be towed to the correct location.
Capt Shahadat does not have a stellar reputation to say the least.
He was removed from the post of chief of planning and scheduling in March following various allegations against him.
In September last year, Biman's female cockpit crew members in a confidential letter to chief of flight safety said that they were being regularly harassed by their male bosses resulting in an unsafe working environment.
They alleged that Capt Shahadat, along with others, misbehave with the female cockpit crew members and use unprofessional language. The attitude of Capt Shahadat towards female pilots is offensive and abusive in nature, they said.
Several pilots involved in the runway incursion probe told this paper that Capt Shahadat was a member of the cockpit crew of flight BG-609 that crashed short of the runway in Sylhet in 1997.