European countries to be closer for Biman flyers
Carrier to ink codeshare deal with Gulf Air; agreement with JAL to make hops to US easier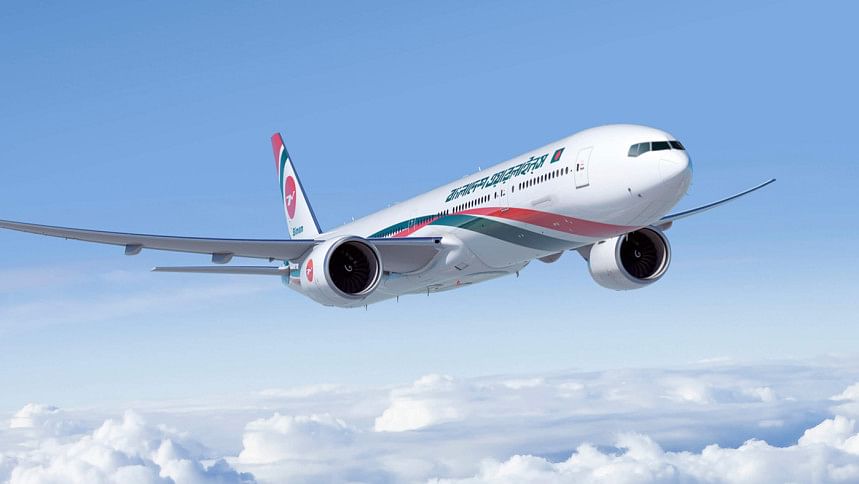 Biman is going for codeshare and interline agreements with Gulf Air and Japan Airlines and this will allow its passengers to go to destinations the two carriers serve.
This is the first time Biman is going for such agreements, said MD and CEO Shafiul Azim, adding that through the codeshare agreement with Gulf Air, the national flag carrier of Bahrain, Biman plans to expand its reach into Europe where Gulf Air has extensive access.
The interline agreement with Japan Airlines will allow Biman passengers to travel to the US via Tokyo, sources in Biman said.
Biman is scheduled to start direct flights to Narita (Tokyo) on September 1.
Biman expects both deals will be signed before September.
The national flag carrier is also planning to make a code-sharing agreement with Air Canada to have further reach into North America.
For years, Biman has been trying to sign codeshare agreements with several airlines. Both carriers will share the profits earned from routes under the codeshare agreement, said the Biman MD.
"Code sharing is a kind of indirect fleet expansion," he said.
Aviation expert ATM Nazrul Islam lauded Biman's move and said this is a unique moment for the aviation sector in Bangladesh as this is the first time any carrier of Bangladesh is signing a codeshare agreement with a foreign carrier.
WHAT IS CODE SHARING
Code-sharing is a partnership between two airlines. It allows a flight to be operated by one carrier and marketed by another.
Put simply, code-sharing allows airlines to sell tickets to destinations they do not fly to. These agreements allow airlines to offer numerous flights without additional equipment, resources, and costs.
Code sharing also provides passengers with a wide choice of flights. It also makes booking, checking in, luggage handling, and travelling more convenient. The coordinated schedules make sure there is enough time for connecting flights.
Airlines throughout the world use code-sharing arrangements to strengthen or expand their market.
HOW INTERLINE WORKS
When there is an interlining agreement between two carriers, a passenger has to buy a single ticket and check in once to reach his or her destination, not direct, with flights run by both carriers.
It relieves passengers from making bookings with both carriers and handling baggage during stopovers.
The interline agreement is a collaboration that improves inter-airline ticketing experience. It promises the flexibility of travelling across multiple locations without multiple bookings.
Biman MD and CEO said through the interline agreement, Biman will take passengers to Narita and Japan Airlines will take them to US cities.
"This means we will get the opportunity to take passengers to America indirectly via Narita.
"We are also expecting that the travellers from our neighbouring countries, including Nepal and India and especially people of Kolkata and Delhi, will also find the route attractive," added the Biman boss.
Aviation expert Kazi Wahidul Alam said Biman will have to be cautious while signing the code-sharing and interline agreements so that its interests are protected.
Biman now operates flights to 20 international destinations most of which are in the Middle East.