Don't forget Tonu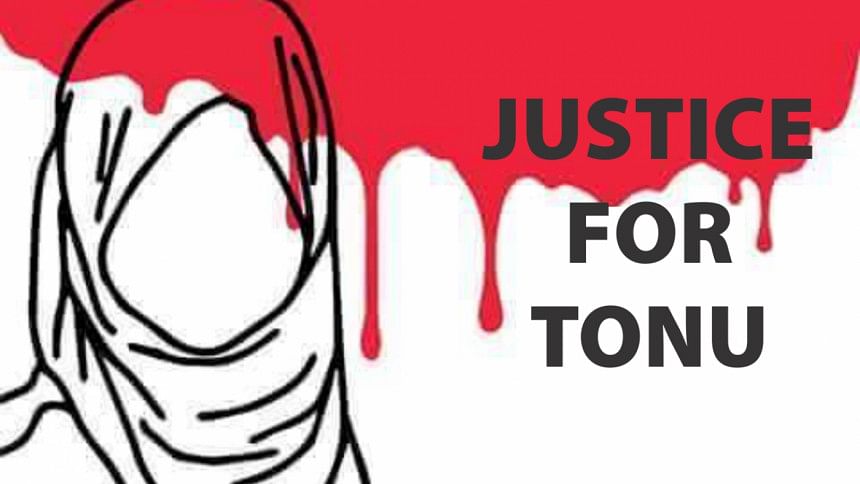 The smiling face of a young girl in hijab caught my eye while I was scrolling through my FB newsfeed. The hashtag 'Justice for Tonu' was enough to announce what this story was about. 19-year-old Shohagi Jahan Tonu's body had been found near a culvert in Mainamoti cantonment area. There were signs of sexual assault before the murder. According to the post, Tonu had gone to tutor students and when she didn't come back in the evening her family was worried, though least expecting that anything like this could happen in such a safe area. Finding her cell phone switched off and after finding out that she had left her student's house much earlier, Tonu's father, a fourth class employee at one of the high schools in the area, went in search of her. It was he who first identified the lifeless body thrown into the bushes as his beloved daughter Tonu.
Tonu, a bright, lively second year student of history of Comilla Victoria College, was a member of her college's theatre group, an avid poetry lover and quite the cultural enthusiast. From her picture one gathers that she was also religious. So despite her modest way of dressing, in spite of living in such a secure area, Tonu could not be spared from being the target of sexual predators. So far the police have not been able to find any clue regarding who could have carried out this horrible crime, snuffing out the life of a young woman in the prime of her life.
All over the country people are protesting – students, parents, cultural activists. They are calling for justice for Tonu.
But why only days before our Independence Day, must we resort to street protests and human chains to demand a fair investigation and arrest of the killer(s) and rapist(s)? Should this not be a standard case of 'rape or attempted rape before murder' to be handled by our law enforcers? The social media is rife with allegations that there are attempts to hush-up the case. We pray that isn't so.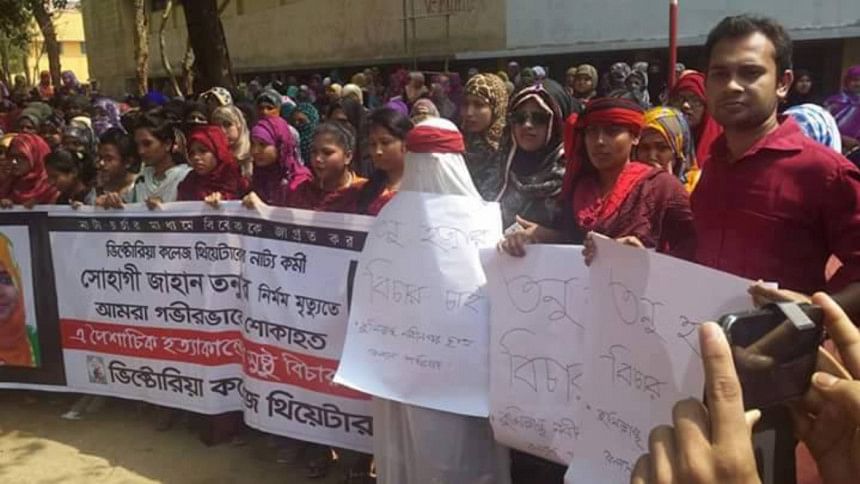 That is the biggest tragedy of our lives as citizens of a free, independent country. We have laws that award the severest punishment for rape and murder – the death sentence if the victim is killed and lifetime imprisonment plus fines if it is a case of rape. But this has not deterred rapists who often choose to kill their victims to avoid identification. What's more the 'system' has an inbuilt safeguard for certain individuals – people who have connections with the right persons in power, people who have lakhs of taka to buy silence and people who have enough goons (official and unofficial) to make sure no one talks. In this kind of a scenario, what can ordinary folks do except endure the burden of the rape or death of their beloved daughter, sister or friend along with the helplessness and anguish of not being able to get any justice for her cruel end?
News reports of rapes and gang-rapes fill the inner pages of the newspaper every single day – they are so frequent that readers forget the details the very next day – was it a seven-year-old primary school student, a young housewife, a secondary school student or a 12-year-old domestic worker filling in for her mother at the house of a public official? The stories are discarded along with the day's paper.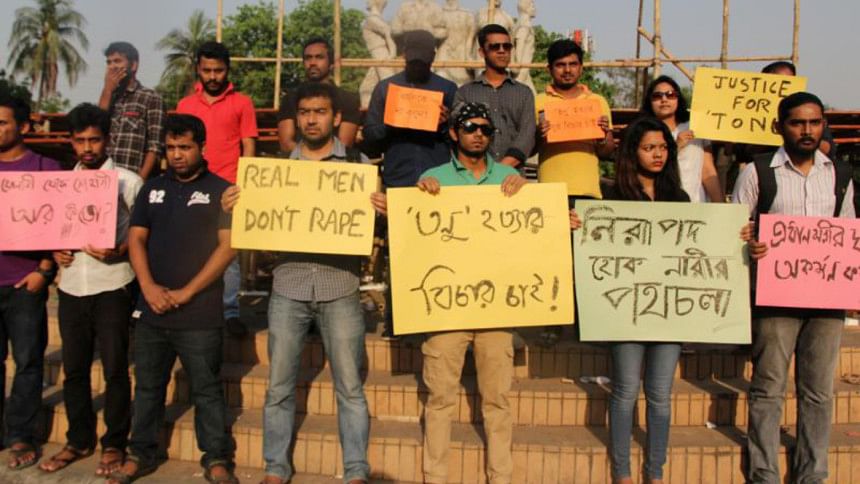 But in the case of Tonu, she may not be forgotten as easily. People all over the country are showing their outrage, through social media, street protests and human chains, demanding that justice be done. The cynic in me whispers that this too will be a forgotten case, one that the 'system' knows how to sweep away into the darkest corner of the public mind. But the naïve, optimist in me tries to convince that something will come out of this collective fury, that the truth about the murder after possible rape, of 19-year-old Tonu will ultimately be revealed.
The writer is Deputy Editor, Editorial & Opinion, The Daily Star.