Island of corals turned into a cash cow
Campaign to rid St Martin's of illegal establishments must be seen through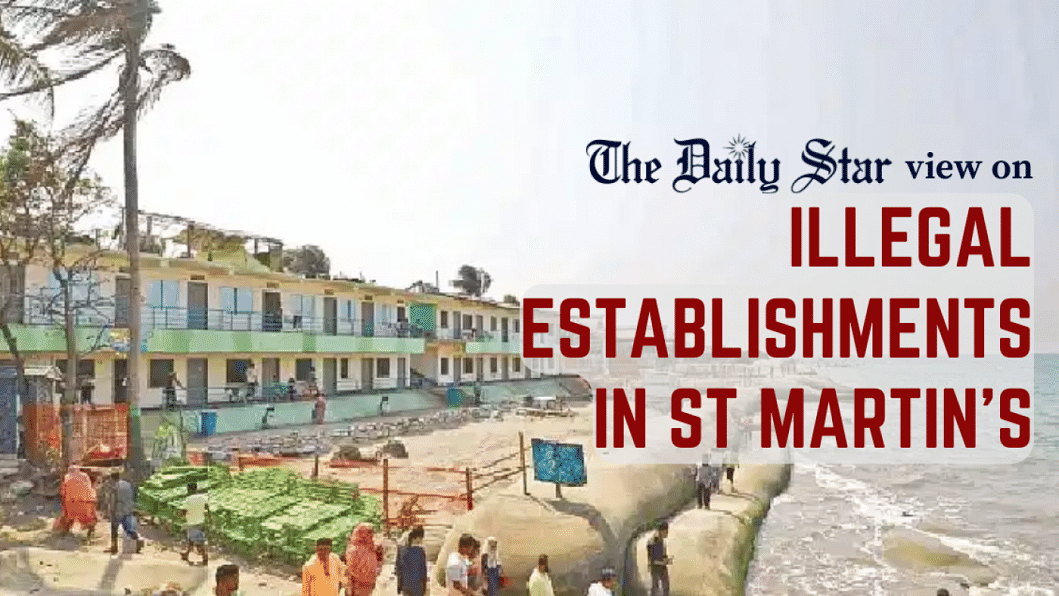 It is deeply concerning that St Martin's Island, the lone coral island in Bangladesh, is under threat by the unplanned construction and operation of hundreds of illegal structures – i.e. resorts, hotels, and shops. Meanwhile, the residents of the island do not get permission to build homes for themselves. Instead, they must live in shanties while sizable commercial buildings have been put up in this Ecologically Critical Area (ECA). According to a recent report by Prothom Alo, a staggering 230 hotels, resorts, and restaurants exist on this island that is, as declared in January 2022 per the Wildlife (Conservation and Security) Act, 2012, a marine protected area. Of these 230 structures, 130 were built in the last two years alone. Most alarmingly, over the last 38 years, the number of coral species on the island has decreased from 141 to only 40. Tree-covered areas have also been disappearing at a disquieting rate.
We are, of course, disappointed at the lack of adequate action on the parts of the Department of Environment (DoE) and the relevant district and upazila administrations in protecting St Martin's Island. Reports have been coming in over the last year about how the authorities are finally evicting hundreds of the illegal establishments and halting the construction of new ones. But given that the island has been an ECA since the late 1990s, we must conclude that it is the irresponsibility and extensive oversight of the authorities that have been damaging St Martin's and its biodiversity. No doubt, corrupt quarters of the administrations have allowed influentials to acquire land on the island and illegally put up commercial structures there. It is deeply saddening how the greed of land grabbers is eating away at our rivers and coasts alike, while the authorities quite literally watch on, with their sense of responsibility presumably tangled up in bank notes. 
Though this should have happened decades ago, we must appreciate the ongoing campaign of the DoE and the Cox's Bazar district administration to tear down the existing illegal structures and prevent new ones from sprouting on St Martin's Island. We can only hope that the unabated construction of illegal structures and the resultant tourist activities of the last few decades have not done irrecoverable harm already. The island is a national treasure in terms of natural beauty and the array of living beings – from algae and corals to thousands of species of birds, snails, mussels, clams, crabs, and mammals – it harbours. Just as in the case of our dying, life-giving rivers, we urge the government and the authorities concerned not to let St Martin's Island become yet another bit of land for the profit hounds to exploit.