A Law That Only Hurts
CGS research on DSA cases reveals an alarming picture of legal harassment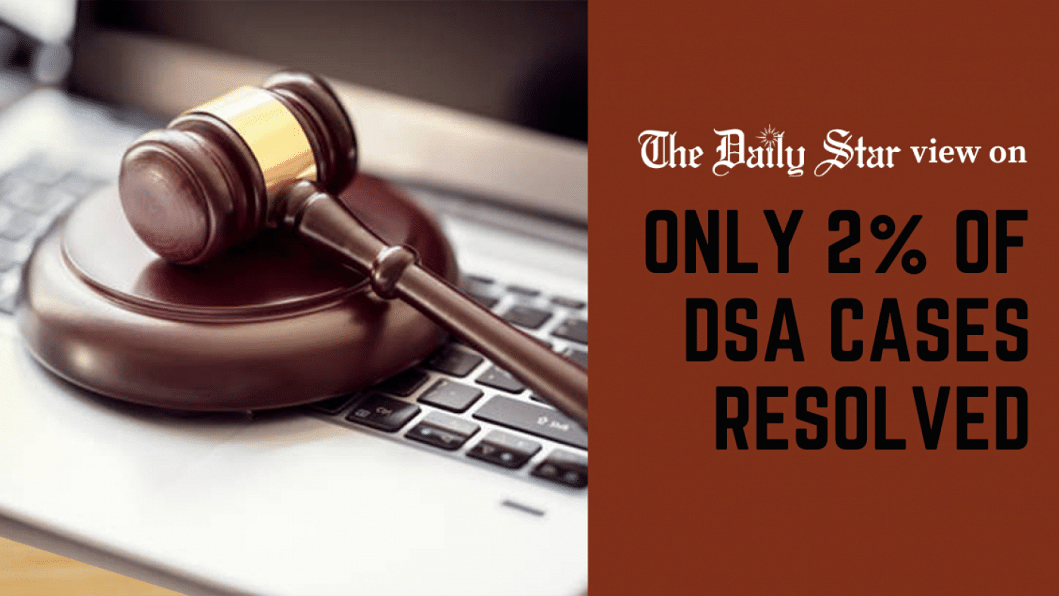 Amid continued rebuffing of suggestions to repeal/amend the Digital Security Act 2018, more evidence of the law being abused has emerged, further strengthening the voices of critics. According to data collected by the Centre for Governance Studies (CGS), which logged each DSA case filed between October 2018 and August 2022, only two percent of the accused have seen their cases resolved with the court handing a conviction, or an acquittal, or dismissing them. The fate of the rest is yet to be decided.
Overall, the CGS recorded 1,109 cases, around 60 percent of which were over Facebook activities. A total of 2,889 individuals were accused: of them, 52 saw their cases settled within the court system, while nine saw them withdrawn. There are more disquieting revelations, however. At least 725 of the cases being investigated by police are apparently from before 2022 – which suggests a clear violation of the legal time limit given to complete investigations. An investigation report, according to the law, must be submitted within 60 days; if necessary, investigators can seek an extension of 15 days. The reckless violation of this rule means that the accused are doomed to suffer pre-trial horrors, including arrests and prolonged stay in police custody, which is completely against the spirit of justice.
Is the delay in investigations deliberate? Is it meant to make the accused suffer indefinitely? Can the police and judicial authorities be absolved of the responsibility to ensure quick trial? And what's the point of having cyber tribunals – there is one in each administrative division – if they can't expedite trials or help the accused get bail quickly? The spectacular lack of progress in investigations and court judgements indicates an institutionalised pattern of abuse/harassment directed toward the accused, with one out of every three people facing prosecution under the DSA being arrested.
t is no secret that most DSA accused are facing charges of defamation, with political activists and journalists targeted the most. These cases are mostly filed by ruling party affiliates, on behalf of someone perceived to be "hurt" by the alleged act of defamation. It was, again, no surprise to learn that out of all the cases analysed by the CGS, as many as 140 were filed for "defaming" Prime Minister Sheikh Hasina, and 64 for "defaming" other ministers. The picture that emerges from these case studies is a deeply flawed law being abused in a deeply flawed politico-judicial ecosystem.
Since its inception, there has never been any doubt that this law would be used to hurt, and not heal, as a law ostensibly against cybercrimes should. The CGS study only shows part of the picture based on accessible data, with law enforcers notoriously secretive in this regard. But four years on, there should be enough sobriety on the part of all concerned to understand that this law has been nothing but a tool of repression and intimidation, shrinking whatever space left for free expression in the country. We urge the authorities to repeal it urgently, or at least amend it in light of concerns raised over the last four years.
The DSA in its current form must go.