Why different bail decisions in the same case?
Fakhrul, Abbas being denied bail for the fourth time raises concerns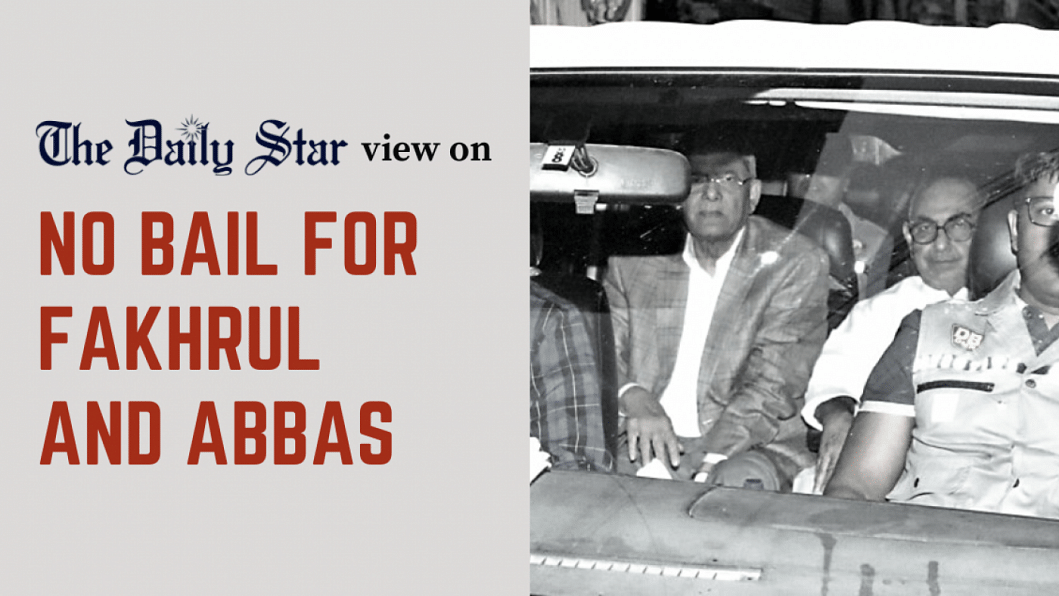 It is a fundamental principle of justice that any person accused of a crime is considered innocent until proven guilty. This is to ensure the legal rights of the accused throughout a trial. The case of jailed BNP leaders Mirza Fakhrul Islam Alamgir and Mirza Abbas appears to be a contravention of that principle. Their bail petitions in a case filed over the December 7 clash between BNP activists and police have been rejected for the fourth time now.
As we know, since that clash, hundreds of leaders and activists of the BNP and its front organisations have been arrested. Mirza Fakhrul, the party's secretary general, and Mirza Abbas, a member of its standing committee, were arrested in the early hours of December 9, on charges of inciting violence. While these arrests follow the well-established political strategy of rounding up opposition activists after any clash, one expects the judicial process to follow its own course and take decisions impartially. However, the repeated denial of bail to Fakhrul and Abbas raises concerns about that process.
To be clear, we're not commenting on the merit of charges brought against them. Their guilt or innocence is for the court to establish. But until that has happened – and so long as they're not flight risks, which they are not – they deserve to get bail like everyone else. Importantly, their names were not even in the First Information Report (FIR) of the case in which they were implicated, while two other BNP leaders – Amanullah Aman and Abdul Kader Bhuiyan – whose names were there in the FIR of the same case were already granted bail by another court. Why this discrepancy? Why different bail decisions in the same case? Are we to accept a breach of legal principles here, and presume them guilty until proven innocent? Who will account for the time they are kept behind bars if they are eventually proven innocent, or if this case drags on indefinitely, which most political cases tend to do?
We're talking about two top leaders of our main opposition party. Both are veteran politicians, hold high ranks in their party, and have had ministerial portfolios during BNP's last term in office. They are also reportedly sick, leading to the court directing jail authorities to provide them with proper treatment. Their social status and physical conditions alone would have merited a bail consideration. Unfortunately, in recent years, there have been many instances of bail denials in cases involving rival politicians and government critics. Should we see them as a mere coincidence, or is there any external influence behind such decisions?
We hope the judiciary will reconsider the bail petitions of jailed BNP leaders. It will only help its image and credibility among the public at a time when the judiciary is facing a challenge to establish rule of law amid a complex interplay of legal loopholes, institutional barriers, lack of resources, and intense political pressures that are making justice difficult to deliver. We hope it will rise to that challenge.