Solving our waterlogging woes
City corporations should take the role of the lead agency and coordinator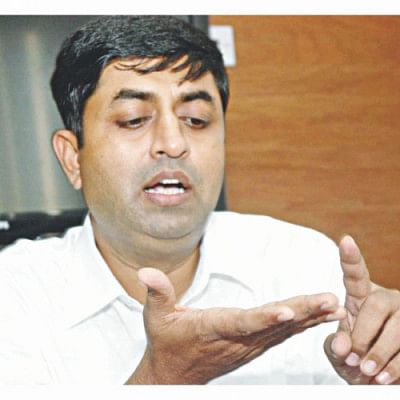 Iqbal Habib, Member Secretary, Urbanisation & Governance Programme, Bangladesh Poribesh Andolon (Bapa), talks to Naznin Tithi of The Daily Star about why lack of coordination among the agencies concerned is the main barrier to solving Dhaka's waterlogging.
---
Dhaka has been plagued with severe waterlogging for the past few years. Although research and studies have been done on this and several projects have been undertaken by the government to solve this problem, no palpable improvement is in sight. Where are the gaps that still paralyse this city every time it rains?
Dhaka's waterlogging problem cannot be solved through any isolated project. If the government is really sincere about reducing Dhaka's waterlogging, it needs to make a well-coordinated and comprehensive plan. Any project that is taken whimsically without considering all the factors contributing to the problem is destined to fail. Many such projects had been taken in the past and a large amount of money had been spent, but we have hardly seen any improvement of the situation.
Dhaka once had at least 52 canals. But according to Dhaka Wasa documentation, there are only 26 of them. Over the last two decades, most of the canals, water bodies and retention areas, and even the rivers have been encroached upon by powerful people. Regular dumping of solid waste or garbage by locals has clogged many canals and drains. The city's drainage system is on the verge of a total collapse due to lack of proper maintenance. The increased rainwater runoff is creating acute waterlogging as there is a decreasing trend of groundwater recharge due to rapid concretisation of urban spaces. All these factors combined have contributed to this problem and we need to solve this problem through comprehensive solution-based efforts.
It is true that the government had cleaned and recovered some of the canals of the city in the past, but within a short period, those canals got blocked again with solid waste or garbage. There are many areas in the city without any designated place for garbage disposal. As a result, locals use these water channels and open drains as their garbage dumping ground, resulting in waterlogging. Stinky and polluted black water is flowing through these open channels or canals due to an absence of any sewer network. Therefore, as long as we do not have an integrated solid waste management system with comprehensive sewer coverage, no project will yield any result.
In the last few months, because of only 40 or 50 mm of rain, many areas of the city remained under water for three to six hours, whereas previously 80 to 100 mm of rain would create such waterlogging. In the previous years, only some particular areas faced extreme waterlogging but nowadays an increased number of areas get submerged under knee-deep water even after a regular seasonal shower.
The government has taken a new project worth Tk 1,100 crore to recover 33 channels. According to the LGRD minister, after the project is implemented, the city's waterlogging problem will be totally solved. What's your view on this?
I don't think the new project will have any impact, as these are random projects taken without any consideration of the bigger picture. As usual, under this new project, some of the canals will be recovered while several others will be re-excavated. Even the total number of canals is misleading: there is one canal in Kallyanpur that has been shown as five canals, with the same name with extensions 'Ka,' 'Kha,' 'Gha', etc.
What I do not understand is why Wasa has been given this job in the first place; it should have been given to the city corporations instead. Although after 1988 Wasa assumed the responsibility to clean and maintain the drainage system of the city (it was even preparing a drainage master plan), it has failed to perform its duty. And last year, its managing director claimed that Wasa was not responsible for maintaining the drainage system of this city. Later, it was unanimously decided that the responsibility of Dhaka's drainage management would be given to the two city corporations. Besides, the clogged runoff water, created due to our misleading "Cordon Approach" oriented city planning with embankments around, could not be pumped out due to the poor mitigation capacity of the Bangladesh Water Development Board (BWDB), as it has failed to set up more pump stations for doing the job.
It is obvious that there is a lack of coordination among different government agencies. How do you think this problem should be addressed?
In July 2017, at the initiative of late Mayor Annisul Huq, a meeting was held at the Dhaka North City Corporation's office where the LGRD minister, Water Resource minister, Housing and Public Works minister and high-ups from different relevant government ministries and members from various related agencies were present. I also attended the meeting. We took several decisions to solve Dhaka's waterlogging. One of the major decisions was that the city corporation, being the only elected body out of all the 54 service providers under 11 ministries, would take the role of the lead agency and coordinator for a comprehensive drainage solution for Dhaka, and Wasa would assist them with their human and technical capacity. But unfortunately, after the mayor's death, everyone seems to have forgotten the decision taken at the meeting.
Other important decisions taken at the meeting were: a) All in-hand drainage related projects of all agencies must be completed before the beginning of the next monsoon with utmost urgency; b) A time-based "Comprehensive and Integrated Drainage Master Plan" would be prepared with short- and long-term targets; c) Solid waste management and sustainable sewer network management would have to be considered an integral part of the drainage master plan; and d) The participation of the public has to be ensured at all levels, from planning to implementation, with the involvement of political and social organisations.
Currently, the two city corporations, Dhaka Wasa, Rajuk and DC's office have been working to recover the city's lost canals and water bodies. But there is a serious lack of coordination among the government agencies that are largely responsible for managing the city's storm water drainage system. It is still not clear as to which agency does what. We know that the Ramchandrapur canal has been freed recently. But I am sure, without any solid waste management system in the area, this canal will be blocked again soon.
How crucial is the implementation of the Detailed Area Plan (DAP) when it comes to saving our city from waterlogging? We know that DAP is not being implemented due to the opposition from influential realtors …
If we want to save this city, we need to revive its natural system of water flow with due importance. And to do so, there is no alternative to implementation of the DAP. No doubt that land grabbers are powerful but they are small in number. The majority's interests must be given preference to the few unscrupulous realtors' interests. Already Rajuk has taken some measures to recover the wetlands and retention areas grabbed by realtors. The High Court has also given some commendable rulings on this issue. The Hatirjheel Integrated Project is an example that recovering land from the clutches of powerful people is possible. In order to implement that project, 304 acres of land were recovered. Furthermore, if land could be acquired for building elevated expressways or flyovers, it can also be done to recover canals and water bodies. What we need is strong political commitment on the part of the government and the involvement of the public in making and implementing the plans.
---
Follow

The Daily Star Opinion

on Facebook for the latest opinions, commentaries and analyses by experts and professionals.
To contribute your article or letter to The Daily Star Opinion, see our

guidelines for submission

.
---