How are LDCs faring with agricultural trade and food security?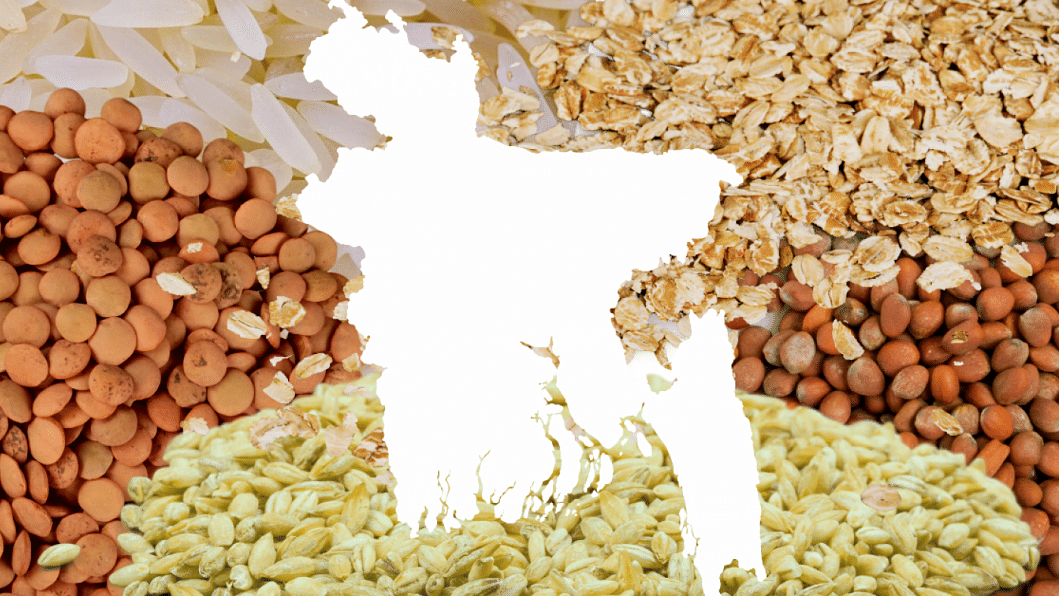 According to a recent report by the Food and Agriculture Organization (FAO), the number of hungry people across the world was as high as 828 million in 2021, up by 46 million from 2020 and a whopping 150 million from 2019. The majority of these people live in Least Developed Countries (LDCs), which are net food-importing countries. As a global food crisis looms over us, LDCs are at a higher risk, which needs to be addressed urgently.
LDCs are predominantly agricultural economies, but are also highly dependent on food imports as they cannot meet demand through domestic production. They import several essential food items, and these imports have increased over time – especially cereal. Due to supply chain disruptions during the pandemic, lockdowns, reduced economic activity and travel restrictions impacted not only the production but also international trade of food. The Russia-Ukraine war made the situation worse, especially since LDCs are more dependent on Russia and Ukraine for food imports.
In the wake of the war, several countries have banned export of certain food items to maintain their own stocks, intensifying LDCs' food challenges. Since Russia and Ukraine are major exporters of fertiliser, supply chain disruptions are also affecting agricultural production in LDCs. High fertiliser and fuel prices have made it extremely difficult for farmers to cultivate. The other perennial threat is that of climate change, which has been reducing global agriculture productivity over time. Not only extreme weather events, but volatility of the weather has been impacting agricultural production adversely.
In view of high food prices, LDCs put forward food security and agriculture as their topmost agenda at the 12th World Trade Organization (WTO) ministerial meeting (MC12). The Ministerial Decision on World Food Programme (WFP) Food Purchase Exemption from Export Prohibitions or Restrictions has been an important outcome on food security at the MC12, which stated that WTO "members shall not impose export prohibitions or restrictions on foodstuffs purchased for non-commercial humanitarian purposes by the World Food Programme."
However, the global food crisis has continued to intensify. In this respect, a few measures are critical.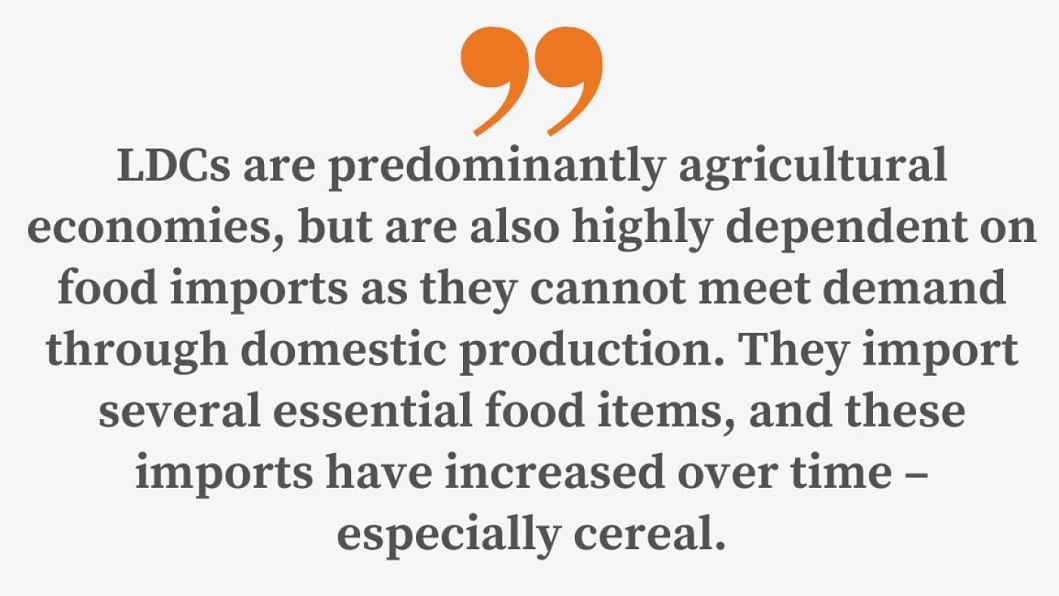 First, the international trade on food should be continued without any restrictions. It has been a common phenomenon that during a food crisis, food-exporting countries resort to protectionism and impose bans on their food exports. Usually, export restrictions are imposed on staple food and essential items such as rice, wheat, sugar and edible oil. Countries should also refrain from domestic support policies in the agriculture sector that distort production and trade and negatively impact poorer countries. The WTO Food Security Declaration calls for agricultural trade to flow and asks countries not to impose WTO-inconsistent export restrictions or prohibitions. However, these are not binding rules. Countries also use non-tariff barriers to discourage importing countries. Hence, the work of the multilateral trading system should focus on smooth trade in agricultural products to reduce hunger and avoid famine in net food-importing LDCs.
Second, there should be a permanent solution for public food stock-taking programmes. More than 80 developing countries have been trying to secure a permanent solution to the problem of public stock to protect farmers' rights, and to expand food security programmes by giving out more support to farmers. The MC12 declaration states that WTO members recognise the need for adequate food stocks that can contribute to domestic food security and encourages WTO members to release their available surplus on international markets following WTO rules. This was supposed to help the LDCs, who are disproportionately affected by high food prices. However, there is no reflection of such a call in the market.
Third, LDCs themselves have to prepare to tackle the situation. They must enhance their domestic capacity to produce more and develop robust agricultural systems and infrastructures. This is essential for higher yields and lower costs of cultivation. This requires making fuel and fertilisers affordable. Investment on innovation and technology are prerequisites for a resilient agriculture sector that can ensure higher food production. Adequate government support is crucial, particularly for small farmers.
Fourth, offering fair prices to farmers through better market access must be ensured. The prices should cover their production costs and include an attractive profit margin so that they are encouraged to produce more. Very often, farmers stop cultivating if they do not find it economically sensible. During a good harvest, they are often forced to sell their crops to middlemen at a low price. Therefore, governments in the LDCs should also come forward to procure crops and produce from farmers at fair prices. They should also build storage facilities to store the produce for a longer period during a crisis.
Finally, for the long-term sustainability of the agriculture sector, large investments are required to face the challenges of climate change. Given that the LDCs are extremely vulnerable to climate change despite not causing it, those who are, i.e. the developed countries, should provide enhanced funds and technology to the LDCs.
Dr Fahmida Khatun is executive director at the Centre for Policy Dialogue (CPD). Views expressed in this article are the author's own.