ACT or SAT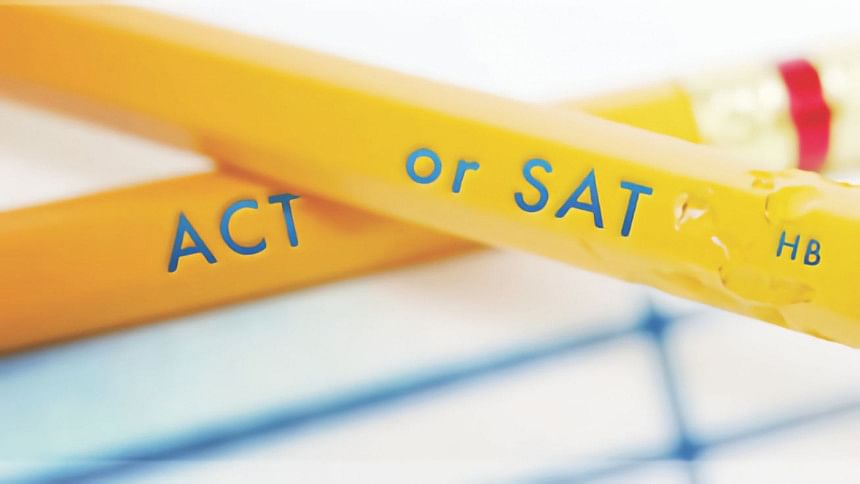 We all know how important standardised test scores are. They enable admissions officers to compare you with other applicants, and often act as a filter for opening applications in the first place. So yes, doing your best on the test is crucial, but so is choosing the right test. Luckily undergraduate applicants to the US do have a choice between the SAT and the ACT.
To start off – the SAT and ACT both serve the exact same purpose and all colleges accept both. They even have methods to compare an SAT-taker with an ACT-taker, so you should base your choice on what each test means for you.
Delving into the specifics of each test, the ACT has four compulsory sections (English, Reading, Math, and Science) and one optional Essay section, while the SAT has three compulsory sections (Reading, Writing and Language, and Math) and one optional Essay section. This means they're pretty much the same section-wise except the science on the ACT, but don't fret if you're not a science freak. This section is more about scientific skills than knowledge. You'll have to read science passages and answer questions about data, variables, and experiments. The SAT may not have a science section, but it does test similar graph and data interpreting knowledge in its Reading, and Writing and Language Sections. 
The main differences between the comprehension or reading sections are: a) you get less time per question on the ACT, and b) the order of questions is random on the ACT but chronological on the SAT. The writing sections both cover mainly grammar usage and punctuation, so the key difference lies in timing. The SAT requires you to read 4 passages and answer 44 questions and gives you 35 minutes for this, while for the ACT it's 5 passages, 75 questions and 45 minutes.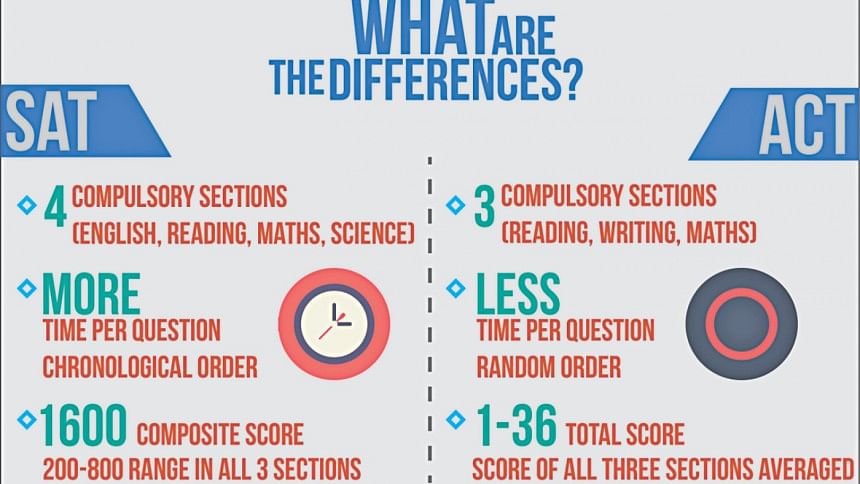 The Math content is, again, not very different and includes topics such as algebra and trigonometry for both, but you get to use your calculator all throughout for ACT math. On the SAT, you have a 55 minute calculator section and a 25-minute no calculator section. The level of calculation required for the latter isn't complex but if mental math is your worst nightmare, the SAT could mean trouble for you. Also, the ACT consists of MCQs entirely (except for the essay section) while you'll find 13 Student-Produced Response questions or grid-ins on the SAT math section, a feature that makes guessing very unlikely to yield the correct answer. Speaking of guessing, there's no negative marking for wrong answers on either test, so guess away! 
Finally, the essay section –it is 'optional' for both, but this really depends on college specific requirements so check with the colleges you're applying to. Some require the essay, some don't. Content-wise the ACT essay asks you to analyze 3 perspectives on a certain issue so you'll have to draw from argumentative skills. The SAT essay asks you to read a passage and analyze how the author builds his/her argument in this passage, unlike the ACT, your opinion isn't required. 
The overall timing is pretty similar. The SAT is 3 hours long, plus the optional 50 minute essay. The ACT is 2 hours 55 minutes long, plus the 40 minute essay. For more information on cost and registration deadlines visit www.collegeboard.com and www.act.org
The SAT is out of a 1600 composite score, Math is scored on a scale of 200-800, while Reading, and Writing and Language are scored together, also on a scale of 200-800. The two scores are simply added together. This is different on the ACT - English, Math, Reading, and Science scores each range from 1-36, and your total ACT score (also ranging from 1-36) is the average of your scores on the four sections, calculated by adding the four scores and dividing by 4. So your strength in one ACT section can help compensate for your weakness in another section, but this isn't possible on the SAT. 
Books for the SAT are more widely available in Bangladesh, but since the ACT is less popular you won't find too many books for it. You'll have to order from abroad for the ACT, but you'll have to do this for the SAT too if you want some of the less common books. Since the SAT was redesigned on March 2016, it's slightly more challenging getting lots of prep material for it, but easier for the ACT as it's much older. 
I recommend you also take a full, authentic practice test for each under timed and realistic test conditions before making your choice. Happy standardised testing! 
Salma Mohammad Ali fears she is becoming a crazy cat lady and uses writing as a means to grasp on to sanity. Send her your views/hate/love at fb.com/salma.ali209