Prepping for the SAT subject tests
The SAT, a standardised test developed by the College Board, is used for undergraduate college admissions in the United States. The commonly known SAT, specifically the SAT I, tests high school students in English Language and Math while the SAT II: Subject Tests assesses students on individual subjects, such as Physics or Mathematics. They are taken to demonstrate a student's academic strength in specific subjects, improving their credentials for college admissions.
COLLEGE REQUIREMENTS

Most of the Ivy League institutions, along with some other high calibre universities recommend or require the SAT Subject Tests. For example, Cornell University requires the test in two subjects for most Arts and Science majors. Even the University of Oxford in UK accepts SAT Subject Tests for anyone who wants to apply with American qualifications, requiring a minimum of 1470 out of 1600 in the redesigned SAT, and a minimum of 700 out of 800 in three subjects in SAT II. 
However, most universities in the US accept two subjects. Some, on the other hand, do not require the Subject Tests at all. According to many of their websites, they will consider your Subject Test scores if you submit them, but it will not hurt your application if you do not do so. 
SHOULD YOU TAKE THE SAT SUBJECT TESTS?

As I mentioned before, the only highly selective universities require or recommend the SAT Subject Tests. You need to check the entrance requirements of the universities you are intending to apply to. 
If it is highly selective and still does not require the Subject Tests, I recommend you take the tests regardless and obtain good scores because you will be competing against a huge number of students who have gone the extra mile to apply for that university, despite the tests being optional. I especially suggest you take the test if you plan to apply for scholarships, or if you have not acquired satisfactory scores in your A Level or IB or HSC. The Subject Tests are a great way to reinforce your American college applications.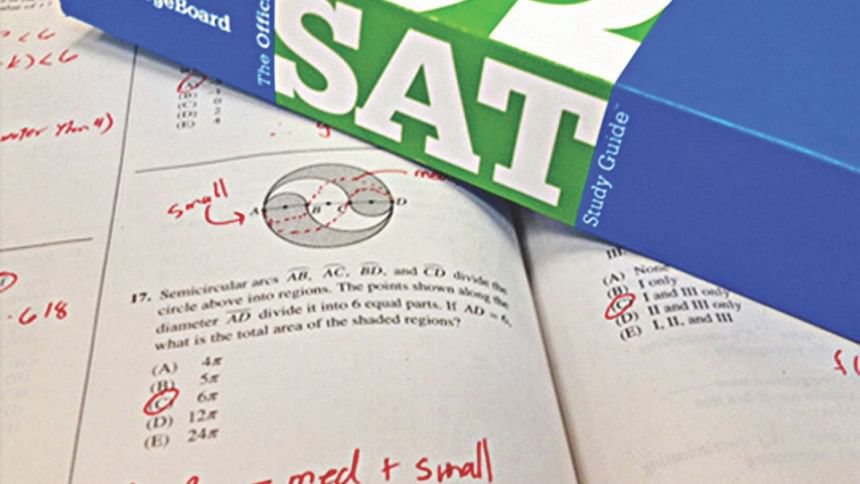 THE SUBJECTS OFFERED

The Subjects being offered are not many, most of them being foreign languages such as Spanish, Chinese, and Latin. Bangla is not available. Math tests are offered at two levels, Math Level 1 and Math Level 2, with Level 1 being the easier one. Level 1 assesses knowledge on number and operations, algebra and functions, geometry and measurement, data analysis, statistics, and probability, while Level 2 covers the same topics as Level 1 with some extra materials, such as trigonometry and calculus. If you plan on studying Engineering, Math Level 2 is highly recommended. Biology, Chemistry, and Physics are also there, with Biology being offered in either Biology Molecular or Biology Ecological, depending on the student's choice. The syllabus is what you have learned in your high school years. From what I have discovered, the syllabus is largely similar to what I learned in CIE O Level and A Level throughout, but there are also some additional topics, such as the focus on unicellular organisms in Biology. 
On a brighter note, the questions don't go as deep as the A Level questions do. Hence, they are relatively easy. Mind you, calculators are not allowed in the Science tests, which mean the calculations are not very complex. The other subjects offered are English Literature, U.S. History, and World History. The Literature syllabus mostly includes prose passages, poetry, and drama from the 17th century up to the 20th century. World History, on the other hand, spans global history from 500 C.E. to post-1900 C.E.
TEST FORMAT

Each test is scored on a scale of 200 to 800. With the exception of Foreign Languages, all the questions in other subjects are in the form of multiple choices.
WHEN TO TAKE THE TESTS

The tests are offered globally, in May, June, October, November, and December. You cannot sit for the SAT I and SAT II on the same test date, and also you cannot take more than three subjects in the subject tests. For Biology, you cannot take both Biology Molecular and Biology Ecological in the same sitting. I suggest you take the test immediately after finishing your high school exams. However, you may also take it early, especially if you are applying early by submitting your expected A Level grades.
WHERE TO REGISTER FROM

Registration can be done online on the College Board websites with credit card. However, you can also register through an agent. 
PREPARATION MATERIALS

You can find SAT Subject Tests prep books anywhere, especially Nilkhet. If you are studying A2 or have finished A Level, you will find that you know almost everything needed for the Subject Tests; however, you will need prep books for studying the additional topics. Many publishers offer prep books, the most renowned being Barron's, Princeton Review, and Kaplan. I personally found Barron's better than the rest, with its detailed information, and harder questions that helped me prepare better. A week before the test, you can start solving the practice tests on those books. I personally found the number of practice tests on these books to be very limited, so I opted online for more practice tests. 
For more information on the SAT Subject Tests, check out the official website at https://collegereadiness.collegeboard.org/sat-subject-tests
Zarin Rayhana likes to spend her time by pondering over alternative theories about the universe instead of studying for school. Send her your theories at ericaavianazarin@gmail.com