Claustrophobia, and the lack of open spaces in Dhaka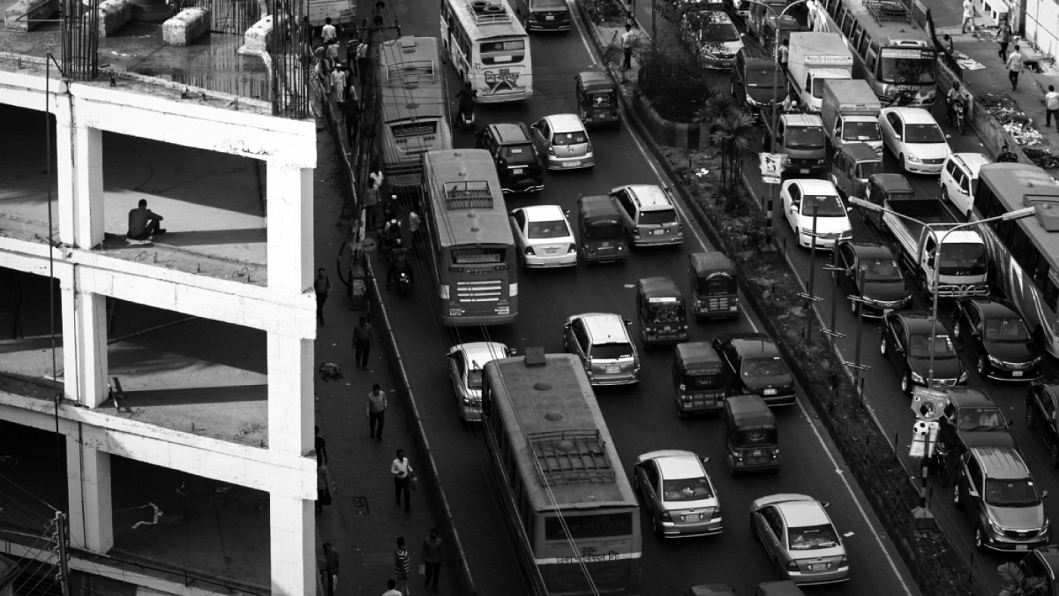 I
The opening scene of Federico Fellini's 1963 classic, 8½, is one of the most influential opening scenes in the history of cinema.
Marcello Mastroianni drives into a traffic jam. As he stops, a man looks back at him from the front car. He's not amused. The camera pans slowly. A man in the back seat of a car looks at Marcello. The camera pans; the driver is a lady. She's sleeping. Why not? Who knows when this will end? Marcello wipes the windscreen of his car. The camera pans out. People are helpless and hopeless in the jam. The worst part: the people have accepted the lack of space and movement as a part of their life.
While Marcello wiped his windscreen, his car began to fill up with smoke. He finds it difficult to breathe. Claustrophobia. The people in the cars fail to notice Marcello. He fights to get out of the car. Just when he seems to have lost the battle, Marcello is free.
II
From birth to adult life, I've moved from one "open-ended" campus to another. When I was born, my father was a young professor at Chittagong College. Soon after, we found ourselves in the green and open campus of Jahangirnagar University.
When I was four, my father went to study at a university town in Wales. Aberystwyth. The Cardigan Bay was to its west, giving some of the prettiest sunsets in the UK. I never felt suffocated.
We returned to Bangladesh, to Jahangirnagar University. I spent my middle and high school, college and university here. The campus then was much more open than it is now. Again, I never felt suffocated.
I joined Jahangirnagar as a young lecturer. Soon, I was off to another campus in the UK. It was Cambridge, in England. That was the last open-ended campus I enjoyed. Upon return to Bangladesh, I have been teaching at Jahangirnagar, but have been living in Dhaka in my ancestral stead.
Ever since I started living in Dhaka, I feel suffocated. This city is not the "open-ended" environment I took for granted for more than three decades of my life. Whatever the time of the day, my residential area is always busy. You can't walk on the street. It's always noisy. It's easy to blame the authorities, but more difficult to ask, how can I solve this problem?
There are pockets of open spaces around my residential area. I can access them. The thought of walking or cycling to those pockets in a city that's not open-ended and spilling with noise of high decibels, high pollution, and unwalkable footpaths puts me off.
When at home, I prefer to stay in the comfort of my study. Thinking of my childhood, adolescence, and adulthood of taking open spaces for granted, makes me feel claustrophobic. I'm in Dhaka not out of choice, but out of circumstance. I want to escape the closed suffocating space like Marcello in 8½. The thought of an escape from Dhaka is a bad dream that brings me back to reality.
Asrar Chowdhury is a professor of Economics. He follows Test cricket, listens to music, and spins vinyls when he has free time. Email: asrarul@juniv.edu or asrarul@gmail.com