The waffle-on-a-stick revolution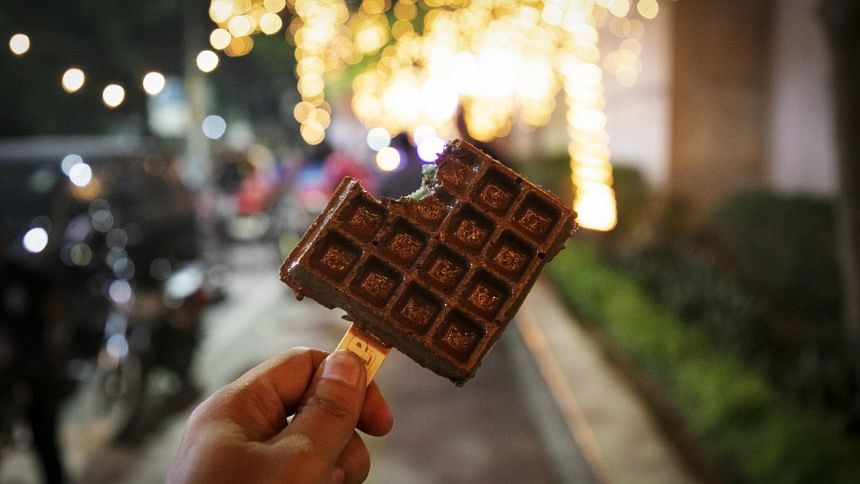 Waffles on a stick are popping up at every corner of Dhaka city, slowly becoming the newest street food sensation. If you haven't tried one yet, you should seriously consider it because the crunchy little baked squares on popsicle sticks coupled with mouthwatering colourful toppings are irresistible.
I had been planning to go on a dessert run to satisfy my sweet tooth, so I decided to make a day out of tasting waffles. I visited the highest-rated waffle places that have been taking Dhaka's foodgram by storm.
My journey began at Waffle Time, Dhanmondi. Needless to say, I was feeling a little adventurous so I went with the red velvet waffle topped with whipped cream and red velvet crumbs. The first plus point was that it looked exactly as delectable as it looks on the menu but I didn't expect it to be as sweet although the crunchy texture and the gooey cream melted right into my mouth.
Next on my list was Waffle Street which took me all the way to Mirpur-1, to try their Nutella Ice Loaded, which was the most expensive one on their menu. It was a Nutella-coated waffle that came with vanilla ice cream, drizzled caramel, and chocolate sauce as well as banana cubes and chocolate chips as toppings. Given the price and the journey, it was quite the mouthful. The waffle got a little messy to eat out of a stick as the ice cream was melting fast. And so, I was compelled to use a fork and a spoon.
The final station of my sugar rush was at Waffle Up's flagship outlet in Banani. I wanted to save it till the end because that's where I had my first-ever waffle on a stick last summer, so it made perfect sense for it to come full circle. Their classic Nutella Waffle that comes with a teal interior tasted rich, fluffy, and as sweet as you would expect it to be. It balanced out my palate, being simpler than my experimental rendezvous throughout the day.
The taste of the individual waffles is comparable because there is little variation in flavours, with the toppings usually having a Nutella or whipped cream base of a classic waffle batter. As for the menu prices, they are between BDT 150-200, well below regular waffles.
You might want to think twice before getting extra syrup or Nutella add-ons because they can at times overpower the taste. It's also best to steer clear of runny toppings when you're having waffles on the go. Not only do they run the risk of spills, but the waffle could also get soggy and come off the stick.
The outlet's kiosk-like structure with signature funky wallpapers accented by vibrant LED strip lights provides a perfectly cosy and inviting atmosphere for a budget date or a snack out with your friends. So, if you're craving a sweet, delicious, and affordable snack on the go, treat yourself to your nearest waffle joint.
Spill the tea with Joyeeta at Instagram.com/nahianjamaljoyeeta