TXT "The Name Chapter: TEMPTATION" and its temptations left undelivered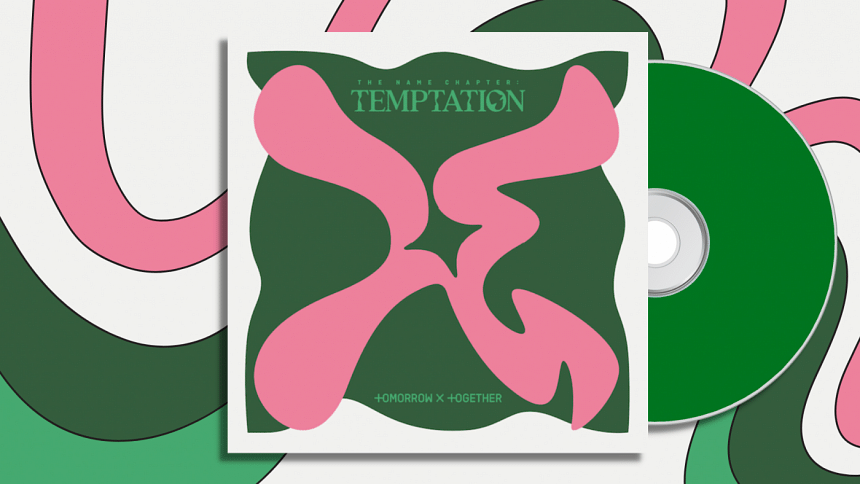 TXT, short for Tomorrow X Together, is one of the biggest contributors to the success of K-pop's 4th generation. The five-member musical act formed by BIGHIT MUSIC has been dubbed to usher a new wave of diverse discography since their debut in 2019. After nearly nine months since their last comeback, TXT released their new mini album The Name Chapter: TEMPTATION on January 27, 2023, with the title track "Sugar Rush Ride".
The new EP includes five songs which encapsulate different styles and genres under one concept. The album is introduced with their moody and eerie full-English track "Devil By The Window", the only song with a bridge in the album. Their groovy yet unnerving title track "Sugar Rush Ride" comes next, followed by "Happy Fools", a collaboration track with the rising American rapper-singer Coi Leray.
The album introduces TXT's first Afropop track titled "Tinnitus (Wanna Be A Rock)" before ending the album with the bittersweet melody of a goodbye through "Farewell, Neverland". The EP comes with the message of temptation, bringing in references from Peter Pan and utilising them with a rather sinister approach.
However, albeit gathering much appreciation, the album has not quite lived up to its full expectations for a considerable number of listeners, including myself.
My main problem with this release is the lack of bridges, which is a seemingly distinct characteristic of the new album. Four out of five songs lack a proper bridge, which leaves the songs to be ended shortly. The album fails to hit the 15-minute mark even with five full songs.
Normally, this wouldn't pose much of an issue. Songs can still be perfectly pieced out without bridges, as a plethora of K-pop releases serve as an example of that. However, the songs on this EP almost pleaded for bridges, as their outros felt short and unreserved, leading to an underwhelming experience. Consequently, the transition of certain parts in the new songs also felt uneasy to listen to.
While some think this is a marketing strategy to gain more replay value and longevity, many argue that these songs had a lot of potential even without having to resort to such strategies.
Looking on the bright side though, the album did wonderfully execute the concept it aimed for. All the songs on the album are recognisable in their own ways, introducing TXT's dive into newer styles and genres. My favourite track on the album, "Farewell, Neverland" stood out in delivering its poignant sentiments through a Latin-Inspired ballad.
The songs themselves, as mentioned before, weren't much far from enjoyable and held a lot of potential. But they were sacrificed over the track lengths, though whether it was done as a marketing strategy or a production choice is still a mystery.
Overall, the album failed to fully deliver the expectations I had for such a musically-distinct group as TXT. However, the group continues to prove their diversity in mending their discography. With this release, they have showcased their lack of hesitation to adapt to more genres without losing their musical identity.
It's safe to assume that TXT, like any other artist, might not always be able to deliver the exact expectations people have for them. Nevertheless, how TXT will continue to evolve musically is definitely something everyone should have their eyes on.
Shaikh Sabik Kamal was found utterly lost in his attempt to write out a proper blurb. Consider helping him out at sabik2005kamal4787@gmail.com