Why daycares are important for working parents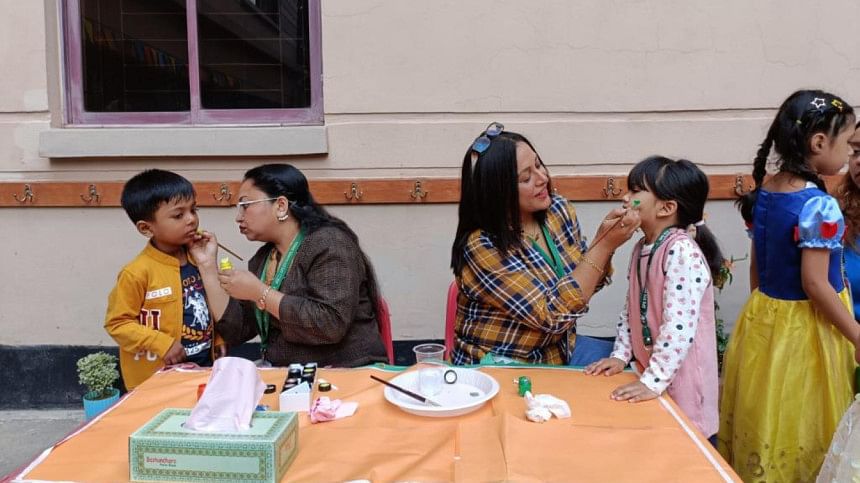 For working parents, especially in nuclear families, every morning is a hustle. Juggling through the responsibilities of a job and their children can be extremely challenging. 
According to a survey report by the Bangladesh Bureau of Statistics (BBS), female participation in Bangladesh's labour force has increased to 42.68 percent in 2022, up from 36.3 percent five years ago. As more mothers are entering the workforce, the number of two-parent households where both parents work full-time is increasing as well. Under such circumstances, many parents have begun leveraging the convenience of daycare centres to maintain a work-life balance. 
Daycare centres are facilities that provide a safe and secure environment for young children while their parents are at work. With the help of trained staff members, these facilities offer a range of activities that promote the development of cognitive, social, emotional, and physical skills in children.
Daycare centres can also be an excellent opportunity for parents to work on early child development with extra help. For instance, these centres provide children with socialisation opportunities, which is essential for their overall development. Children learn how to interact with other children and adults, which helps them develop their communication and social skills. 
Simultaneously, the centres provide early childhood education, which is crucial for their overall development. Children learn to read, write, and develop other cognitive skills while getting prepared for primary school. Moreover, daycare centres provide a nurturing and supportive environment for children. The staff at daycare centres are trained to provide care and education for children in a way that promotes their overall well-being. Besides, they provide emotional support for children, which is vital for their mental health and development. 
Despite the growing need, the number of quality daycare centres is still relatively low in the country. As per section 94 (1.2) of Bangladesh Labor Law 2006, every establishment having more than 40 female workers or more must provide and maintain a suitable room for the use of children under the age of six years. Although the law exists, daycare centres or children-friendly rooms at workplaces and educational institutions are very low. Now more than ever, the need for good quality daycare centres with the required facilities has become necessary. 
In recent years, several new daycare centres have emerged in the country. These centres feature modern facilities such as air-conditioned rooms, age-appropriate learning tools, digital and smart audio-visual equipment, and an array of interactive indoor and outdoor activities, including access to libraries, computer labs, and Montessori labs. DPS STS School Dhaka is one example of such a school offering daycare facilities, that also offer counselling sessions for new parents, transport services, a comprehensive curriculum, and other meaningful activities, thereby redefining childcare in Bangladesh. 
Needless to say, daycare centres play a crucial role in providing safe and reliable care for young children while their parents work. By providing childcare facilities in daycare centres, we can ensure that children receive proper care and education, which would contribute to their overall well-being and development. Most importantly, through good quality daycare centres, parents will definitely be able to manage their household, workplace, and life in general with more ease.
Nuzhat Hayat Khan is a Communications Professional.