Why guilt-tripping stories on Instagram need to go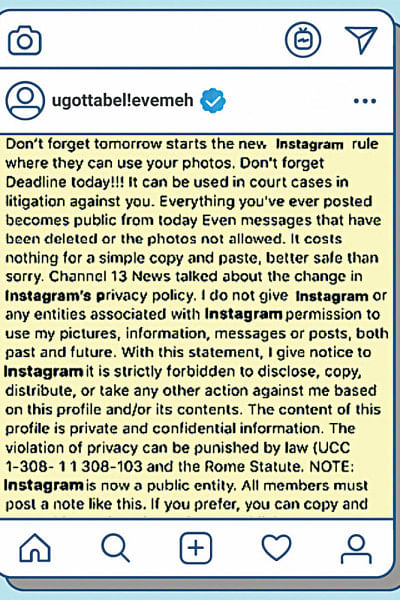 During my recent doom-scrolling session on Instagram, I came across something puzzling. Someone posted a story which said "Repost if you're against sexual violence. I can see who skipped."
Thinking this was a bizarre, isolated incident, I continued scrolling. About five minutes had passed when I stumbled upon another variant of the same story. This one said something along the lines of "Share this on your story if you're against xenophobia."
Over the next week, I saw multiple variations of these stories. They all addressed different atrocities or issues, but one common feature among them all was milking people's guilt.
This new trend seemed very reminiscent of old school chain mails. Here's a quick run-down if you missed out on that era: the subject of the email would say something like "FORWARD THIS TO 7 PEOPLE OR ELSE YOU WILL DIE IN A WEEK."
Not very subtle, but sufficiently effective. The actual contents of the email would talk about a tragic incident, usually with supernatural or horror underpinnings. At the end of the email, you would be instructed to forward the email to a certain number of people, or some omnipresent, all-seeing entity would "get you."
Now, I will admit. I did fall prey to those messages and bombard my friends with them. The guilt tripping really did get to me. But that was a long, long time ago. So, imagine my surprise when I saw the same guilt-inducing tactics on Instagram years later.
These stories use public perception as a guilt tactic. By stating "I can see who skipped," the person viewing them instantly feels like they're under pressure to repost or risk being seen in a negative light. Some may think not reposting would mean they're not standing in solidarity with the social issue.
Even though the origins of this trend might be rooted in good intentions, it's still a trend at the end of the day. This means its lifespan will be short lived until it's replaced by something else. The short-lived nature of trends makes this specific type of guilt-tripping stories seem like performative activism. Reposting a story that lasts only 24 hours is generally a one-off incident which rarely displays true solidarity.
Furthermore, the guilt is quite misdirected in this trend. The text shines the antagonising spotlight on the people who choose to skip resharing. This redirects attention from the important issue in question. Instead of focusing the guilt on the perpetrators or sharing important information about the problem, the non-sharers are made to stand under public trial.
So, what can be done in the face of these stories? It's always good practice to take a step back and think about what these posts or stories signify. Having said that, these trends aren't always performative. Displaying solidarity in any way is important but obtaining it through guilt is not the right way to go about it.
Fatima Jahan Ena likes complaining about capitalism and her forehead. Find her at mail2ena@gmail.com