Working out a productive study schedule for Ramadan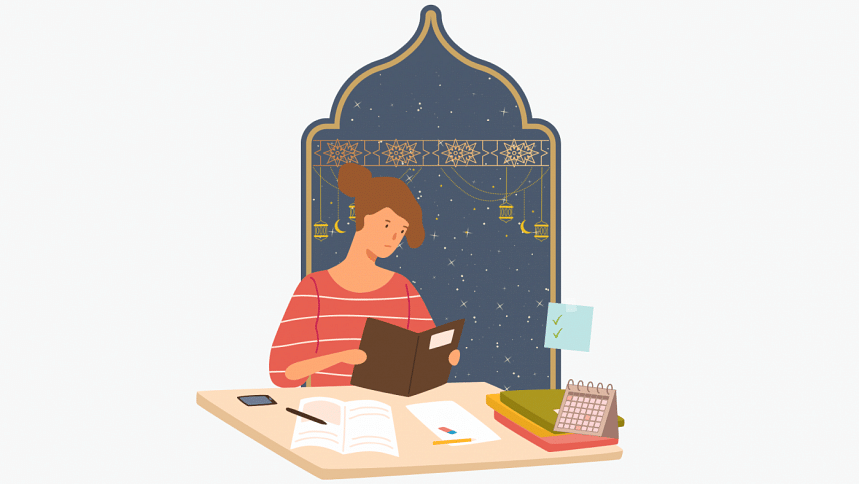 For students, Ramadan can be a challenging time to keep up with academic responsibilities while also observing the holy month's religious obligations. With long hours of fasting and late-night prayers, it is understandable if studying takes a backseat. 
But worry not, for you can do a few things to make the most of this holy month and attain both spiritual and academic excellence. 
Experiment with what works for you
Adjust your usual study timetable a bit. When we fast, it is typical to get groggy and lose our attention span while studying. So, the wise thing to do is to study when we are most energised.
You can study at night up to sehri time and sleep during the day. However, some prefer to study after fajr, and some prefer sticking to a usual schedule consistent with daylight hours. There is no right way or wrong way of doing it. Every person has their own preference, so it is your job to figure out which timetable works best for you. 
Plan ahead
Without a well-thought-out study plan, it is easy to become overwhelmed by the sheer volume of material to be covered, especially during Ramadan. By taking the time to plan ahead, you can ensure that you cover all necessary material and get them done within time by reducing the likelihood of procrastination or last-minute cramming. 
Break down studying into manageable chunks
Dividing your task into manageable chunks and taking frequent breaks can help you avoid burnout and keep going. The Pomodoro technique is a very popular approach used by students, but it is better to adjust it to what suits you the best. Chunking is not limited to studying and can also be used for your prayers and Quran recitation. 
Take breaks
Studying for long periods of hours can be draining especially during Ramadan. You will have times when you will be struggling to concentrate, so consider taking a break because your brain needs one. It can range from taking a shower to napping or going for a walk. Remember that it is completely fine to get some rest. Just make sure you use your energy efficiently when it returns. 
Get yourself a study buddy
Getting a friend on board to study with you will not only make studying less stressful, but it will also improve focus and retention for both of you. If you don't have any friends (like me), worry not. "Study With Me" YouTube videos or live streams can be just as helpful as having a study buddy.
Have nutritious food for sehri and iftar
After a long day of fasting, it can be tempting to eat fried or fast foods. However, remember that what you eat will affect your productivity, making you feel lethargic and less energetic faster. So, try incorporating more brain foods and more slow-energy foods into your diet. 
Ramadan is more about recharging our souls and coming together to celebrate what we believe in than the academic challenges we face. Thus, we are not expected to overlook the spiritual significance of this holy month in our attempts to be productive.
Purna has a lot of free time these days but has no idea what to do with it. Send her ideas for pursuits at purna2692@gmail.com