Space crew survives plunge to Earth after Russian rocket fails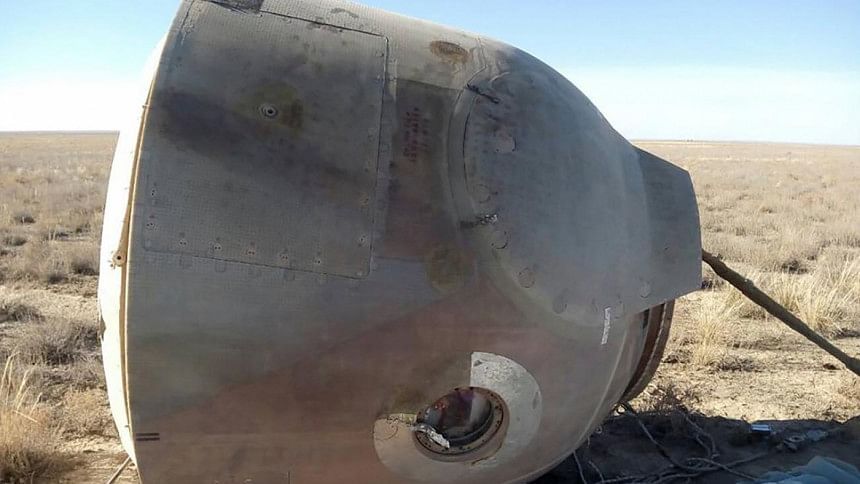 A Russian cosmonaut and a US astronaut were safe on Thursday after a Soyuz rocket bound for the International Space Station failed in mid-air two minutes after liftoff in Kazakhstan, leading to a dramatic emergency landing.
The two-man crew, Russian cosmonaut Alexei Ovchinin and American Nick Hague, landed unharmed on the Kazakh desert steppe as rescue crews raced to reach them, according to the U.S. space agency NASA and Russia's space agency Roscosmos.
The mishap occurred as the first and second stages of a Russian booster rocket separated shortly after the launch from Kazakhstan's Soviet-era cosmodrome of Baikonur.
The Soyuz capsule carrying Ovchinin and Hague separated from the malfunctioning Russian rocket and plunged 31 miles (50 km) down to the surface, with parachutes helping to slow its speed, NASA said. A cloud of sand billowed up as the capsule landed after what NASA called a 34-minute steep ballistic descent.
Video from inside the capsule showed the two men being shaken around at the moment the failure occurred, with their arms and legs flailing. Ovchinin can be heard saying, "That was a quick flight."
Photographs released by Roscosmos after the rescue showed the two men smiling and relaxing on sofas at a town near their landing site as they underwent medical tests. A photograph posted on Twitter by NASA showed Ovchinin and Hague embracing their families after being transported back to the Baikonur site.
Rescue crews raced to the scene to retrieve them from their landing spot, including paratroopers, helicopters and all-terrain vehicles, NASA said.
NASA has relied on Russian rockets to ferry astronauts to the space station since the United States retired its Space Shuttle programme in 2011, although the agency has announced plans for a test flight carrying two astronauts on a SpaceX commercial rocket next April.
Space is an area of cooperation between the United States and Russia at a time of fraught relations. Asked about the mishap, President Donald Trump told reporters at the White House he was "not worried" that American astronauts have to rely on Russia to get into space.
Thursday's mishap was the first serious launch problem experienced by a manned Soyuz space mission since 1983, when a crew narrowly escaped before a launchpad explosion.
'CREW HAS BEEN SAVED'
Moscow immediately suspended all manned space launches, the RIA news agency reported, while Roscosmos chief Dmitry Rogozin said he ordered a state commission to be created to investigate what went wrong. Russia's Investigative Committee said it opened a criminal investigation into the matter.
"Rescue services have been working since the first second of the accident," Rogozin wrote on Twitter. "The emergency rescue systems of the MS-Soyuz spacecraft worked smoothly. The crew has been saved."
Kremlin spokesman Dmitry Peskov told reporters the most important thing was that the two men were alive.
The space station's next re-supply mission had been scheduled for late October from Baikonur, but the new investigation may delay it.
NASA officials now must decide how or whether to maintain a U.S. presence on the $100 billion orbital research laboratory.
"The fact that this crew didn't get to orbit, we feel bad for them. But we have confidence that our Russian colleagues will figure out what's going on and we'll hopefully see Nick and Alexei in orbit at the space station soon," said Kenny Todd, NASA's International Space Station operations integration manager.
Hague and Ovchinin were set to join the station's current three-member crew, which includes American Serena Aunon-Chancellor.
"We have a lot of things planned through the rest of the fall and the winter, and that's all just being reassessed right now," Sam Scimemi, NASA's director for the International Space Station, told Reuters. "We have resources well into next year for this crew, so there's no concern about resources on board."
Interfax quoted a source as saying the crash meant the three people aboard the space station - a German and a Russian in addition to the American - would be stuck there at least until January. They were due to return to Earth in December.
Unmanned launches of Soyuz rockets might also be suspended, Interfax said.
Visiting Kazakhstan for the first time as NASA administrator, Jim Bridenstine witnessed Thursday's launch and promised a "thorough investigation" into the mishap.
"I'm grateful that everyone is safe," Bridenstine said in a statement.
Questions are now likely to be asked about Russia's space programme. In August, a hole appeared in a Soyuz capsule docked to the ISS that caused a brief loss of air pressure and had to be patched. Rogozin has said it could have been made deliberately by someone during manufacturing or while the craft was in space.
Last November, Roscosmos lost contact with a newly launched weather satellite after it blasted off from Russia's new Vostochny cosmodrome in the Far East.