'Bowling no problem, but speaking and batting problem'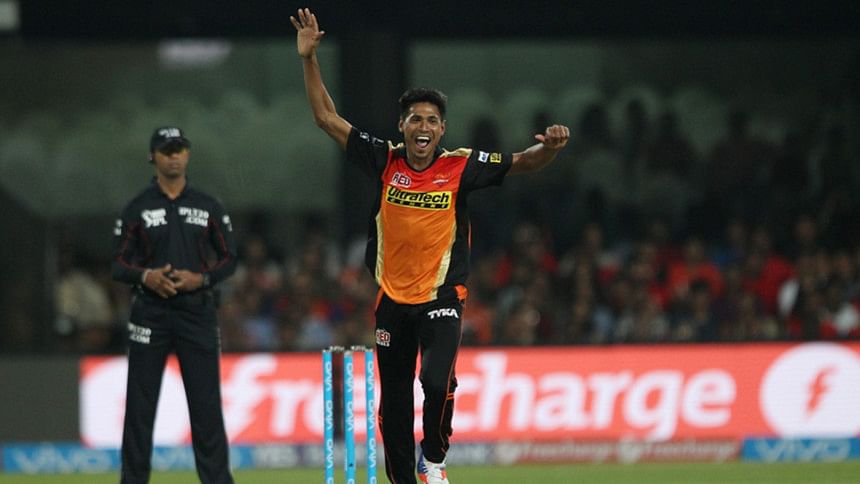 Sunrisers Hyderabad captain David Warner, once known for his brash behaviour on the field, now dotes on the young man he lovingly calls Fuzzy. Commentator Rameez Raja, not long ago the target of Bangladeshi cricket fans' ire, can hardly ask a question that is not about Mustafizur Rahman after Sunrisers Hyderabad's emphatic five-wicket win over Kings XI Punjab in Hyderabad on April 23, 2016.
After bowling beautifully and befuddling batsmen in his first four Indian Premier League matches, Mustafizur came out with a player-of-the-match performance against Punjab, taking two wickets and conceding only nine runs from four overs of sustained, near-mystical bowling.
Warner was pleased as punch with his star performer, and praised him to the skies during his captain's interview at the post-match presentation ceremony. A sign of how close he was with his new teammate was that Warner was aware of the discomfort that the usually ever-smiling Mustafizur was undergoing right then during the presentation ceremony. 
"He is a special talent and Bangladesh should be privileged to have him," gushed Warner when Raja asked him about Mustafizur. "He is a world-class player and he has proved himself here at the moment. It is early in the tournament, but I hope he can continue his form. His change of pace and his knowledge of the game is very good."
Warner's smile of admiration turned into one of sympathy around this point, as the cameras kept cutting to a concerned-looking Mustafizur. 
"He is a little bit nervous, he can't speak much English. He says to me 'bowling no problem, but speaking and batting a problem.'" said Warner and left, making way for a nervous Mustafizur he walked slowly up to the presentation area as his name was called by Raja, who called him 'the special one'.
Raja was kind enough not to ask questions and just gave the Fizz the floor, asking him to speak in Bengali. Mustafizur, in contrast to the shyness he displayed so far, spoke in a confident tone in his native tongue. 
"I want to thank everybody. It was a very good game, everyone enjoyed it. Thank you," with that, his smile was back and he left the stage to loud cheers and with the attention of the cricketing world