Curfew as Strauss says England players not 'thugs'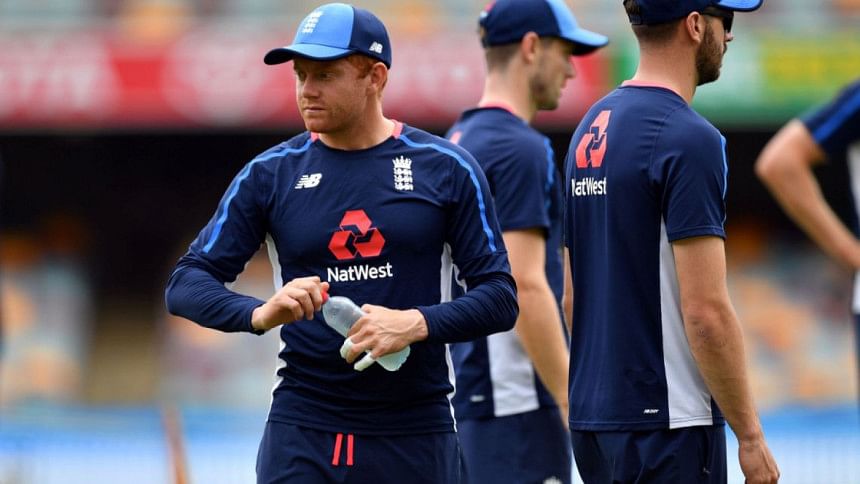 England cricket chief Andrew Strauss says his players are not "thugs" and there is no drinking culture in the team, as he slapped a midnight curfew on the Ashes tour, reports said Tuesday.
The move followed Jonny Bairstow's headbutt of Cameron Bancroft in a Perth bar late last month, which only came to light over the weekend and has dominated headlines.
There is sensitivity within the England camp about off-field behaviour after the controversy surrounding suspended star all-rounder Ben Stokes, who is facing a police inquiry into a fight outside a Bristol nightclub in September.
Head coach Trevor Bayliss was furious at Bairstow, calling his behaviour "dumb" on Monday, accusing him of handing Australia "ammunition".
Director of cricket Strauss said Bairstow "bumped" heads with Bancroft in what he described as an innocent greeting "that he does with his mates".
But in a meeting with the players at the team hotel in Brisbane on Monday after they lost the first Test by 10 wickets, he laid down the law, cricket.com.au and Britain's Daily Telegraph said.
"There is no way that you can or should be putting yourself or the team or the ECB or the game of cricket in a position where people are making judgements about the sport on the back of what you're doing on a night out," Strauss was quoted as saying.
"And that's what the players need to understand. They have been told about this before."
He said they "need to be smarter".
"That's the reality, they are adults, intelligent adults, and at times they are not using that intelligence in the right way.
"It is a distraction to the team and none of us want that distraction."
Both cricket.com.au and The Telegraph said Strauss had banned any player from being out after midnight for the rest of the five-Test tour.
- Good, honest cricketers -
Given the Stokes controversy and the Bairstow incident, the England boss was keen to dismiss any perceptions that the team was out of control, it was reported.
"These guys are not thugs. These are good, honest, hardworking cricketers who sacrifice a lot to play for England," he said.
"They've done some great things in an England shirt and I will back them on that to the hilt because I know them.
"But the perception of them and the reality is different at the moment and we've got to take steps to make sure that reality is what people perceive of the England cricket team, not something different."
Asked whether the team had a drinking problem, Strauss answered: "I think it is unrealistic to say to someone you're going on a five-month tour and you can't have a drop of alcohol.
"There was no curfew on that night," he added of the Bairstow incident. "But it is worth saying that they had security with them. Nothing untoward happened at any time.
"They were all well-behaved, they weren't inebriated, they'd had a couple of beers. That's why it wasn't an issue for us. That's why I didn't hear about it.
"That is the reason it has been a complete non-event up until now. No one knew about it because they didn't do anything wrong and this situation has somewhat surprised all of us."