Referees to explain VAR decisions to stadium and TV audiences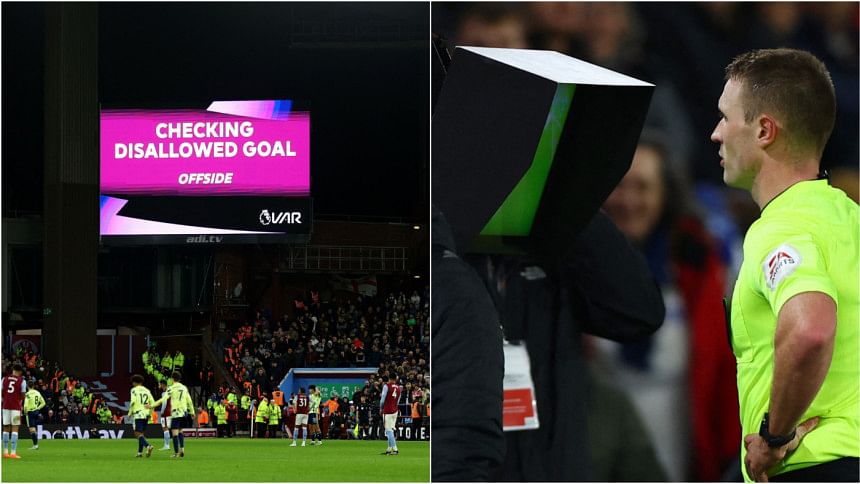 Referees will explain VAR decisions to stadium crowds and television audiences in a 12-month trial starting at next month's FIFA Club World Cup in Morocco, soccer's law-making body said on Wednesday.
The International Football Association Board (IFAB) failed to agree, however, on trialling rugby-style temporary concussion substitutes.
The players' union FIFPRO had lobbied for such a trial in the English Premier League, France's Ligue 1 and Major League Soccer in the United States.
IFAB said in a statement after a meeting at London's Wembley Stadium that it also discussed clarifications relating to the laws of the game, including the guidelines on 'deliberate play' in offside situations.
FIFA has invested heavily in VAR technology since it was introduced at the 2018 World Cup in Russia but controversy remains.
Japan's victory over Spain in the 2022 World Cup in Qatar triggered a heated debate, with the ball initially judged to have gone out of play but the decision then reversed after a lengthy VAR consultation.
English Football Association (FA) chief executive Mark Bullingham, who chaired the meeting, told reporters conversations between the referee and the VAR official would remain private.
Referees would however have a microphone to explain the outcome.
"There will be a trial where in FIFA tournaments over the next 12 months there is the ability for the referee, after a VAR decision has been made, to announce to the stadium and the broadcast audience what has happened and to clarify that decision," he said.
"We think that is important in terms of transparency, and also for the crowd in the stadium who we think at the moment do not get enough information."
The experiment could also be extended to this year's women's World Cup in Australia and New Zealand.
IFAB said no consensus was reached on carrying out a trial with temporary substitutions for actual or suspected concussion but the subject remained under active review.
A trial of permanent concussion substitutions was extended indefinitely.
IFAB also looked at measures to create fairer conditions and the amount of time played, but decided against introducing a 'countdown clock' to limit time-wasting.
"The approach taken during the FIFA World Cup Qatar 2022 was received positively, and possible measures included the stricter and more accurate calculation of additional time and a more consistent application of the Laws of the Game," it said.