Experiencing Bangla literature as someone bad at Bangla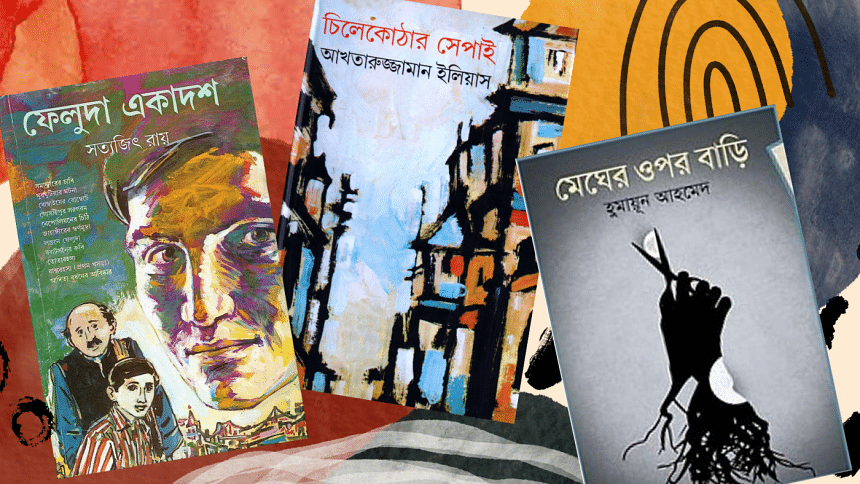 Honestly, it felt a lot like viewing the world through a lazy eye while keeping the dominant one covered. The images formed were blurry and sorely lacking in clarity. Unlike English, the words did not spring out energetically from the pages and waltz about to life. Instead, they had to be coaxed, cajoled, and only then did they come out, albeit reluctantly. Oftentimes, I had to re-read a paragraph twice or even three times to render the scene clearly in my mind's eye. To put it simply, I was bad at Bangla. And the reason behind that was even simpler – Bangla felt as tedious as its textbooks and as strict as its teachers.
Much to my relief, I bid farewell to studying Bangla as the curtains fell on my O levels. And just as it left through the door, a sly, miniscule curiosity for Bangla literature crept in through the window. Like most people, I started with Humayun Ahmed.
Despite my initial slowness, I was done with the first few books of the Himu series in very little time. I dipped myself into the enigmatic mysteries of Misir Ali as well and then waded through the likes of Omanush and Megher Opor Bari – each an absolute gem.
There is something special about his work – a greatness that is just as easily accessible as it is elusive. But Humayun Ahmed, despite his legendary status and contributions, was just the tip of the iceberg. In the rich world of Bangla literature, there was so much that awaited me, and so little that I had experienced. My father's shelves – holding almost four times as many Bangla books as mine did English – beckoned me to come and pay a visit. It was a dawat, a nimontron that I just couldn't refuse.
In the past two years, I've managed to read thoroughly through some of Satyajit Ray's works, particularly the Feluda series. Metaphorically speaking, I've also had a tooth or two broken, courtesy of Galpaguchchha, a collection of Rabindranath Tagore's short stories.
Then there is Akhteruzzaman Elias's Chilekothar Sepai, a tale of depravity and desire that breathes life into the tumultuous times of the Mass Uprising of 1969. With this one, I can't even remember how many times I've had to refer to my phone's Bangla Dictionary.
As someone who grew up reading American and British novels, these small experiences that I have accrued with Bangla hold enormous value. Aside from the satisfaction of slowly getting better at something I was once terrible at, I have also gained the unique insight that only literature can give. I can now imagine Dhaka without its chronic traffic congestion, a city yet to become the bustling metropolis of millions. I can see Kolkata, the erstwhile capital of the erstwhile British Raj, the centre of Bengal's intellectual and artistic revival in the nineteenth century. I can view the scenic beauty of the countryside as well as contemplate the friction between the simple joy of rural life and its hideous despair.
There is one regret that I have, though. In what feels like a distant time, when I wasn't nearly as busy, nor did I have as many responsibilities, I wish my journey had begun then.
Nayeem is a highly unproductive literature nerd. Tell him to finish what he started at nayeemhaider90@gmail.com