Introducing Team Bangladesh: World champions of 'First Global Challenge' robotics competition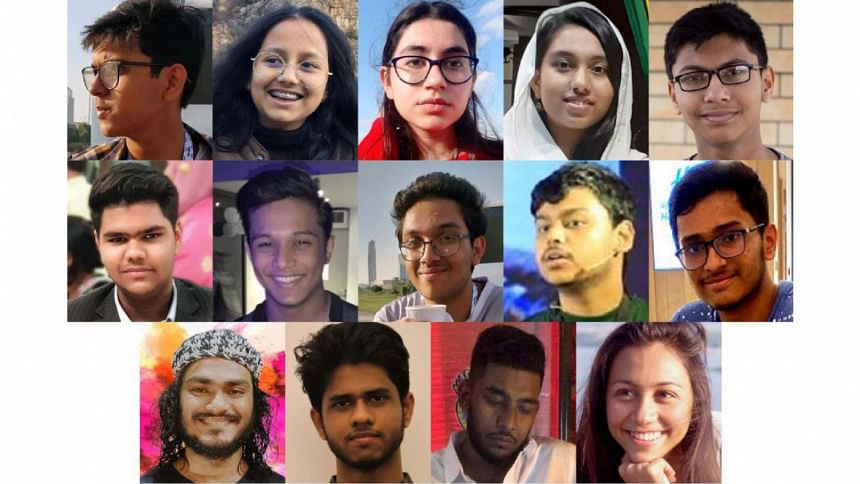 Team Bangladesh has become the champion among 174 countries in the biggest global robotics competition for high school students titled "First Global Challenge" which lasted for three months from July to September.
In these three months, the 10 young innovators developed life-saving devices and robots, participated in different challenging events and brought glory to their country.
The 10 members of Team Bangladesh are: 
Sujoy Mahmud (17) from Mangrove School; Razeen Ali (18) from Sir John Wilson School; Mahi Zarif (16) from International Hope School; Shahrear Shemanto (16) from DPS STS; Abrar Jawad (15) and Aymaan Rahman (15) from Bangladesh International School and College; Bianca Hassan (19) from Dhanmondi Tutorial; Zahraa Chowdhury (14) from Sunbeams; Areebah Nawar (14) from South Breeze; and Fairooz Hafiz Farin (18) from Mastermind.
All of them are students of Tech Academy, a social enterprise that teaches children about robotics, electronics and programming to popularise science, technology, engineering and mathematics (STEM) education, which mentored and supervised Team Bangladesh.
Aymaan, the 15-year-old member of the team, said, "One of the challenges in the competition was called Quarantine Challenge. The aim of this event was to show how we spent the Quarantine period."
"For this event, I developed a robot called "Covitron-1" equipped with camera which can deliver food, medicine and other essentials to a person in quarantine to prevent the spread of infection. The robot can be easily controlled with wifi connection. The robot was highly admired and the project was selected as one of the top 10 projects of the competition," he added.  
With an aim to make students keen in STEM, the competition is organised every year so that ninth to twelfth grade students can take part in an international robotics contests. The event is also widely known as the "Olympics of Robotics".
Sujoy Mahmud, another member of Team Bangladesh, said, "The theme of the First Global Challenge was competition and cooperation. Every team has to help and encourage other teams with their projects to get bonus points."
In this competition, every team participated in three events: Social Media Challenge, Technical Challenge and STEM Talks.
"For social media challenge, we had to do awareness raising activities about STEM education. We composed music video and we also developed a computer programme that plays Bengali tongue twisters," said Sujoy.
The technical challenge part was to assess skills in robotics and engineering. Bangladesh got highest score in this challenge and outsmarted all other participants.
"We completed five different tasks in this event. First, we developed a paper plane launcher. Then we designed a robot that serves as cleaner. We also completed a task related to ball movement," said Sujoy.
"Then, we designed a device which can save children from drowning which is one of the major reasons of child mortality in Bangladesh. The device is like a necklace that can be attached to a child's neck. If the child comes in contact with water, an air bag installed in the necklace will automatically open and get inflated and will save the child," he added. 
Completing these amazing tasks was not an easy journey for these young inventors. Zahraa Chowdhury, another member of Team Bangladesh, said, "We had to work whole day and passed many sleepless nights. The final day of submission was my birthday. We worked all day and night even on that day. It was a very different kind of birthday."
Bianca Hassan said, "In the first days of the competition, we were 11th or 12th among 174 countries. However, we got full point in the technical challenge. We performed far better than any other participant. Then we became confident that we would be able to win this competition and gave our best efforts."
In 2017, the first edition of the competition was held in the United States. The second event was held in Mexico in 2018, and the third event was held in Dubai in 2019 while this year, the fourth edition of the First Global Challenge, has been held virtually due to the Covid-19 pandemic.
Last year, Bangladesh team stood seventh in the third edition of this competition.
Shams Zaber, founder of Tech Academy and mentor of Team Bangladesh, said, "We have been participating in this competition from the very beginning. When we first participated in 2017, we noticed that Team Israel, Team USA, Team Canada and Team Australia were far ahead of us in terms of knowledge and experience. At that time, we did well in coding but we had shortcomings in mechanical engineering part."
"From this experience, we focused on our shortcomings and worked hard. We also faced challenges with the customs for importing some essential parts for developing robots," he said.
"We want to popularise STEM education among schoolchildren. We want to make our children skilled and technologically efficient. We have a lot of brilliant students but we don't have enough platform to utilise their potential. We just wanted to be this platform where these students can flourish their latent talents," Shams added.