Justice Shahabuddin Ahmed Park becomes Bangladesh's first free Bangla book reading destination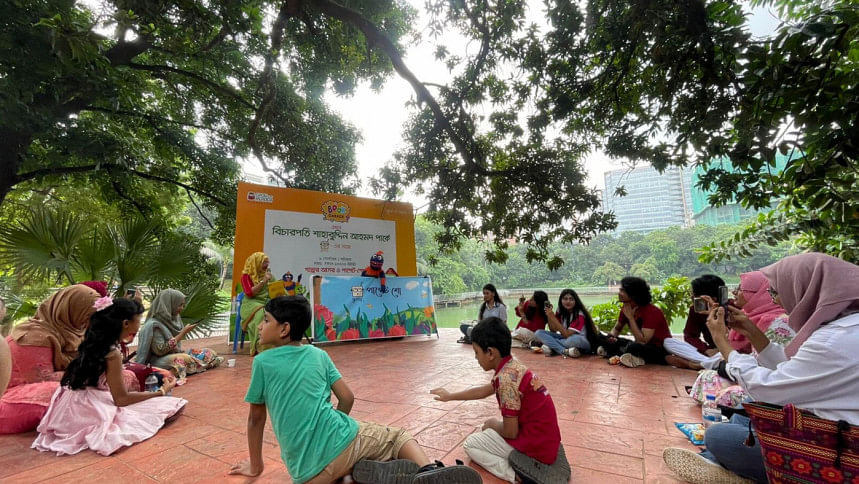 On September 9, Grow Your Reader Foundation (GYRF) celebrated a significant milestone with the inauguration of two new Book Garages in collaboration with Goofi at the Justice Shahbuddin Ahmed Park, Gulshan. 
How wonderful would it be to get a small library on our way, while being tired from strolling at the park! What can be a more amazing way to take a break and get rid of all your tiredness? Yes, that's what the Grow Your Reader Foundation has been dreaming of, establishing street libraries throughout Bangladesh. Where all people will have access to read books regardless of their social status, religion, and race. 
The objective of the Book Garage installation at Justice Shahabuddin Ahmed Park comes from a genuine concern shared by Bengali parents – the fall in the proficiency of their children in the Bangla language, which is influenced by the general existence of English in modern life, including English schools, TV, and YouTube. In an era controlled by screens and digital distractions, the aim is to address this challenge by promoting the use of the Bangla language amongst children and providing an alternative source of entertainment that encourages reading, nurturing a deeper connection with the native language and culture.
To address this issue and promote the use of the Bangla language now, GYRF and Goofi made a partnership. As part of this partnership, they installed not one, but two Book Garages within this park. The Book Garages are installed in two different locations. Both are situated in very easy and accessible points of the park. One book garage is near the North End Cafe and the other one is right in front of the Kids' Zone. These Book Garages will be filled with Goofi Bangla books, ready to ignite your imagination, take you on exciting journeys, and inspire you to embrace the joy of Bangla reading. Gradually they will cover more parks.
Upon selecting a book from the Book Garage, the children seamlessly integrate into the reading community, embracing the understanding that this privilege requires a responsibility. Once they have finished reading the book., it is requested that they faithfully return the book to the very same Book Garage from which they initially borrowed it. This considerate gesture ensures that the captivating stories can be enjoyed by others in the community. Additionally, if the children have older books to share with fellow readers, their contributions are not just welcomed but strongly encouraged. This enriches the wide range of books in the book garage and enhances the reading experience for the entire community.
The Book Garage inauguration event marked a fun-filled hour of literary excitement, from 10:30 AM to 12:00 PM, featuring an amazing storytelling session by Tahmina Rahman Sathi from Goofi and a lively puppet show. The storytelling session transported the audience into the enchanting world of the Bangla storybook Jebhabe Pelam Bangla Noboborsho.
Sadia Jafrin, the founder of Grow Your Reader Foundation, expressed her excitement and said, "Our objectives are crystal clear – to foster a profound love for Bangla books, preserving cultural heritage; bring back books that are forgotten, enriching the community's reading resources; cultivate empathy and respect through diverse perspectives; and create nurturing reading environments in parks and schools for both young and adult minds to explore and grow. We aim to nurture a reading habit among children and adolescents by providing free access and organising regular reading circles."
The event was open to all, welcoming families, friends, and book enthusiasts to join in celebrating the joy of reading and learning. It was a memorable day at Justice Shahabuddin Ahmed Park, showing the transformative power of books and reading.