Discovering new horizons
Country spotlights for study abroad aspirants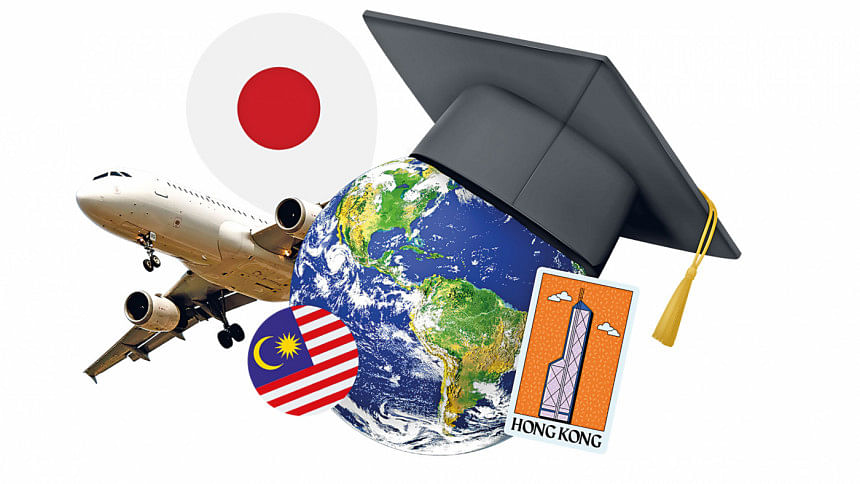 When considering the challenges faced by students aspiring to study abroad, the first things that come to mind are academic challenges. One might suggest financial challenges, or the difficulties in acclimatising to harsh alien conditions outside of their home environment.
Recently, many Bangladeshi students are choosing to complete their higher education abroad. Countries like the United States, the United Kingdom, Australia, and Canada have always been popular destinations for Bangladeshi students. However, nowadays, students are looking into other places, like Japan, Hong Kong and Malaysia, in their search for quality education at an affordable cost. Universities in the aforementioned countries and beyond are not only welcoming to Bangladeshi students, but they offer a variety of merit-based scholarships and need-based aids to high-achieving students, making a foreign degree even more achievable. 
However, despite the abundance of opportunities, many students fail to take advantage of them because they lack the information needed to apply to these universities. Knowledge about the application process is still not widespread, and even students, who have the required knowledge, become daunted by the procedure.
Applying for higher studies abroad by yourself can be a very intimidating prospect. Keeping track of what the application process is like for different countries and what the requirements are for specific universities is certainly tedious. Finding a university that is a good fit for you, academically and financially, can also be difficult. But that doesn't have to be the case.
Educational consultancy services like MACES can simplify the university application process and provide all the necessary information for applying abroad.
Although MACES started out with a partnership with only a single university in 2007, it has rapidly evolved into one of the largest educational consultancies in Bangladesh. By 2023, it established connections with over two hundred universities worldwide. In the past, MACES has successfully helped students enrol in prestigious universities in the US, Canada, Australia, Malaysia, Japan and the UK.
"With seventeen years of experience under our belt, MACES is fully equipped to help aspiring students find the country and university which fits them the best," says a representative from MACES. 
The MACES counsellors are well-trained individuals who themselves have personal experience studying abroad. They are fully aware of what it is like to study away from home, what it can be like to adjust to a new situation in a new culture, and what difficulties may arise for students abroad. Thus, the counsellors can not only provide students with a comprehensive guide on applying to a university, but they can also ensure that students understand what the experience will be like.
Going to a new place is also difficult to get used to, and students often get anxious when travelling alone for the first time. At MACES, they help the students secure accommodation and give them helpful tips surrounding the university or location they are going to.
A wide range of services is provided by MACES, and all of it is free of cost for study abroad aspirants. Guidance counselling for university applications is also available. Counsellors are always ready to provide any necessary help for filling out applications.
Beyond that, counsellors also help select a suitable country, university, and program based on information provided by students. Factors such as the student's personal wants regarding future plans, desired area of study, overall academic profile, financial stability and conditions, English proficiency test scores and standardised test scores, travel history, etc. are taken into account when matching a student with a university and/or program. The criteria required by a university and a student's criteria for their desired study abroad experience are both taken into account during the matching process.
As a certified centre for English proficiency testing, MACES can provide all the information and help students need to prepare and sit for English proficiency tests like IELTS and TOEFL. MACES is also open to reviewing statements of purpose and other essays compulsory for university applications. If a student is seeking scholarships, MACES will also guide them through the processes of university-specific scholarships and financial aid applications.
Once a student secures an interview with a university, MACES will prepare the student to answer questions with utmost proficiency. A student who is admitted to a university can continue to receive help from MACES in the form of visa services and pre-departure preparation. If students need to make any last-minute changes, MACES can help in communicating the student's needs to the university.
Besides consultancy sessions, MACES also arranges one of the biggest annual educational fairs. Here, representatives from numerous universities help students assess their profiles against the respective university's requirements.
Students who have received help from MACES in the past swear by its helpfulness. Maliha, a recipient of the Developing Solutions Scholarship, says, "MACES has been my eye-opener and everyday go-to with all the help I needed while my application was being processed."
Addressing the questionable reputations of educational consultancies, she says, "Usually, we think such agencies are not trustworthy, but MACES has changed my perception about this idea."
"MACES is genuine, and the counsellors actually know things related to studying abroad well," says Amimul, a student studying at Tokyo International University on an 80 percent scholarship.
MACES is a unique educational consultancy that provides services perfectly catering to a student's needs. They are warm and welcoming to all aspirants and are prepared to walk students through all the nitty-gritty of the admission process.