Are we ready to listen?
Exploring the prospect of a podcast platform in Bangladesh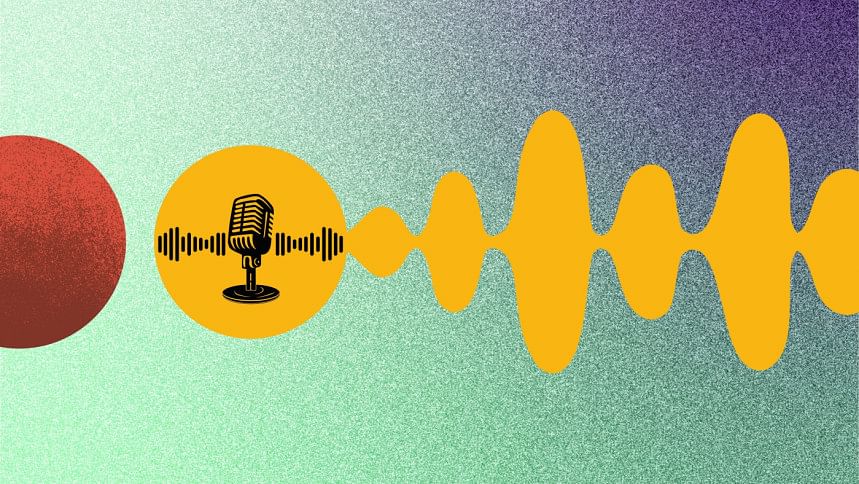 In a world progressively leaning towards digital content, podcasts have been capturing the imaginations of millions worldwide with their diverse and immersive experiences. As this trend sweeps across continents, it raises an essential question for countries like our nation which are burgeoning with digital potential: Is Bangladesh ready for a podcast platform? 
According to recent statistics, podcast listenership has witnessed an astounding surge, with over 155 million people tuning in regularly in the United States alone. Moreover, countries like the United Kingdom, Australia, and India have witnessed a remarkable surge in podcast popularity, with millions of avid listeners engaging with diverse topics and narratives. 
Inspired by this global wave, Bangladesh stands poised to explore the realm of podcasting. Let's venture into the nascent podcasting landscape of Bangladesh, and discover the local take on this flourishing medium waiting to be heard by the world.
Charting a new era: Journey into the podcasting landscape
As of 2023, there are approximately 464.7 million podcast listeners globally. This number is projected to reach 504.9 million by 2024, creating a broad spectrum of opportunities for local content creators. In Bangladesh, podcasting is gradually gaining momentum, offering a unique platform for local voices and stories. It's fair to assert that our nation is now ready to dip its toes into the waters of the audio landscape.
Paving the way for podcasting 
Podcasts are a steady mix of entertainment and education - they're not just fun; they're fuel for thought. And with our favourite celebrities and influencers lending their voices to the medium, it's hard not to be swept up in the excitement. Trailblazers are emerging to pave the way for the growth of a podcast platform in Bangladesh in the ever-evolving realm of podcasting alongside enthusiastic listeners. These individuals are instrumental in establishing a thriving community that embraces the captivating medium of podcasts.
Enayet Chowdhury from the Trinomial podcast delves deeper into the reasons behind the growing interest among listeners and emphasises the importance of creating personalised content. According to him, the future of podcasting in Bangladesh looks promising. "I believe that the podcasting landscape in Bangladesh will likely see a diversification of content across various genres and subjects," he states. Sameer Ahmed, the face of SameerScane, who is also experienced in behind-the-scenes work for podcasts like '2 Cents', says, "Bangladesh is completely ready for a podcast platform, with an array of digestible, authentic content from creators."
Evidently, podcasts provide an escape, a moment of reflection, or a spark of inspiration, whenever and wherever we choose. But they're more than just background noise. Podcasts connect us - to ideas, to stories, and each other. 
Navigating the challenges and opportunities
In the ever-changing world of podcasting, navigating the challenges and seizing the opportunities has become paramount. Yahia Amin, a psychologist and podcaster, acknowledges the momentum of podcasting but also emphasises the existing challenges. He further highlights the role language and content preferences play in the popularity of podcasts in Bangladesh.
As creators and listeners embrace this dynamic medium, it's crucial to understand what people are looking for; quality content, use of local language, and resonating relativity. Sameer argues that podcasts are convenient and offer a more genuine medium for creators. "With podcasts, you can tell stories, foster collaboration, and delve into the nitty-gritty of helping people gain knowledge," he says.
To facilitate the growth of podcasting, creating a network or community of podcasters and listeners, organising meetups and workshops, and exploring various revenue streams will heighten the chances of audio content taking off in our nation.
Ascent of monetisation in podcasts
As more individuals seek engaging audio content on various topics, the rise of podcasts creates an immersive experience. The prospect of earning hundreds of dollars per podcast adds an intriguing financial angle to the equation. According to a report by the Interactive Advertising Bureau (IAB) and PwC, podcast ad revenue in the United States in 2023 is expected to total $2.3 billion, marking a substantial increase from previous years. This indicates the growing interest of advertisers in reaching engaged podcast audiences.
The Trinomial Podcast earned about Tk. 53,000 (with 3,67,900 views, 92,200 watch hours, and 2,900 subscribers) only from YouTube monetisation in April without any sponsors, making monetary prospects open for exploration. Enayet highlights, "Advertisers and brands will recognise the potential of reaching engaged and niche audiences through podcast advertising" – which presents monetary offers for creators. 
The current scenario suggests that the expanding podcasting landscape and increasing listenership provides amazing opportunities for content creators to monetise their podcasts. Yahia Amin outlines, "As Bangladeshi podcast networks and platforms continue to grow, they may introduce new monetisation features like premium subscription"–suggesting that the future of podcasting in Bangladesh could pave the way for lucrative financial feasibility.
Insights from within
The promising rise of podcasting in Bangladesh isn't merely catching the attention of entrepreneurs and content creators but also has sparked excitement among the audience, particularly the youth. To capture this, we turn our spotlight to Labiba, a Brac University student, and Anjum, a local entrepreneur.
Labiba argues, "Will people be willing to shift from visual to audio?" She states that the beauty of video content is "the completeness of sensory experience it offers". However, she believes that the podcast format can bring an unmatched personalisation, and this unique charm could be its winning edge. On the other side of the coin, Anjum sees the budding podcast platform as a potential gold mine. "The growth in listenership worldwide shows the immense potential for monetisation," he exclaims. 
We're at the cusp of a major shift in content consumption, as there are advertising opportunities, sponsorships, and even direct listener support options. Podcasts allow for a deeper connection with the audience, which can translate into a stronger willingness to support content creators.
Future of podcasting
Imagine the bustling streets of Dhaka to the serenity of the countryside, brought to life by the vivid narratives of homegrown podcasters, their voices weaving a rich tapestry of Bangladeshi culture and experience. Picture the intimate conversations unfolding in millions of ears, building personal connections and breaking down barriers of understanding.
A future illuminated by the glow of potential, the hum of anticipation, and the undeniable charm of the spoken word can be seen over the horizon. Podcasting in Bangladesh is finally ready to cast off its underdog status and step confidently into the limelight.
From airwaves to earbuds: We're ready
Given the current state of podcast adoption and the potential solutions at hand, it appears Bangladesh is on the cusp of a podcast boom. By fostering a spirit of collaboration, embracing innovation, and nurturing a culture of experimentation, the seeds for podcast growth are planted. 
With proactive initiatives such as local content growth and strategic planning like forging partnerships for infrastructure improvement, podcasts are the next big fish in the pond of digital content. As Bangladesh eagerly tunes in, the whispers of a forthcoming podcast revolution resonate through the air, promising a transformative wave of audio storytelling and knowledge sharing.