Essential tips for driving through waterlogged roads in Dhaka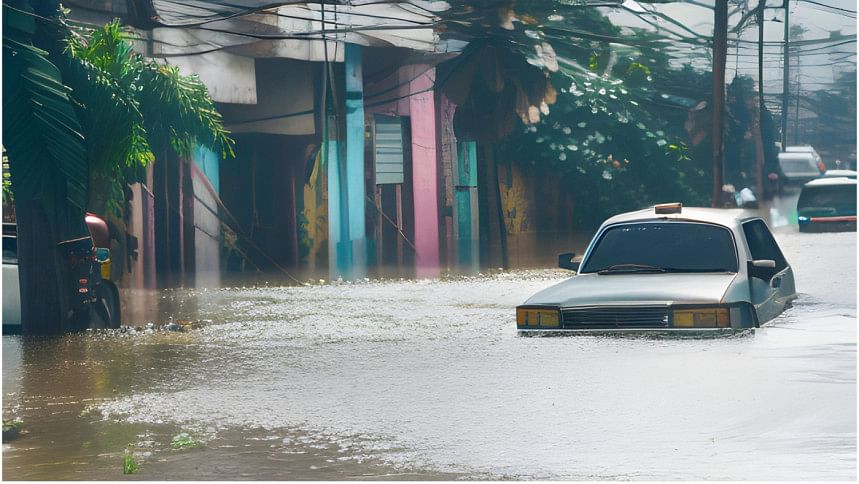 As the monsoon season casts its relentless downpour upon the city, residents of Dhaka find themselves battling against waterlogged roads that pose numerous challenges, particularly to motorists. The increased risk of accidents and damage to vehicles demands extra caution and preventive measures. With knee-deep waters becoming an all-too-common scene, we present some comprehensive car maintenance and driving tips to help drivers navigate through the inundated roads of Dhaka safely.
Stay informed and prepared
Staying informed about the weather conditions and road situations is crucial. Tune in to local news channels, radio stations, or reliable weather apps for up-to-date information on flood-prone areas and traffic diversions. Plan your route accordingly to avoid heavily waterlogged roads whenever possible.
Avoid waterlogged roads
While it may seem tempting to drive through waterlogged roads, it is strongly advised against doing so. Even knee-deep water can pose serious risks to your vehicle's engine and electrical systems. Attempting to drive through flooded areas can cause hydrolocking, which may result in severe engine damage. Additionally, flooded roads may conceal hazardous debris or open manholes, further jeopardising your safety.
Driving Through Water
If you must drive through waterlogged roads due to unavoidable circumstances, follow these essential tips:
Assess the water depth: Before driving through water, gauge its depth by observing other vehicles or pedestrians crossing the area. If the water level exceeds the middle of your wheels, it is safer to find an alternate route.
Slow and steady: Drive at a slow, consistent speed to avoid creating a bow wave. Maintain a steady pace to prevent water from entering the engine bay and exhaust system.
Use low gears: Engage a low gear (such as "L" or "2") to maintain engine revs and improve control over your vehicle. This will also help prevent water from entering the exhaust pipe.
Maintain distance: Keep a safe distance from other vehicles to allow sufficient reaction time. Sudden braking or manoeuvres may lead to loss of control on wet surfaces.
After crossing the water: Gently apply the brakes a few times to dry them off and restore their effectiveness. Be cautious as wet brakes may require slightly longer stopping distances.
Maintain proper tyre pressure
Before setting off, ensure your tyres are properly inflated according to the manufacturer's recommendations. Adequate tyre pressure improves traction and reduces the risk of hydroplaning, a situation where your vehicle loses contact with the road due to excessive water on the surface. Keep a tyre pressure gauge handy and check regularly to maintain optimal tyre performance.
Check the battery
Regularly inspect your car's battery, especially during the monsoon season. Heavy rains and waterlogged roads can lead to moisture infiltration, potentially causing corrosion and electrical issues. Periodically examine the battery terminals and ensure they are clean and dry. If necessary, apply a thin coat of petroleum jelly to prevent corrosion.
Maintain visibility
Proper visibility is vital while driving through rain-soaked roads. Ensure your windscreen wipers are in good working condition and replace them if necessary. Additionally, use your headlights, even during the daytime, to enhance your visibility and alert other drivers to your presence. In case of heavy rain, consider applying a hydrophobic windscreen treatment to repel water and enhance clarity.
Post-drive maintenance
After navigating waterlogged roads, conduct thorough post-drive maintenance. Clean your vehicle, paying extra attention to the undercarriage, tyres, and brakes. Water and debris can accumulate in these areas, leading to rust and decreased performance. Consider applying a protective coating to the undercarriage to safeguard against corrosion caused by prolonged exposure to water.
Regular servicing
During the monsoon season, it is crucial to schedule regular servicing for your vehicle. Timely maintenance checks, including engine oil and filter changes, brake inspections, and electrical system assessments, can help identify and rectify any issues before they worsen. Consult a trusted mechanic or visit authorized service centres for comprehensive vehicle care.
As Dhaka grapples with waterlogging challenges, it is essential for motorists to prioritise safety and protect their vehicles from potential damage. By following these comprehensive car maintenance and driving tips, readers can mitigate risks, ensure road safety, and extend the longevity of their vehicles in the face of Dhaka's waterlogged roads.