Huawei completes 25 years in Bangladesh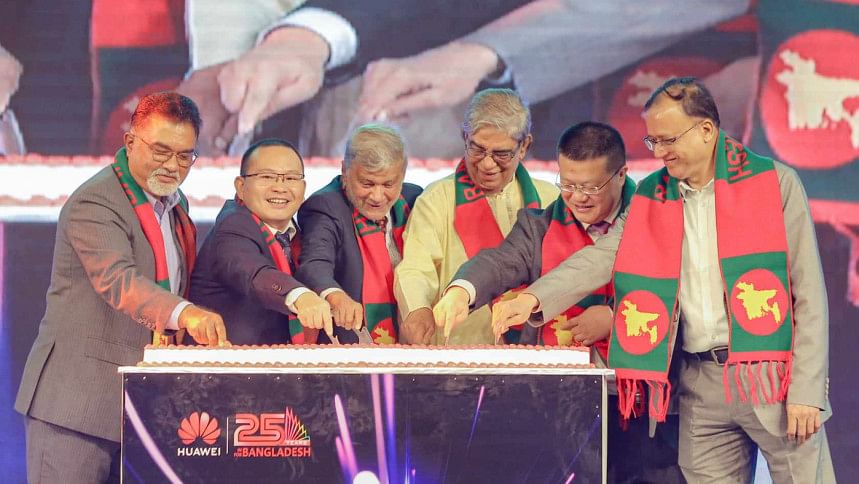 Huawei, the multinational technology corporation, has recently completed 25 years in Bangladesh. The organisation held a celebration event on 20 July, where they thanked their partners and stakeholders for years of support. 
Pan Junfeng, President of Huawei South Asia and CEO of Huawei Bangladesh, inaugurated the event. Minister of Planning of Bangladesh, M A Mannan; Minister of Post and Telecommunication of Bangladesh, Mustafa Jabbar; Ambassador of China to Bangladesh, Yao Wen; Chairman of BTRC, Shyam Sunder Sikder; Secretary of Information and Communication Technology (ICT) Division, Md. Shamsul Arefin; and Chairman of Chittagong Exchange Commission, Asif Ibrahim; alongside government officials and industry stakeholders, were also present at this event.
As per a press release, since 1998, Huawei has focused on bringing in ICT and telecommunication services and solutions, developing ICT talents, and enabling the digital ecosystem of Bangladesh. In the telecom sector, Huawei has facilitated the telco industry with 2G, 3G, and 4G technologies and played a crucial role in the 5G enrollment. Huawei has also provided support to connect more than 15,000 Base Transceiver Stations (BTS) with fibre. 
The corporation is responsible for having built multiple large-scale IPP and rooftop solar power plants, including the Mymensingh 50 MW solar power plant. Until now, Huawei equipment has generated around 380 million units of renewable electricity. Huawei is also providing AI-based cloud solutions and software and hardware for finance, education, governance, health, media, manufacturing, transportation, and other sectors.